Utah pulls shocker in win over Cal, advances to Pac-12 semis
It was UCLA vs. Arizona in one semifinal and California against the winner of the Oregon-Washington game in the other. At least that's what everyone thought -- until the Utes took down Mike Montgomery and the Bears.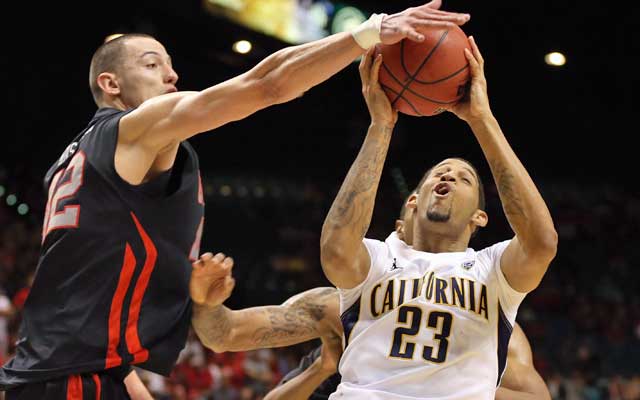 LAS VEGAS -- It was a mere formality, the lone question being whether California would wind up playing against Oregon or Washington. Evidently, someone forgot to advise Larry Krystkowiak and his Utah Utes. 
Special K, as he was affectionately referred to throughout his NBA career, took over a program in disarray. Jim Boylen was fired a couple years ago, and the cupboard was fairly barren. In Krystkowiak's first season, there were just a handful of victories. 
More on college basketball
Related links
More college basketball coverage
This season, progress was made as the team went 8-2 in a soft non-conference slate. But then league play came, and there were five consecutive losses to start the season. Entering the final week of conference play, Utah was just 3-13. The Utes finished with a home sweep of the Oregon schools but remained an afterthought entering the Pac-12 tourney. 
Now, following wins against USC and Cal in successive nights, the Utes have earned a spot in the semifinals. One more victory would put them on the verge of stealing an automatic bid. 
"One at a time," Krystkowiak said after the 79-69 overtime victory. "We haven't talked about two more to win the tournament." 
Krystkowiak is an interesting case. A veteran NBA player, he began his head coaching career at his alma mater, Montana, where he led the Grizz to a pair of NCAA tournament berths in 2005 and 2006. Then he left to become an NBA assistant for the Milwaukee Bucks, took over when his friend, Terry Stotts, was fired and only lasted about a year before being let go as well. Krystkowiak remained in the league as an assistant until 2011, when he took the Utah job. 
Most coaches never leave the NBA ranks due to qualify of life. But Krystkowiak, who has five children ages 5 to 13, said he wanted to make an impact and that was extremely difficult at the NBA level. 
"In the NBA, everyone already has a mentor in place," he said. "They aren't looking for an NBA coach to make a difference. In college, I can make a difference." 
With this program, he already has. 
Show Comments
Hide Comments
This is a good development for Louisville, which may avoid having its coaches forced to testify...

The athletic guard withdrew from the NBA Draft late Wednesday night

Next step in the case, which began in 2011, is for UNC to face the NCAA's Committee on Inf...
We look at 40-plus teams affected by this year's NBA Draft

Former USF head coach Orlando Antigua is not implicated in any violations

UK was already loaded, but gets a big boost by Hamidou Diallo's withdrawal from the NBA Dr...