VIDEO: Will controversial sequence in KU-ISU game spur more change?
Monday night's Kansas-Iowa State game was truly one of the 10 best I've seen this season -- and that's saying something, because it's been a spectacular past four months. But unfortunately the whole game is being overshadowed by the sequence posted inside.
• 2 min read
Monday night's Kansas-Iowa State game was truly one of the 10 best I've seen this season -- and that's saying something, because it's been a spectacular past four months.
But unfortunately, the game is being overshadowed by the sequence above. Forget it was Bill Self's 500th win. Or that Elijah Johnson provided the most unpredictable, unexpected performance from any player this season (considering the way he was harassed by Jayhawk honks and panned by pundits most of the year). Never mind Iowa State, again, playing Kansas to its ends -- then losing its footing in overtime.
It's this call -- or noncall into wrong call -- that's rightfully got a lot of people frustrated. That was a charge, and that's Iowa State ball and that's an Iowa State win.
Then, that win probably gets Iowa State into the tournament. Instead, Georges Niang gets the whistle for a hold amid a scrum, Johnson goes to the line, and the game extends, ultimately, to overtime. Final: Kansas 108, Iowa State 96, a differential via overtime that doesn't fully indicate how good this game was. And if you think Iowa State's chances were ripped from the husky hands of victory, consider the win-probability chart, via KenPom.com: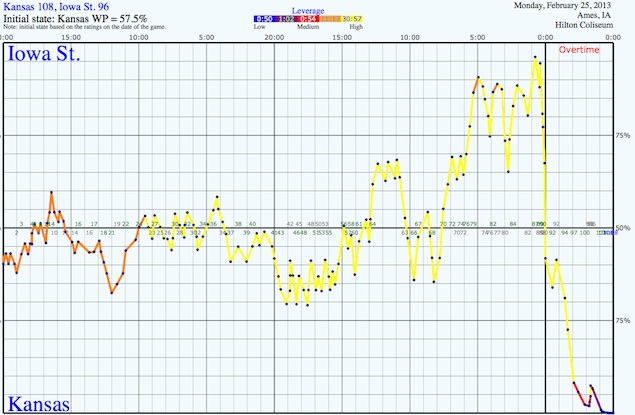 That peak of yellow is hanging out at about 97 percent at the time of the Niang foul. It would take near-unthinkable events to reverse course. And that's what we got, mostly thanks to Kansas getting a home call on the road.
It was so bad, the Big 12 immediately copped to needing a review of the night. Refs are humans and humans make mistakes, but this was the predictable downside of the charge circle's implementation in college basketball. The zebras are still inconsistent in their collective philosophy of how to police that part of the paint.
Sports fans will always, always, always moan about officiating. That tradition began the day after football, basketball, baseball, hockey, lacrosse, tennis, you name it were invented. But officiating can still get better. There's a different between bad and inept. It's tough to take when these split-second decisions cost teams games -- and postseason chances.
But it takes controversial moments to spur review and modification. This could be Exhibit A when it comes time to, at the very least, refine refereeing protocol this offseason.
---
For more college basketball news, rumors and analysis, follow @EyeOnCBB on Twitter, like us on Facebook and subscribe to the thrice-a-week podcast on iTunes. You can follow Matt Norlander on Twitter here: @MattNorlander.
Show Comments
Hide Comments
Our Latest Stories
Miles Bridges, who has made a habit of highlight reel dunks, might have topped himself

Josh Pastner explains the challenge of replacing John Calipari at Memphis and his uphill battle...

Williams does not approve of that kind of reflection on his program
Longtime Orange coach says there is a plan in place, and this season could be his last

It would be a shame if Wichita State is penalized for things out of its control

A Finnish phenom is flourishing in the desert, and college hoops has never seen anything like...