Viewer's Guide: Florida takes trip to UConn
It's a quiet Monday overall, but there is a top-15 battle between Florida and Connecticut.
• 2 min read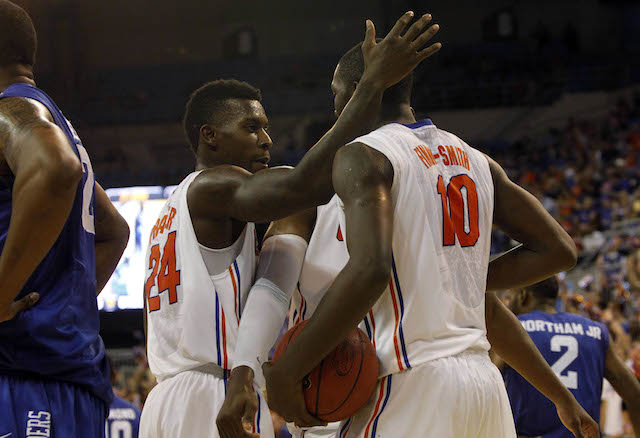 It's been a wild – and relatively nonstop – few weeks of college basketball to start the season. Games at all hours of the day, morning, afternoon, night, late night. It's been great. But now we start to settle down a little bit, and it begins with a pretty quiet Monday. There's one big-time battle, but only a few noteworthy games.
Note: All times are Eastern, and the rankings are according to the AP Poll.
Best game: No. 15 Florida Gators at No. 13 Connecticut Huskies (7 p.m., ESPN2). Each of these teams could have Final Four potential, although each team is at a different point in its season right now. Florida still isn't at full strength, with injuries and suspensions and academics hindering the roster. With that said, a six-point loss at Wisconsin is the only blemish. This is the start to a brutal three-game stretch – which includes games against Kansas and Memphis. Connecticut has been rolling this season, at 7-0. Shabazz Napier is playing like one of the best guards in the country. Can the Gators slow down Napier and the Husky guards? On the other side, UConn lacks talent down low (the Huskies are one of the worst defensive rebounding teams around) – Florida could be able to dominate inside.
Second-best game: Vanderbilt Commodores at Texas Longhorns (9 p.m., ESPN2). This might be a stretch as the second-best game of the day, but each team has been a little bit better than anticipated through the first month of the season. Vanderbilt had a couple close losses to Butler and Providence, and sophomore Eric McClellan has been a breakout performer. Texas only has one loss – a four-point defeat at the hands of BYU -- and is getting balanced scoring, with five guys above nine points.
Another one to watch: UC Irvine Anteaters at California Golden Bears (10:30 p.m., Pac-12 Network). We missed a chance to see California really test itself at the Maui Invitational, as big man Richard Solomon didn't play because of a right corneal abrasion. The Golden Bears dropped back-to-back games to Syracuse and Dayton. Cal certainly isn't the same team without Solomon – and they will need him to deal with 7-foot-6 Mamadou Ndiaye . Irvine has already beaten Washington on the road.
Guaranteed win: Auburn Tigers at No. 17 Iowa State Cyclones (7 p.m., ESPNU). Normally don't like to pick a power-conference team to be on the losing end of a "guarantee" win, especially when the losing team has only one defeat on the season. However, Iowa State Cyclones should cruise past Auburn with little difficulty. The Cyclones will be able to speed up the Tigers, and Iowa State's defense has been vastly improved from a season ago.
Potential upset: Mercer Bears at Oklahoma Sooners (9 p.m., ESPNU). This one could be interesting. Mercer is either the favorite or the co-favorite in the Atlantic Sun, and has already beaten Seton Hall. Can the Bears pick up an impressive road win? Oklahoma only has one loss this season, a single-digit defeat at the hands of Michigan State. Mercer will have to keep the Sooners out of transition.
Show Comments
Hide Comments
Some of these future NBA picks might work out, but others won't sniff being drafted

This is a good development for Louisville, which may avoid having its coaches forced to testify...

The athletic guard withdrew from the NBA Draft late Wednesday night
Next step in the case, which began in 2011, is for UNC to face the NCAA's Committee on Inf...

We look at 40-plus teams affected by this year's NBA Draft

Former USF head coach Orlando Antigua is not implicated in any violations