Viewer's Guide: Ohio State-Marquette highlights weekend
There are a few decent games to watch this weekend, including a top-20 showdown between Ohio State and Marquette.
• 3 min read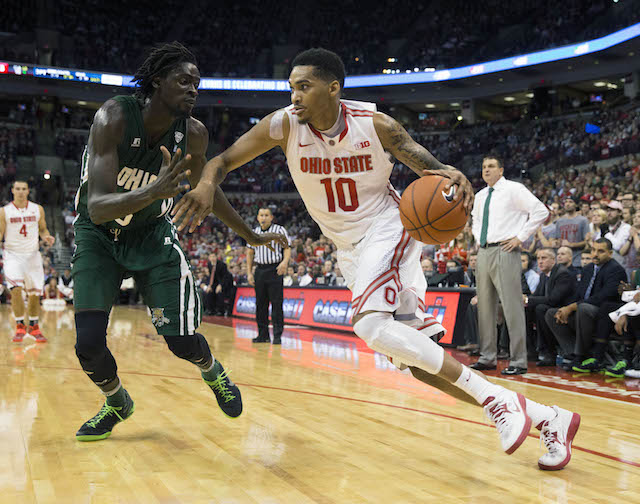 The first weekend of the college basketball season was fairly quiet, as last Friday was the start of the campaign and featured most of the key contests. This weekend, however, has some quality games -- including a battle between two top-20 teams, and a couple of ranked teams heading on the road.  
Note: All times are Eastern, and the rankings are according to the AP Poll.
Best game: No. 10 Ohio State Buckeyes at No. 17 Marquette Golden Eagles (Saturday, 1 p.m., FOX). The lone game of the weekend that pits two top-25 teams against one another. Both teams opened with two double-digit wins, Ohio State knocking off Morgan State and Ohio, while Marquette handled Southern and Grambling State. The Buckeyes haven't had the go-to scorer like Deshaun Thomas, but they are getting balanced offense from a variety of sources. For Marquette, Davante Gardner has been very efficient offensively, but the Golden Eagles will need a guard to step up against Ohio State. They have to hit some outside shots, so Ohio State's interior defense can't collapse on Gardner.
Second-best game: No. 7 Michigan Wolverines at Iowa State Cyclones (Sunday, 5 p.m., ESPN2). Both teams could be without their best player, as Michigan's Mitch McGary has been bothered by a back problem and Iowa State's Melvin Ejim is not yet fully recovered from a hyperextended knee he suffered in October. The key matchup will be Michigan's Glenn Robinson III against Dustin Hogue. Can the junior college transfer slow down a future first-round pick? Both teams have perimeter-based lineups, and DeAndre Kane has to try to get the Cyclones out in transition.
Another one to watch: Towson Tigers at Villanova Wildcats (Sunday, 5 p.m., FOX Sports 1). This is another opportunity for Towson to prove itself as one of the best mid-major teams in the country this season. The Tigers beat Temple on Thursday, but heading on the road to Villanova is a stiffer test. Obviously the biggest talking point in the game will be Towson's Jerrelle Benimon. He needs to have a huge game for Towson to get the win -- will Jayvaughn Pinkston and Daniel Ochefu slow him down on the inside? Meanwhile, the Tigers have to keep Villanova's perimeter players from getting into the lane off penetration.
Guaranteed win: There are a ton of ranked teams playing cupcakes at home this weekend, giving me many options for this category. However, the one with the most intrigue is clearly Robert Morris Colonials at No. 1 Kentucky Wildcats (Sunday, 7 p.m., ESPN2), so we'll go with that one. As everyone remembers, the Wildcats lost to Robert Morris in the first round of the NIT last season – and that's still the lasting memory of the 2012-13 version of Kentucky. They should get revenge on Sunday.
Potential upset: Two contests stand out this weekend for surprises. Up first is an intrastate battle between No. 20 Wisconsin Badgers and Green Bay Phoenix (Saturday, 8 p.m., ESPN3). Green Bay is playing at home – and has a future NBA prospect in 7-foot-1 Alec Brown . Brown, guard Keifer Sykes and Rutgers transfer Vincent Garrett form a solid trio. Stanford Cardinal has struggled a bit to start the season, but the Cardinal did handle Northwestern on Thursday. What will happen at Denver Pioneers (Sunday, 2 p.m., ROOT Sports) this weekend? The Pioneers might have the defense and frontcourt to pose a threat to Stanford. 
Three things to keep an eye on:
Two power-conference teams are at home on Sunday, but could have closer games than expected.

Boston University Terriers

at

Connecticut Huskies

(Sunday, 12 p.m., ESPNU) and

Indiana Hoosiers

State at No. 21

Notre Dame Fighting Irish

(Sunday, 12 p.m., ESPN3).

Doug McDermott

and

Creighton Bluejays

head on the road to face

Saint Joseph's Hawks

(Saturday, 7 p.m., Regional TV). Can the Bluejays handle

Langston Galloway

?
An under-the-radar individual matchup to watch out for is UTEP's 7-foot-1 Matt Wilms against

New Mexico State Aggies

's 7-foot-5

Sim Bhullar

(Friday, 9 p.m., ESPN3).
Other games to watch:
Ranked teams:
Cornell Big Red

at No. 3

Louisville Cardinals

(Friday, 7 p.m., ESPN3)

Florida Gators

Atlantic at No. 4

Duke Blue Devils

(Friday, 7 p.m., ESPN3)

Arkansas Razorbacks

-Pine Bluff at No. 8

Oklahoma State Cowboys

State" data-canon="Oklahoma Sooners" data-type="SPORTS_OBJECT_TEAM" id="shortcode0"> (Friday, 8 p.m., FOX Sports Affiliates)

Holy Cross Crusaders

at No. 12

North Carolina Tar Heels

(Friday, 8 p.m., ESPNU)

Columbia Lions

at No. 2

Michigan State Spartans

(Friday, 9 p.m., Big Ten Network)
No. 25

Virginia Cavaliers

at

Davidson Wildcats

(Saturday, 12 p.m.)

Colgate Raiders

at No. 9

Syracuse Orange

(Saturday, 4:30 p.m., ESPN3)

Tennessee State Tigers

State" data-canon="Tennessee Volunteers" data-type="SPORTS_OBJECT_TEAM" id="shortcode0"> at No. 16

Wichita State Shockers

(Saturday, 1 p.m.)

Little Rock Trojans

at No. 11 Florida (Saturday, 4:30 p.m., ESPN3)

Winthrop Eagles

at No. 14 VCU (Saturday, 7 p.m., CSN Mid-Atlantic Plus)

Belmont Bruins

at No. 12 North Carolina (Sunday, 4 p.m., ESPNU)
Louisiana-

Lafayette Leopards

at No. 23

Baylor Bears

(Sunday, 5 p.m., FOX Sports Affiliates)

Charleston Southern Buccaneers

" data-canon="Southern Jaguars" data-type="SPORTS_OBJECT_TEAM" id="shortcode0"> at No. 22 New Mexico (Sunday, 6:05 p.m., ROOT Sports)

Oakland Golden Grizzlies

at No. 15

Gonzaga Bulldogs

(Sunday, 8 p.m., ROOT Sports)
Others
Wagner Seahawks

at St. John's (Friday, 6 p.m., FOX Sports 2)

Georgia Tech Yellow Jackets

Tech" data-canon="Georgia Bulldogs" data-type="SPORTS_OBJECT_TEAM" id="shortcode0"> at Georgia (Friday, 7 p.m., ESPN3)

Northwestern State Demons

at

Auburn Tigers

(Friday, 8 p.m.)

Akron Zips

at

Middle Tennessee Blue Raiders

(Saturday, 3 p.m.)

Seton Hall Pirates

at

Mercer Bears

(Saturday, 3 p.m.)

Minnesota Golden Gophers

at

Richmond Spiders

(Saturday, 7 p.m., Regional TV)
Northwestern State at

LSU Tigers

(Saturday, 8 p.m.)

Long Beach State 49ers

at

Kansas Jayhawks

State (Sunday, 2 p.m., FOX Sports Affiliates)

South Carolina Gamecocks

at

Clemson Tigers

(Sunday, 5 p.m., ESPN3)
Buddy Boeheim was so impressive at Peach Jam that Gonzaga offered; others showing interest

The truths and myths about the push for 2018's No. 1 recruit to play college hoops a year...

Here are the under-the-radar players who will have breakout seasons in 2017-18
Duke coach says sometimes troubled guard played hurt last season, adding, 'I'm really proud...

Michigan, Marquette, California, LSU and VCU are also in the 34th annual field

The expected rise of Missouri figures to be a storyline once they start playing for real