Viewer's Guide: SEC and Big East showdowns start stretch run
On Sunday, we will begin the one-month countdown to Selection Sunday. Bubble teams need to make moves quickly, although this weekend is highlighted by Top 25 showdowns.
• 8 min read
You're probably noticing something different about the Weekend Viewer's Guide. There's an easy explanation. Because everyone loves delicious hoagies, the Friday version of our Viewer's Guide will now mirror the "Hoagie Scale" used for Jason La Canfora's NFL Game Rankings. Nothing much will change with the content; only the categories separating the games. Now I'm hungry.
On Sunday, we will have exactly one month until Selection Sunday. That means the excitement of the NCAA tournament is just around the corner. But it also means that the stretch run is officially beginning in college basketball. Teams will fight for No. 1 seeds, but the attention will start really shifting to bubble teams. They can't afford bad losses -- but also need to take advantage of quality wins. There are plenty of those on the line this weekend.
All times are ET.

No. 3 Florida at No. 14 Kentucky (Saturday, 9 p.m., ESPN)
A battle between the two best teams, and seemingly the only two good teams, in the SEC. Florida has won 16 games in a row and is starting to get attention as potentially a national title favorite come March. A win at Rupp Arena would get the national momentum going even more. Kentucky, meanwhile, is still looking to pick up good wins, truly turn the corner and improve its seeding for the NCAA tournament. Taking down the Gators would do just that. Kentucky has to take care of the ball and make smart decisions against Florida's defense. The Gators will change defenses and look to take the Wildcats out of what they do best. The Wildcats can crash the offensive glass, though. Defensively, Kentucky has to keep Florida out of transition and try to make the Gators shoot from the perimeter. Outside of Michael Frazier and Scottie Wilbekin, Florida isn't a very good jump-shooting team.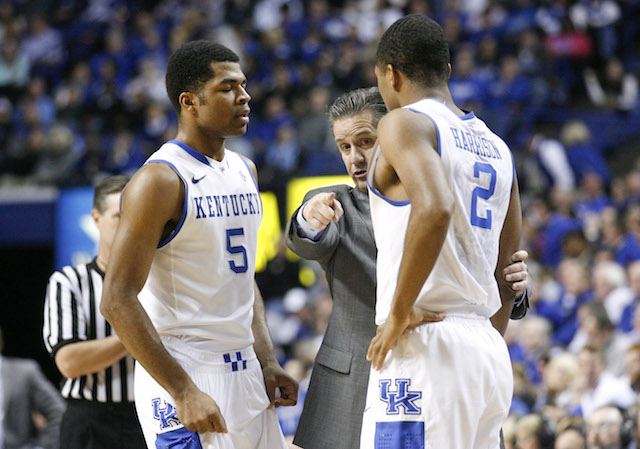 No. 6 Villanova at No. 18 Creighton (Sunday, 5 p.m., Fox Sports 1)
We all remember the first game between these two teams this season. Creighton went into the Wells Fargo Center and absolutely lit up the scoreboard. The Bluejays made 21 3-pointers, including nine by center Ethan Wragge, and cruised to a statement-making 28-point win. Villanova hasn't lost since then, but the Wildcats aren't being named among the short list of national title contenders despite their 22-2 record. In order to get a win on the road, Villanova obviously has to defend the perimeter far better. The Wildcats have the smaller personnel to get out and guard, but Daniel Ochefu has to be mobile on the defensive end. On the other side, it will also come down to the perimeter; can Villanova hit shots consistently? Ryan Arcidiacono has been inconsistent lately; he can't be against Creighton.
No. 21 Wisconsin at No. 15 Michigan (Sunday, 1 p.m., CBS)
It's getting more and more difficult to predict the Big Ten. Wisconsin had lost five of six, but the Badgers are now on a three-game winning streak after wins over Michigan State and Minnesota. On the other side, Michigan looked awful in its loss last weekend at Iowa -- but the Wolverines bounced back to beat Ohio State by double digits on the road. Michigan won the first meeting between the two teams, getting a combined 43 points from Caris LeVert and Nik Stauskas. This will be a matchup of two of the better-shooting teams in college basketball, and both teams will have to find ways to prevent dribble penetration. Derrick Walton could be the key for the Wolverines, while Wisconsin's Sam Dekker needs to create matchup problems. 

VCU at No. 12 Saint Louis (Saturday, 2 p.m., ESPN2)
The two best teams in the Atlantic 10 face off -- with two contrasting styles. VCU wants to force turnovers with its HAVOC defense, creating points in transition. Meanwhile, Saint Louis wants to grind teams down and play physical, mistake-free basketball in the half-court. Which will win out? Last season, Saint Louis easily handled VCU when the Rams came to town, as VCU's style just didn't translate well on the road against the Billikens. Briante Weber against Jordair Jett could be a key. Jett is playing tremendous basketball lately, and Weber will have to be composed offensively while also putting pressure on Jett. 
No. 20 Memphis at No. 24 Connecticut (Saturday, 12 p.m., ESPN)
Connecticut won the first meeting by 10 points, but that was almost a month ago. Since then, Memphis has padded its record with wins in seven of its past eight games, although the only remotely impressive win was over Gonzaga. Meanwhile, Connecticut has pulled off wins in eight of its past 10. Memphis can stay within striking distance of first-place Cincinnati, but a loss knocks them back to the pack. The guard matchup will be huge, as Shabazz Napier and Ryan Boatright square off against Memphis' quartet of Joe Jackson, Geron Johnson, Chris Crawford and Mike Dixon. 
No. 2 Arizona at Arizona State (Friday, 9 p.m., ESPN)
This is a huge opportunity for Arizona State. The Sun Devils are doing a solid job of getting into the at-large picture, winning five of their past six -- but they still need to pick up marquee wins. This would certainly qualify. Moreover, four of their final six games are on the road, so taking care of business at home is huge. Jahii Carson will have to shoulder the load for Arizona State, but Nick Johnson and T.J. McConnell will be up to the task. Defensively, it will be up to Jordan Bachynski to keep Arizona's frontline from the rim and off the glass. 

No. 25 Pittsburgh at North Carolina (Saturday, 1 p.m., CBS)
Very intriguing game on both sides. For Pittsburgh, it might be the last time the Panthers get to play an NCAA tournament team until the ACC tournament. Thus far, Pitt doesn't have a win over a sure-fire tourney team. That needs to change. Meanwhile, North Carolina has won five in a row -- but didn't face any of the ACC's better teams. Holding serve at home against Pitt would keep momentum going.
Tennessee at Missouri (Saturday, 4 p.m., ESPN2)
Monster bubble game in the SEC. Both teams are in the mix for third-best team in the conference, but no one has been able to get a firm grasp yet this season. Tennessee has struck out on most of its big-win opportunities, but a road win at Missouri would be a nice boost. Missouri snapped a three-game losing streak with a home win over Arkansas, and the schedule sets the Tigers up for a run.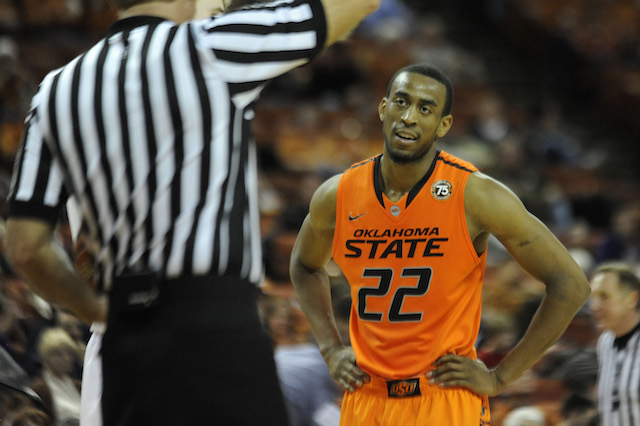 Oklahoma at Oklahoma State (Saturday, 2 p.m., ESPN)
It's getting to be serious danger time for Oklahoma State, especially without Marcus Smart. The Cowboys were destroyed by Texas in their first game without Smart, and they still have two more games until he returns. Oklahoma has dropped three of four, so the Sooners have to get back on the right track too. Can Oklahoma State bang down low with Ryan Spangler and also keep Jordan Woodard out of the paint?

Massachusetts at George Washington (Saturday, 2 p.m.)
Since a 16-1 start, Massachusetts has lost four of seven -- with VCU coming up after George Washington. The Minutemen need to solidify their résumé. GW got rolled Wednesday at VCU. 
Kansas State at Baylor (Saturday, 7 p.m., ESPNU)
Kansas State's win over Kansas on Monday put the Wildcats in solid shape for the NCAA tournament -- but they still haven't proven they can win on the road. Baylor needs to start racking up wins.
West Virginia at No. 19 Texas (Saturday, 8 p.m., Longhorn Network)
West Virginia has played itself into the mix by winning four of its past five, and a road victory in Austin would be huge. Texas has won eight of nine, but forward Jonathan Holmes missed the last game.
BYU at Saint Mary's (Saturday, 8 p.m., ESPN2)
Possibly an at-large elimination game for the WCC. Neither team has that great a résumé, but the second-place team in the WCC is usually a factor. BYU's loss to Pacific on Thursday was a tough hit.
Georgetown at St. John's (Sunday, 7 p.m., Fox Sports 1)
A month ago, neither team was close to the at-large mix. Much has changed. Georgetown has won four in a row to get to 15-9 overall, while St. John's has rolled off seven wins in eight games.
Other games to watch:
FRIDAY
No. 13 Louisville at Temple (6 p.m., ESPN)
No. 23 SMU at Rutgers (7 p.m.)
Harvard at Columbia (7 p.m.)
SATURDAY
Saint Joseph's at La Salle (11 a.m., ESPNU)
No. 17 Virginia at Clemson (12 p.m., ESPN2)
No. 16 Iowa at Penn State (1 p.m., ESPNU)
Southern Illinois at Indiana State (1:05 p.m., ESPN3)
Texas Tech at No. 11 Iowa State (1:45 p.m., ESPN3)
Southern Miss at Middle Tennessee (2 p.m.)
DePaul at Providence (2 p.m., Fox Sports Network)
Davidson at Georgia Southern (2 p.m.)
North Carolina State at No. 1 Syracuse (3 p.m., ESPN3)
Houston at No. 10 Cincinnati (3 p.m., ESPNU)
California at Washington (3 p.m., Pac-12 Network)
TCU at No. 7 Kansas (4 p.m., ESPN3)
Mount St. Mary's at Robert Morris (4 p.m.)
Xavier at Marquette (4 p.m., Fox Sports 1)
Ole Miss at Georgia (4 p.m., ESPN3)
Green Bay at Cleveland State (4 p.m., ESPN3)
Indiana at Purdue (4 p.m., ESPN)
UNLV at Utah State (4:05 p.m., CBS Sports Network)
Stephen F. Austin at Sam Houston State (4:45 p.m., ESPN3)
LSU at Arkansas (Saturday, 5 p.m., ESPNU)
Utah at UCLA (Saturday, 5 p.m., Pac-12 Network)
Maryland at No. 8 Duke (6 p.m., ESPN)
Georgia State at Troy (6 p.m., ESPN2)
Fordham at Richmond (6 p.m.)
Arkansas-Pine Bluff at Southern (6 p.m.)
North Carolina Central at South Carolina State (6 p.m.)
Nevada at New Mexico (6:05 p.m., CBS Sports Network)
Gardner-Webb at Coastal Carolina (7 p.m.)
Stanford at Washington State (7 p.m., Pac-12 Network)
No. 22 Ohio State at Illinois (8 p.m., Big Ten Network)
Florida State at Wake Forest (8 p.m., ESPN3)
Loyola Marymount at Gonzaga (8 p.m., ROOT)
Air Force at No. 5 San Diego State (8:05 p.m., CBS Sports Network)
SUNDAY
No. 23 SMU at Temple (2 p.m., CBS Sports Network)
Nebraska at No. 9 Michigan State (3 p.m., Big Ten Network)
Oregon State at Oregon (3 p.m., Fox Sports 1)
No. 4 Wichita State at Evansville (5 p.m., ESPN3)
Rutgers at No. 13 Louisville (6 p.m., ESPN2)
Minnesota at Northwestern (6 p.m., Big Ten Network)
Colorado at USC (8 p.m., ESPNU)
Show Comments
Hide Comments
Motley, who averaged 17.3 points and 9.9 boards, is projected as a borderline first-rounde...

Sharpshooter's return figures to send the program to a place it has been only once before
Gary Parrish and Matt Norlander also discuss UNLV's recruiting class

The five-star big man is part of a surprise late-period recruiting coup by Marvin Menzies

It's time for random observers to stop being outraged by players' decisions