Viewer's Guide: Two Final Four spots will be taken
The Elite Eight gets started on Saturday, with a double-digit seed, two No. 1 seeds, and Wisconsin in action.
• 3 min read
More NCAA hoops: Tournament bracket | Complete coverage of NCAAs | Latest news
And we're down to eight. After an absolutely thrilling pair of games to end the Sweet 16 on Friday night -- final-minute affairs in Michigan State vs. Virginia, and Louisville vs. Kentucky -- we're just four games away from the Final Four. Two tickets will be punched on Saturday, with the two remaining one seeds looking to hold serve and move on to Dallas. Meanwhile, we also have a double-digit seed in action, and a dangerous Wisconsin team.
Note: All games are Eastern.
No. 1 Florida vs. No. 11 Dayton (6:09 p.m., TBS): It's a double-digit spread, but Dayton has been defying the odds throughout the NCAA Tournament. Can the Flyers pull off another upset and advance to the Final Four? It's a longshot -- but it was also a longshot that Dayton would even be in this position. Dayton has been creating issues for opponents by spreading the floor with at least four shooters and knocking down shots from the perimeter. The Flyers have also done an effective job of pushing the ball in transition and getting buckets before the opposing defense is set. They overcame Stanford's big frontline by drawing them away from the basket and then attacking or shooting.
Can they do the same against Florida? The Gators are more versatile up front than most teams, with the ability to mix and match at the forward spots. Offensively, Dayton has to space the floor and make shots, while also being opportunistic in transition. The Flyers don't want to get into a running game against Florida, but they also don't want to play in a purely half-court game. Defensively, they have to keep Florida's bigs off the offensive glass and locate Michael Frazier on the perimeter. When Frazier is knocking down shots, Florida is basically impossible to stop. But if he goes cold, Florida's offense becomes easier to defend. Dayton can't allow Frazier to get going early. Moreover, Stanford had some success going to the post consistently before its bigs got in foul trouble -- Florida should be able to get the ball inside.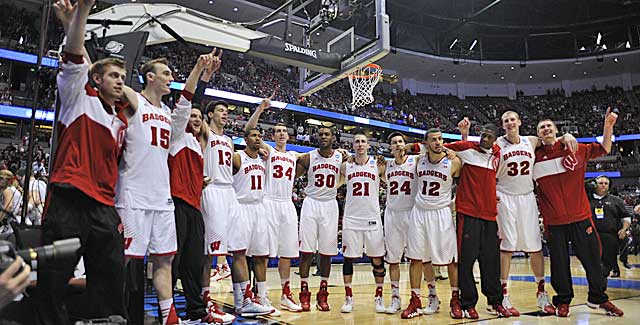 No. 1 Arizona vs. No. 2 Wisconsin (8:49 p.m., TBS): This should be a fun one. The lone region with the top two seeds advancing to the Elite Eight, and both teams are obviously playing well at the right time. Arizona was subpar offensively against San Diego State, but Nick Johnson came alive with 15 points in the final three minutes to help the Wildcats overcome their struggles. Meanwhile, Wisconsin found gaps and openings in the Baylor zone defense early and often, and the Badgers made shots to advance. The game was really never in doubt after the opening few minutes, and Wisconsin will have plenty of momentum heading into the regional final in Anaheim. 
This will be a clash of systems and strategies, especially in the half-court. Arizona will look to pack it in on the defensive end, cutting off gaps and driving lanes for Wisconsin. The Badgers rely heavily on their outside shooting, though, and they should be able to find some open shots along the perimeter. Offensively, Wisconsin has to get hot from the perimeter again -- while also taking care of the ball and running good offense against Johnson and T.J. McConnell on the perimeter. Frank Kaminsky has to find some openings against the interior defense of Arizona, to soften them up down low. On the other side, Arizona will look to attack the rim and attack the offensive glass. Wisconsin can be vulnerable to teams that are aggressive in the paint, and Arizona fits that mold. Arizona was able to survive a poor shooting night once already this tournament; I'm not sure they could do it again. Johnson and Arizona have to make shots. 
Show Comments
Hide Comments
Shareef picked Arizona over UCLA, USC, LSU and others

Stephen Curry, Damian Lillard, C.J. McCollum and Ian Clark didn't come from college powerhouses,...

The four-year player at VCU will try and make the Colts as a tight end
Letting teams open on a Friday in football season has never made sense

College basketball's season could start earlier

Allen will enter his senior season as the most famous college basketball player in years