Viewer's Guide: Virginia looks to stake its claim in ACC
With just two weekends left in the regular season, championship races could be decided in the coming days.
• 8 min read
You're probably noticing something different about the Weekend Viewer's Guide. There's an easy explanation. Because everyone loves delicious hoagies, the Friday version of our Viewer's Guide will now mirror the "Hoagie Scale" used for Jason La Canfora's NFL Game Rankings. Nothing much will change with the content; only the categories separating the games. Now I'm hungry.
This weekend isn't as hyped last weekend, mostly because last weekend was the best slate of college basketball we will see all season. Saturday's schedule is no slouch, though, with showdowns in the ACC and AAC, along with several key opportunities for bubble teams looking for marquee wins. Moreover, the regular season is winding down in many mid-major conferences – and there are still races to be decided. 

No. 4 Syracuse at No. 12 Virginia (Saturday, 4 p.m., ESPN)
The regular-season title in the ACC could come down to Saturday. With Syracuse and Duke battling twice in three weeks, Virginia lurked below the radar and emerged in first place after Duke took down the Orange last weekend. The Cavaliers could clinch at least a share of the title with a win on Saturday, and it's also a chance to prove they are a legitimate threat in March. People still don't believe Virginia will be an NCAA tournament factor, mostly because of the Cavaliers' slow style and lack of pop offensively. However, they are one of the best defensive teams in the country and will get teams to play at their pace. Meanwhile, Syracuse has been playing at that tempo for most of the past month, although Tyler Ennis and the Orange will hope to get a few transition opportunities. Can they snap out of their funk offensively? 
No. 7 Louisville at No. 21 Memphis (Saturday, 2 p.m., CBS)
Well, well. Look who is suddenly becoming a title contender yet again in the month of February. This is what Rick Pitino does. Louisville is playing its best basketball of the season at the right time, winning seven in a row to put itself in the mix for the AAC title. Meanwhile, Memphis was upset by Houston on Thursday and is just 1-4 against the top five teams in the league. The Tigers need a confidence boost heading down the stretch – as the final two games of the season come against Cincinnati and SMU, two teams that will pack it in and force Memphis to shoot jumpers. On Saturday, the guard battle will be key, as both teams often go with four perimeter players on the court at once. Joe Jackson and the Memphis guards need to take care of the ball, while also attacking the rim consistently and getting Montrezl Harrell in foul trouble. Can someone on Memphis step up and guard Russ Smith for 40 minutes?
No. 11 Cincinnati at Connecticut (Saturday, 12 p.m., ESPN)
The second of two key AAC battles on Saturday. Both teams are looking to get some momentum heading down the stretch, as Cincinnati lost at home to Louisville last weekend and Connecticut hasn't been convincing over the past couple of games. UConn played tough on the road in the first meeting, but the Huskies once again need to be tough on the inside. Cincinnati gets a lot of its offense on the offensive glass, so the Huskies can't allow second chances. At the other end, Connecticut has to be strong with the ball and knock down open shots, led by All-American Shabazz Napier. Of course, the biggest X-factor is Sean Kilpatrick. He's capable of going for 25 or 30 points on any given night, and Cincinnati is very difficult to beat when the All-American guard is knocking down his shots. He has 26 points and five 3-pointers in the first meeting; if he does that again, UConn could be in trouble. 

No. 10 Saint Louis at VCU (Saturday, 6 p.m., ESPN2)
This game lost a little bit of its luster when Saint Louis was shocked on its home floor by Duquesne on Thursday, snapping a 19-game losing streak and ending the Billikens' unbeaten run in the Atlantic 10. Saint Louis won the first meeting by two points earlier this month, as VCU simply couldn't buy a basket from the perimeter. The Rams were able to get it at their tempo, though, which will be even more important at home. HAVOC is far more effective in Richmond than on the road, and Jordair Jett has to take care of the ball and make good decisions for Saint Louis. These are two of the five best defenses in the country, so this will certainly be a battle.
No. 5 Kansas at Oklahoma State (Saturday, 9 p.m., ESPN)
This is a statement game for Marcus Smart and the Cowboys. They have won two in a row since the seven-game losing streak, but now the hard part starts. After this weekend, they face Kansas State and Iowa State to finish the season. Can Smart help will Oklahoma State into the tournament? They took Kansas to the wire in Lawrence back in mid-January. On Saturday night, Oklahoma State will need to hold its own on the inside. Without Michael Cobbins, the Cowboys are shorthanded inside, which isn't a good thing against Joel Embiid and Perry Ellis. Meanwhile, Oklahoma State has to try to force turnovers and get out in transition. The Cowboys have to be in attack mode, finishing inside and getting Kansas in foul trouble.
No. 9 Creighton at Xavier (Saturday, 5 p.m., FOX Sports 1)
Yes, it does still seem a little strange that this is a Big East showdown. Despite that, both teams need this win. Creighton is tied atop the standings with Villanova, and while the Bluejays own the tiebreaker, neither schedule is easy. Meanwhile, Xavier picked up a big bubble win over St. John's on Tuesday, putting them ahead of the rest of the bubblers in the league. Xavier lost the first meeting on the road by six, with Doug McDermott scoring 35 points. However, the Musketeers were able to knock down outside shots and get Semaj Christon going offensively. They need to do that again.

No. 24 Texas at Oklahoma (Saturday, 4 p.m., ESPN3)
One of two Big 12 matchups that could help decide the regular-season standings. Texas beat Baylor on Wednesday, but has lost three straight road games. On the other side, Oklahoma has lost four of its last six. Expect plenty of points in this one. Two of the better freshman guards in the country will do battle in Jordan Woodard and Isaiah Taylor. 
No. 15 Iowa State at Kansas State (Saturday, 7 p.m., ESPNU)
The Big 12 pecking order after Kansas is still up in the air, and both of these teams are pushing for second place. Iowa State has won seven of its last eight games, while Kansas State broke its road slump by beating Texas Tech on Tuesday. The battle between Marcus Foster and DeAndre Kane on the perimeter should be fun.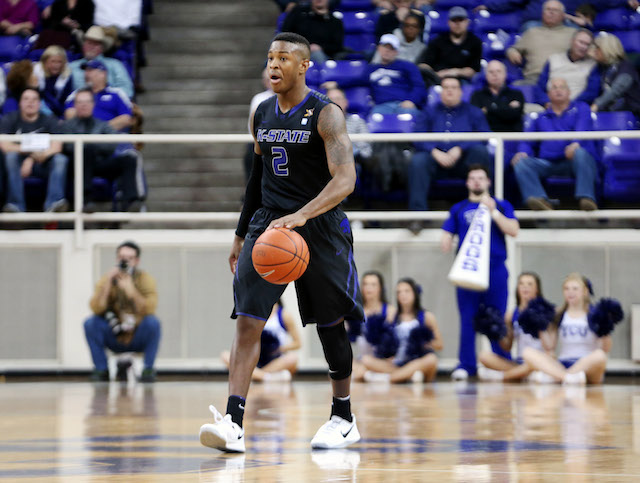 Stanford at No. 3 Arizona (Sunday, 8 p.m., ESPNU)
Arizona seems to have regained its swagger since stumbling a little bit after Brandon Ashley's season-ending injury. The Wildcats have obliterated Colorado and California in back-to-back games, but Stanford will try to put an end to the streak. The Cardinal could essentially punch their ticket with a win in Tucson. 

Massachusetts at Dayton (Saturday, 11 a.m., ESPNU)
Dayton missed a big opportunity during the week at Saint Joseph's, but the Flyers need to bounce back against Massachusetts. The Minutemen have won three in a row and are pushing for a top-five seed.
Missouri State at No. 2 Wichita State (Saturday, 2 p.m., ESPN)
I don't imagine this game will be close, but if Wichita State wins, the Shockers will have finished the regular season with an unblemished 31-0 record.
LSU at No. 1 Florida (Saturday, 4 p.m., CBS)
LSU is running out of chances to boost its at-large resume, and a win in Gainesville would obviously do wonders. However, Florida can make a case for the overall No. 1 seed.
Minnesota at No. 16 Michigan (Saturday, 6 p.m., Big Ten Network)
Minnesota essentially saved its season with a win over Iowa on Tuesday, and the Gophers can make another statement in Ann Arbor. Michigan is looking for some consistency.
California at Arizona State (Saturday, 6 p.m., Pac-12 Network)
Two teams in the logjam behind Arizona in the Pac-12. Arizona State should feel fairly comfortable about the NCAA tournament, but California is 4-6 in its last 10 and needs more quality wins.
Marquette at No. 8 Villanova (Sunday, 2 p.m., CBS)
Marquette is trying to play itself into the at-large conversation, and while beating Georgetown on Thursday helped, it won't get the Golden Eagles there yet. A win at Villanova would get them in the mix.
Other games to watch:
FRIDAY
Campbell at High Point (7 p.m., ESPNU)
Providence at Seton Hall (7 p.m., CBS Sports Network)
Yale at Princeton (7 p.m.)
SATURDAY
Vanderbilt at Tennessee (12 p.m., ESPN2)
Texas Tech at Baylor (1:30 p.m., ESPN3)
Mississippi State at Missouri (1:30 p.m., ESPN3)
Boston University at Holy Cross (2 p.m.)
Pittsburgh at Notre Dame (2 p.m., ESPN2)
Delaware at Charleston (2 p.m.)
Colorado at Utah (2 p.m., Pac-12 Network)
Richmond at Rhode Island (2 p.m.)
No. 19 North Carolina at Virginia Tech (2:30 p.m., ESPN3)
Saint Joseph's at St. Bonaventure (3 p.m., NBC Sports Network)
Illinois at No. 18 Michigan State (4 p.m., ESPN2)
UCF at No. 23 SMU (4 p.m., ESPNEWS)
Georgia at Arkansas (4 p.m., ESPN3)
BYU at San Diego (4 p.m., ROOT)
Oregon at USC (4 p.m., Pac-12 Network)
South Carolina State at North Carolina Central (4 p.m.)
Northwestern at Nebraska (5 p.m., ESPNU)
Belmont at Jacksonville State (5:30 p.m.)
Stephen F. Austin at Southeastern Louisiana (5:30 p.m.)
No. 17 Kentucky at South Carolina (6 p.m., ESPN)
Western Michigan at Toledo (6 p.m., ESPN3)
Southern at Alcorn State (6 p.m.)
Murray State at Southeast Missouri State (6:30 p.m.)
Columbia at Harvard (7 p.m.)
Northern Arizona at Weber State (9 p.m.)
Texas-Pan American at Utah Valley (9:05 p.m.)
Gonzaga at Saint Mary's (10 p.m., ESPN2)
No. 13 San Diego State at Fresno State (10:05 p.m., CBS Sports Network)
Cal Poly at UC Irvine (11 p.m., ESPNU)
SUNDAY
DePaul at St. John's (12 p.m., CBS Sports Network)
No. 14 Wisconsin at Penn State (12 p.m., Big Ten Network)
George Mason at George Washington (1 p.m., NBC Sports Network)
Southern Miss at Florida Atlantic (2 p.m.)
Purdue at No. 20 Iowa (2:05 p.m., Big Ten Network)
No. 22 Ohio State at Indiana (4 p.m., CBS)
No. 25 New Mexico at Nevada (6 p.m., ESPN3)
Georgia Tech at Florida State (6 p.m., ESPNU)
Oregon State at UCLA (9 p.m., FOX Sports 1)
Show Comments
Hide Comments
Motley, who averaged 17.3 points and 9.9 boards, is projected as a borderline first-rounde...

Sharpshooter's return figures to send the program to a place it has been only once before
Gary Parrish and Matt Norlander also discuss UNLV's recruiting class

The five-star big man is part of a surprise late-period recruiting coup by Marvin Menzies

It's time for random observers to stop being outraged by players' decisions