Wake Forest, Xavier extend Skip Prosser Classic indefinitely
Wake Forest and Xavier revised the schedule for the Skip Prosser Classic, which will feature the two teams playing twice every four years moving forward.
• 1 min read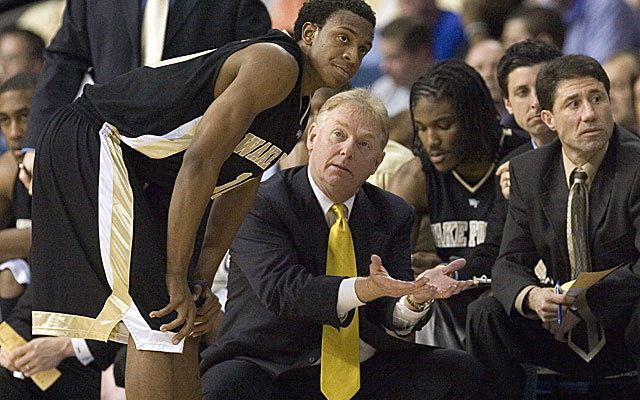 Doyel on Prosser: More than a name on the game | Chris Mack signs extension
Wake Forest and Xavier have revised the schedule for the Skip Prosser Classic, the series which honors the late coach of both schools, the  to continue the series indefinitely. 
Under the new arrangement, Wake Forest and Xavier will play the Skip Prosser Classic in back-to-back seasons then take a two-year break. Although this alters the previous 10-year agreement for the series, the official release indicated that "both programs agreed that this series will continue indefinitely under this new scheduling format."
The 2015-16 edition of the Skip Prosser Classic will take place at Wake Forest on Dec. 22, 2015, followed by the 2016-17 game at Xavier on Dec. 17, 2016. The series will then resume in 2019-20.
"A series honoring someone as special as Skip Prosser illustrates what college athletics is truly all about," Xavier athletic director Greg Christopher said. "Although both institutions have endured significant change with respect to the ever shifting conference landscape, all parties involved viewed the continuation of this series as non-negotiable."
Xavier finished 21-13 its first season of play the new-look Big East, but the Muskateers have continuity moving forward on the sideline after inking head coach Chris Mack to an extension through the 2019-20 season. Wake Forest, on the other hand, will be two-years into the Danny Manning era by the time Xavier comes to down in 2015 for the next Skip Prosser Classic. 
"Honoring Skip with the continuation of this series is extremely important to both Wake Forest and Xavier," Ron Wellman, athletic director at Wake Forest, added. "We are very similar institutions so the series makes a lot of sense. And we are close enough that our fans can travel to the away game. Skip's legacy will live through this series, and he would undoubtedly be pleased with the commitment by both of `his' schools to play each other."
The Skip Prosser Classic began in 2009-10 and the series is tied 2-2. Xavier leads the all-time series between the two schools 3-2. 
Show Comments
Hide Comments
Our Latest Stories
How prevalent will players kneeling during the national anthem be in college basketball this...

The NCAA will hear UNC's case in response to multiple alleged NCAA violations on Oct. 28

The Cavaliers used social media Thursday to show support for the 49ers quarterback
The Buckeyes couldn't get a player to dress up, so it was Matta to the rescue

Pressure and criticism forced Neal to transfer from the team his dad coaches

The Mountaineers and Panthers will revive their longstanding series in 2017