Washington's C.J. Wilcox undergoes foot surgery
Washington will look to improve its 18-16 record, but it will need leading scorer C.J. Wilcox to get healthy. He underwent surgery Friday.
• 1 min read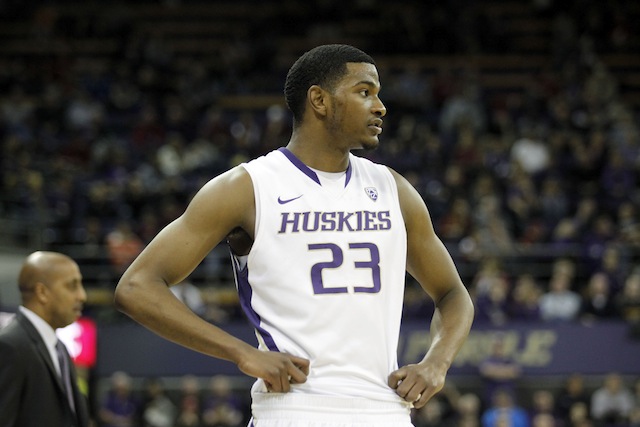 C.J. Wilcox was one of the top scorers in the country for the first half of last season, putting up more than 20 points per game for the first three months. However, he struggled down the stretch due to a left foot injury he suffered in early February.
Wilcox rarely practiced and wore a walking boot when not playing.
On Friday, the Washington guard took a major step in repairing his foot, undergoing surgery.
According to a release, Wilcox had a stress fracture in his foot, and needed to have his fifth metatarsal stabilized. He is expected to be recovered before the beginning of the 2013-14 season.
Wilcox, a 6-foot-5 rising senior, averaged 16.8 points and shot nearly 37 percent from 3-point range last season. He pondered entering the NBA draft in April, but decided before the deadline to return to the Huskies for a final year in college.
Washington does lose its top three scorers after Wilcox, although it does return guard Andrew Andrews at the point, with Shawn Kemp Jr. and Desmond Simmons back inside. The keys will be freshman Nigel Williams-Goss and transfer Perris Blackwell. Williams-Goss is a born winner and leader who will find ways to impact the game, while Blackwell averaged 12.7 points and 6.1 rebounds at San Francisco two seasons ago.
Lorenzo Romar's troops finished 18-16 last season, going 9-9 in Pac-12 play before losing to BYU in the NIT. The Huskies will need a healthy Wilcox to stay competitive in the league. 
Show Comments
Hide Comments
The information on who harassed John Higgins will now be turned over to the FBI

Some of these future NBA picks might work out, but others won't sniff being drafted

This is a good development for Louisville, which may avoid having its coaches forced to testify...
The athletic guard withdrew from the NBA Draft late Wednesday night

Next step in the case, which began in 2011, is for UNC to face the NCAA's Committee on Inf...

We look at 40-plus teams affected by this year's NBA Draft