Wayman Tisdale Watch: Aaron Gordon hitting stride at right time
Aaron Gordon has been the forgotten man among the elite freshmen in the country, but he emerged as the top dog last week.
• 5 min read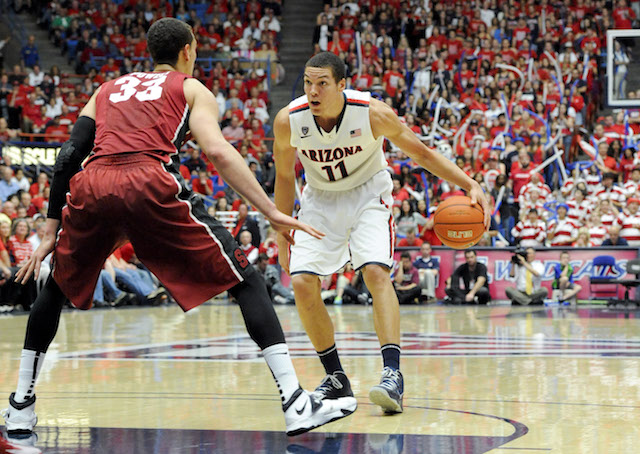 Latest in hoops: Top 25 (and one) | Bracketology | Bubble Watch
You might notice a bit of a change in our Freshman Watch column this season. We have teamed up with the Wayman Tisdale Award, and so our Freshman of the Week is now the Wayman Tisdale National Freshman of the Week. And our Freshman of the Year rankings are now the Wayman Tisdale Award Watch. What is the Wayman Tisdale Award? It's selected annually by the United States Basketball Writers Association and given to the best freshman in the country. The award will be announced in March, and handed out in April in Oklahoma City.
Aaron Gordon came into the season in the same conversation as Andrew Wiggins, Julius Randle and Jabari Parker. They were the star quartet of freshmen that was going to take the country by storm and immediately cement themselves as the cream of the crop in college basketball. It happened for Randle and Parker, it happened for Wiggins a little while later, but other players were stepping up instead of Gordon.
Gordon was a role player for Arizona. A talented and super athletic role player, for sure, but a role player nonetheless. The main reason was the Wildcats were extremely balanced across the board, and Gordon was buying in and doing whatever it took to help Arizona win basketball games.
Then starting forward Brandon Ashley got hurt, and Arizona needed Gordon to become more of a factor on the offensive end. And it's starting to click.
If last week is any indication, Gordon has a big March ahead of him. Because last week, Gordon was the best freshman in the country and the winner of the Wayman Tisdale Freshman of the Week.
He had 13 points and four rebounds in a blowout victory over California, playing just 24 minutes in the 28-point win. But on Sunday against Stanford, Gordon showed why he was so highly-touted coming out of high school. He went for 19 points and 15 rebounds, shooting 8-for-13 from the floor and showing his versatility and wide range of skills. 
With Ashley out for the season, Gordon has moved to the power forward spot -- where he played in high school, and where he is likely most comfortable right now. He wants to become a small forward, and with improved ball-handling and more consistent outside shooting, he can become that down the road. But right now, he is excelling with more of an inside role, creating matchup problems with his athleticism and all-around game. Gordon has scored at least 13 points in five of his last six games, and is hitting his stride at the right time.
On the season, Gordon is averaging 12.2 points and 8.0 rebounds.
Other standout freshman performances this past week included: Jalen Reynolds, Xavier (17 points, 16 rebounds vs. St. John's); Andrew Rowsey, UNC-Asheville (37 points vs. Winthrop); Martez Harrison, UMKC (31 points vs. Grand Canyon); Kahlil Felder, Oakland (10 points, 12 assists vs. Youngstown State); London Perrantes, Virginia (40 assists, six turnovers in last 10 games); Monte Morris, Iowa State (12 assists, 0 turnovers vs. West Virginia); Shannon Hale, Alabama (17.0 ppg, 6.5 rpg in two games); Jared Brownridge, Santa Clara (38 points vs. Pepperdine).
Past winners:
Nov. 12: Julius Randle, Kentucky
Nov. 19: Jabari Parker, Duke
Nov. 26: Jabari Parker, Duke
Dec. 3: Tyler Ennis, Syracuse
Dec. 10: Chris Perry, South Florida
Dec. 17: Jordan Woodard, Oklahoma
Dec. 24: Jabari Parker, Duke
Dec. 31: James Young, Kentucky
Jan. 7: Marcus Foster, Kansas State
Jan. 14: Wayne Selden, Kansas
Jan. 21: Joel Embiid, Kansas
Jan. 28: Andrew Wiggins, Kansas
Feb. 4: Jordan Mickey, LSU
Feb. 11: Marcus Foster, Kansas State
Feb. 18: Sindarius Thornwell, South Carolina
Feb. 25: Julius Randle, Kentucky
Wayman Tisdale Award Watch
 Stats: 18.8 ppg, 8.9 rpg, 47.9 FG%, 37.0 3PT%
 Comment: Duke had just one game last week, and Parker notched his fourth straight double-double. He wasn't great offensively, shooting 3-for-11 from the field and missing all three of his 3-point attempts. He was solid in other areas of his game, though, grabbing 12 rebounds, dishing out three assists, blocking three shots, and racking up three steals. Barring something surprising, Parker has National Freshman of the Year in the bag. 
---

 2. Tyler Ennis
 Stats: 12.1 ppg, 3.4 rpg, 5.5 apg, 2.0 spg, 36.5 3PT%
 Comment: Syracuse continued its struggles on the offensive end, although Ennis seemed to have snapped out of his funk that culminated in a 2-for-13 shooting performance against Duke. He bounced back with 20 points at Maryland, also contributing six rebounds and three assists. Ennis followed that up with 13 points and four assists in a loss to Virginia, where the Orange really couldn't get anything going late in the game. 
---
 Stats: 16.3 ppg, 5.9 rpg, 44.1 FG%
 Comment: Wiggins couldn't really find his shooting stroke last week, making just two of his 10 3-point attempts in games against Oklahoma and Oklahoma State. However, he had 15 points in both games, running his streak of games with at least 15 points to seven. Wiggins has also been aggressive, attempting at least 11 shots from the field in 11 straight games. If he gets consistent from behind the arc, the Jayhawks will be even tougher.
---
 Stats: 15.5 ppg, 10.4 rpg, 51.6 FG%
 Comment: Kentucky dropped two games last week, and Randle certainly wasn't at his best in either game. Randle shot 7-for-22 in the two games, struggling to dominate offensively on the interior. His lines ended up looking OK, though, as he averaged 12.0 points and 12.5 rebounds for the week. If the Wildcats are going to turn things around down the stretch, Randle is going to have be the leader, especially down the stretch of games. 
---

 5. Joel Embiid
 Stats: 11.2 ppg, 8.1 rpg, 2.6 bpg, 62.6 FG%
 Comment: Embiid will sit out the final two games of the regular season, but he is ending on a high note. Last week, he notched back-to-back double-doubles. Embiid had 12 points, 13 rebounds, three assists, three blocks and four steals against Oklahoma, before following that up with 13 points and 13 boards against Oklahoma State. Kansas needs him healthy for the NCAA tournament, though, so here's hoping he gets better. 
---
Next in line: Marcus Foster, Kansas State; Aaron Gordon, Arizona; Jordan Mickey, LSU; Bobby Portis, Arkansas; Isaiah Taylor, Texas; Noah Vonleh, Indiana
Freshman leaders: Points: James Daniel, Howard (22.0 ppg); Rebounds: Julius Randle, Kentucky (10.4 rpg); Assists: Khalil Felder, Oakland (6.2 apg). 
Show Comments
Hide Comments
The Tar Heels point guard was the Most Outstanding Player of the 2017 Final Four

A list of every player who is testing the waters for the 2017 NBA Draft, a record 182 guys

The MVC is looking for a school to replace Wichita State, which left for the American Athl...
Self's one of the very best, but he's changing his attack strategy to help his chances nat...

Collins is set up to be Northwestern's coach for a very long time -- if no one bigger lures...

Eight of the top nine scorers from this season's team are not returning, but UK will be fi...