Wayman Tisdale Watch: Marcus Foster honored again; Parker No. 1
Marcus Foster's big performance against Texas gives him Freshman of the Week honors, while Jabari Parker moves back to No. 1.
• 4 min read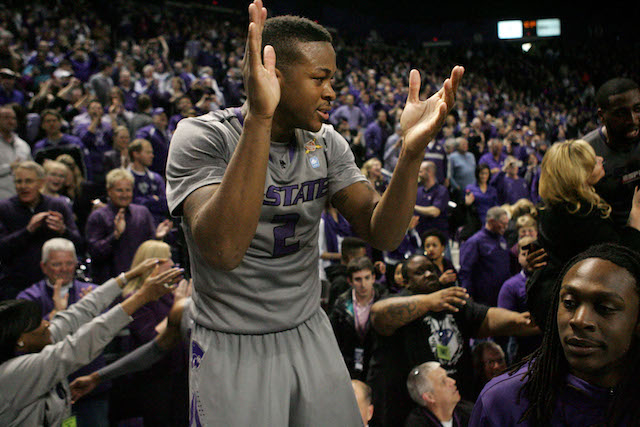 You might notice a bit of a change in our Freshman Watch column this season. We have teamed up with the Wayman Tisdale Award, and so our Freshman of the Week is now the Wayman Tisdale National Freshman of the Week. And our Freshman of the Year rankings are now the Wayman Tisdale Award Watch. What is the Wayman Tisdale Award? It's selected annually by the United States Basketball Writers Association and given to the best freshman in the country. The award will be announced in March, and handed out in April in Oklahoma City.
Going into the season, if someone had said that only two freshmen would win Freshman of the Week honors multiple times this season, it wouldn't have been all that surprising. Andrew Wiggins, Julius Randle and Jabari Parker were preseason All-Americans by many people, and two of them emerging as dominant performers wouldn't be a shock.
As we enter the final month of the regular season, only two players have been named Freshman of the Week more than once. The first is Parker, who took the honor home three times before Christmas. The second player, though, is the surprising one: Kansas State's Marcus Foster. He was given the nod back in early January, and after a stellar performance last week, he gets his second win of the season.
A quick note, though: this takes into account last week's games, so Foster's 20-point performance against Kansas on Monday night will go toward next Tuesday's award.
Foster was terrific last week, despite Kansas State splitting its two games. It started out with 23 points, four rebounds and three assists in a loss at West Virginia, where Foster shot 10-for-16 from the field. Another game like that might have been good enough to take home the award, but Foster took it a step further over the weekend.
It wasn't necessarily a must-win situation for Kansas State, but beating Texas was a big boost for the Wildcats' at-large profile. And Foster made sure of it. He made five 3-pointers and shot 13-for-16 from the field, finishing with 34 points, three rebounds and three assists. Foster was unguardable, especially in the first half, as Kansas State jumped out to a big lead and never looked back. 
Foster is starting to hit his stride as we head down the stretch, as he has notched at least 20 points in four of his last five games. He can be the go-to-guy for the Wildcats late in games, and his ability to be a consistently efficient scorer will be the key for Kansas State going forward.
On the season, the 6-foot-2 Texas native is averaging 15.0 points, 3.7 rebounds and 2.1 assists, shooting 42.7 percent from the field and 38.8 percent from 3-point range.
Other standout freshman performances this week included: Bobby Portis, Arkansas (35 points, nine rebounds, six blocks vs. Alabama); Tyrell Nelson, Gardner-Webb (24 points, 25 rebounds vs. VMI); Cameron Payne, Murray (22.5 points, 5.5 assists in two games); Jabari Parker (25.0 points, 12.0 rebounds in two games); Jordan Woodard, Oklahoma (23 points, eight assists vs. West Virginia); Rondae Hollis-Jefferson, Arizona (15.0 points, 7.5 rebounds in first two starts); Jordan Mickey, LSU (16.5 points, 9.5 rebounds in two games).
Past winners:
Nov. 12: Julius Randle, Kentucky
Nov. 19: Jabari Parker, Duke
Nov. 26: Jabari Parker, Duke
Dec. 3: Tyler Ennis, Syracuse
Dec. 10: Chris Perry, South Florida
Dec. 17: Jordan Woodard, Oklahoma
Dec. 24: Jabari Parker, Duke
Dec. 31: James Young, Kentucky
Jan. 7: Marcus Foster, Kansas State
Jan. 14: Wayne Selden, Kansas 
Jan. 21: Joel Embiid, Kansas
Jan. 28: Andrew Wiggins, Kansas
Feb. 4: Jordan Mickey, LSU
Wayman Tisdale Award Watch
 Stats: 19.2 ppg, 8.5 rpg, 48.2 FG%, 36.7 3PT%
 Comment: It looks like Parker is back on track after a stretch of inconsistent shooting nights. In two games last week, Parker averaged 25.0 points and 12.0 rebounds, shooting 20-for-27 from the field. He hasn't knocked down a 3-pointer in three games, but he's being aggressive and getting back to being the matchup nightmare he was at the start of the season.
---

 2. Tyler Ennis
 Stats: 11.8 ppg, 3.3 rpg, 5.7 apg, 2.2 spg, 37.5 3PT%
 Comment: It wasn't Ennis' best week of the season, but he helped lead the Orange to two more wins. He only averaged 6.0 points in the two games, shooting 5-for-16 from the field, but he dished out 13 assists and only turned the ball over three times. This week will be key for Ennis and the Orange, as they head to Pittsburgh in a difficult road test.  
---
 Stats: 16.0 ppg, 5.9 rpg, 43.5 FG%
 Comment: Wiggins didn't shoot the ball well in either game last week, but he was more aggressive and assertive than saw him in the opening months of the season. He had 14 points, seven rebounds and five assists against Baylor, and then followed that up with a 19-point performance in a win over West Virginia. 
---
 Stats: 16.0 ppg, 9.8 rpg, 52.9 FG%
 Comment: Randle isn't dominating with double-doubles every night like he was in November and December, but he's still finding ways to put up decent numbers. He went for a quiet 12 points and five boards against Ole Miss, but was more aggressive against Mississippi State, taking 13 shots and scoring 16 points despite foul trouble.
---

 5. Joel Embiid
 Stats: 10.7 ppg, 7.8 rpg, 2.5 bpg, 61.2 FG%
 Comment: Embiid didn't have his best offensive week of the season, averaging 8.0 points and shooting 4-for-10 from the field. He did grab 12 rebounds and block three shots against West Virginia, though. On the downside, he had four fouls in both of last week's games, something that has to be watched going forward. Moreover, his back and knee could keep him sidelined.
---
Next in line: Jordan Mickey, LSU; Aaron Gordon, Arizona; Marcus Foster, Kansas State; Bobby Portis, Arkansas; Noah Vonleh, Indiana; James Young, Kentucky; Isaiah Taylor, Texas; Nigel Williams-Goss, Washington
Freshman leaders: Points: QJ Peterson, VMI (21.1 ppg); Rebounds: Sean Obi, Rice (9.9 rpg); Assists: Kareem Canty, Marshall (6.1 apg). 
Show Comments
Hide Comments
Jake Wiley's unusual path has turned him into a rare, true sleeper draft prospect

Diallo could be taken in the first round even though he didn't play a minute for the Wildc...

With the Big Ten tournament moving up a week, CBS will show the AAC Tournament before the Selection...
The Cardinals are No. 7 in the CBS Sports Top 25 (and one)

The Pirates, a No. 9 seed in the 2017 NCAA Tournament, could be a preseason top 25 club no...

The Wildcats' blueprint for this season looks similar to title runs for Kentucky in 2012 and...