Weekend Look Ahead: Can Illinois move to 10-0 with a win at Gonzaga?
I'll be at Illinois-Gonzaga on Saturday and at UNLV-California on Sunday. But before I board this plane pointed west, I had to file the Weekend Look Ahead column that's designed to get you ready for what's to come in college basketball.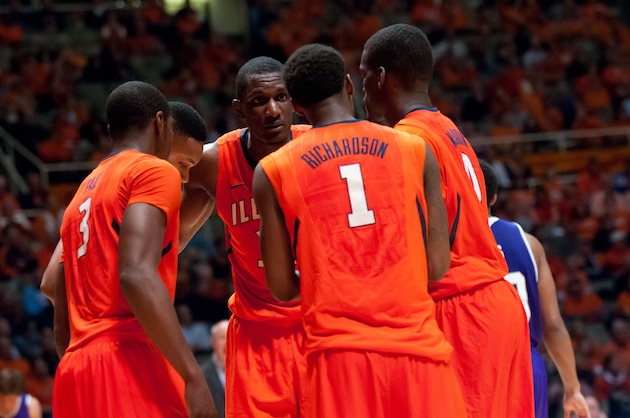 Illinois takes its 9-0 record to Gonzaga on Saturday, looking for a statement win. (US Presswire)
I'll be at Illinois Fighting Illini - Gonzaga Bulldogs on Saturday and at UNLV Rebels - California Golden Bears on Sunday. But before I board this plane pointed west, I had to file the Weekend Look Ahead column that's designed to get you ready for what's to come in college basketball.

Top game: "I've been told he thinks it's his best team," Illinois coach John Groce said this week when asked about Mark Few's Gonzaga Bulldogs, which means Groce is well aware of what he'll be up against when the Illini visit the McCarthey Athletic Center for what will be the weekend's only matchup of Top 25 teams. Gonzaga is 9-0 and ranked 10th. Illinois is 9-0 and ranked 13th. So either Groce or Few will suffer his first loss late Saturday. But both are still guaranteed to wakeup Sunday no worse than 9-1 with a lone-loss to a top-15 team, and that's not a bad place to be at this point in the season.

Another interesting matchup: The weekend's only other game between undefeated teams is Saturday's tilt in New Jersey between No. 2 Duke Blue Devils and Temple Owls , the latter of which is coming off a 76-61 win at Villanova that further established Fran Dunphy's program as the Big Five's steadiest. Remember, this is a matchup Temple won as an underdog last season. So don't dismiss the Owls. But Duke has already avenged its only other nonleague loss from last season (Ohio State) with a win, and the smart money has the Blue Devils doing the same here behind what should be Mason Plumlee's sixth double-double of the season.

Yet another interesting matchup: December is a month in which power-conference schools barely play true road games, and getting anybody to visit two campuses is fairly rare. But don't tell that to Colorado Buffaloes because the Buffaloes will actually play three true road games in the first 12 days of this month. The stretch started last weekend with a loss at Wyoming, will continue Saturday with a game at No. 9 Kansas Jayhawks and conclude Wednesday with a game at Fresno State Bulldogs . That's tough -- especially the game at Allen Fieldhouse. Barring a surprise, Tad Boyle's team will fly home with a loss for the second straight weekend.

Guaranteed to be a blowout: Cincinnati Bearcats has won all eight games it's played, including its five games against nonpower-conference opponents by an average of 34.4 points. Meantime, Maryland-Eastern Shore Hawks has lost all eight games it's played, including its two games against power-league opponents by an average of 25.5 points. So there's no way -- seriously, there's absolutely no way -- Saturday's game between the Bearcats and Hawks won't be more lopsided than your most recent Wisconsin-Nebraska football game.

Guaranteed to be an upset: I like UNLV and love Anthony Bennett, but road games against quality opponents are difficult in college basketball, especially early for teams that rely on first-year players. Kentucky learned this when it visited Notre Dame. I suspect the 21st-ranked Rebels will learn the same when they visit unranked California in what will be Sunday's most interesting matchup outside of whatever NFL game features players who are members of your primary fantasy football team.

Player trying to keep rolling: Mark Lyons gets most of the attention at Arizona Wildcats , but it's his backcourt partner -- sophomore Nick Johnson -- who is having something of a breakthrough season. The 6-foot-3 guard is averaging a team-best 13.7 points and a team-best 4.2 assists for the eighth-ranked Wildcats thanks to an 18-point performance against Texas Tech and 23-point effort against Southern Miss. Johnson has made 19 of his past 28 field goal attempts over a span of three games. He'll need to be similarly good Saturday if Arizona is to avoid getting upset at Clemson because Brad Brownell's Tigers are sneaky enough to beat them.

Player trying to get rolling: Missouri Tigers losing Michael Dixon means the Tigers have one fewer accomplished scorer. Which leads to Phil Pressey trying to score more than he otherwise would. Which leads to more shots for the junior point guard. And there's no evidence to suggest that's a good thing heading into Saturday's game against Tennessee State because Pressey is shooting a career-low 37.9 percent from the field through Missouri's first eight contests thanks in part to a 4-for-18 effort in Tuesday's win over Southeast Missouri State. Simply put, he must be better or No. 12 Mizzou's preseason goals will never be achieved.

Three things you should know before you go
Central Connecticut State Blue Devils

's Kyle Vinales enters the weekend averaging 25.9 points per game, which ranks first nationally. He'll get a shot at No. 1

Indiana Hoosiers

on Saturday inside Assembly Hall.
Saturday's

UCLA Bruins

-

Texas Longhorns

game in Houston features two teams that have been disappointments to date, but one bright spot is UCLA point guard Larry Drew II. He's averaging 8.5 assists and just 1.4 turnovers. Those are nice numbers for a guy who was a bust at North Carolina and pushed out by the emergence of Kendall Marshall.

Virginia Tech Hokies

's undefeated record will be at risk Saturday when the Hokies visit

West Virginia Mountaineers

(even though West Virginia has lost three of its first six games). The Mountaineers are expected to be aided by the debut of

Volodymyr Gerun

-- a 6-foot-10 Ukranian who missed the first six games because of a NCAA suspension. He's eligible now. For what it's worth, Gerun averaged 18.2 points and 11.1 rebounds for Ukraine in the 2011 Under-18 European Championships.
Final thought: My pal Seth Davis reported Thursday that Michigan State athletic director Mark Hollis is working on a plan to open next season with four games played at the same time on four courts inside Cowboys Stadium, meaning a spectator would look down from his seat and see four games happening at once. Within hours of this plan surfacing, pretty much everybody who writes about college basketball slammed the idea, including my colleague Matt Norlander.

And I get it.

Everybody's criticisms are valid.

But I still like that there's a man in this sport always thinking, always imagining, always trying to come up with something to help promote college basketball, and I'm never going to rip somebody for thinking outside the box. It is, by definition, a hit-or-miss business. And, I admit, this feels more like a miss than a hit. But in an era when too many athletic directors are content to merely hob-nob with rich boosters and do little more than fundraise, I think it's great that Hollis is a self-appointed innovator motivated by the right things.

He loves college basketball.

He wants as many people as possible to love it with him.

So though I'm not sure his latest idea would work well, I still can't wait to hear his next idea. And the one after that. And the one after that. And the one after that, too.
Show Comments
Hide Comments
Eight of the top nine scorers from this season's team are not returning, but UK will be fi...

A likely All-American, a big-time NBA prospect and an important X-factor to test draft wat...

Kentucky is losing 95 percent of its offense with all of its NBA talent and outgoing senio...
The former five-star recruit has not yet hired an agent

Shareef picked Arizona over UCLA, USC, LSU and others

Stephen Curry, Damian Lillard, C.J. McCollum and Ian Clark didn't come from college powerhouses,...