Weekend Visitation: Jahlil Okafor, Tyus Jones head to Baylor
With college football kicking off, it's also time for official visits to really pick up momentum. What are the biggest ones this weekend?
• 3 min read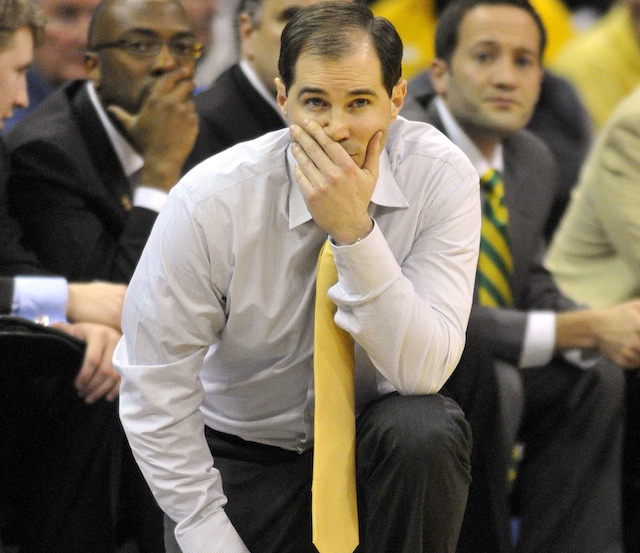 In the college basketball world, the start of college football means one thing: official recruiting visits. With tomorrow marking the first weekend on the gridiron, we're bringing back a weekly feature we did last fall. As you can see, it's called "Weekend Visitation," and it brings down the five biggest recruiting storylines for the weekend. Instead of simply having a long list of official or unofficial visits, we're going to look slightly more in-depth at five important campus weekends.
Baylor gets its shot at Okafor and Jones
Everyone in the country wants to get their hands on the package deal of Jahlil Okafor and Tyus Jones, two of the top five players in the class of 2014. However, only a couple of teams have a legitimate shot – and Baylor will get the first swing at trying to court both players. The Bears are one of three official visits the two players are taking together, with Kansas and Duke the other two. Okafor and Jones will trip to Kentucky separately, while Okafor will also take an official visit to Arizona. He wants to take unofficial trips to Illinois, Michigan State and Ohio State, and Jones took an unofficial to Minnesota earlier this month.
Trey Lyles leads talented crew tripping to Louisville
Louisville already has commitments from perimeter players JaQuan Lyle and Shaqquan Aaron, but the Cardinals are far from done. Rick Pitino and his staff have a big weekend coming up, led by top-10 recruit Trey Lyles. The former Indiana commit seems to be leaning toward Louisville or Kentucky, with Florida also in the mix. Lyles will take an official visit to Kentucky before deciding. Big man target Chinanu Onuaku will join Lyles. He changed his tune slightly when Trayvon Reed committed to Maryland, and Onuaku still has official visits to Cincinnati and Miami on the docket. Another player on campus this weekend will be recent Indiana decommit James Blackmon, who visited Kentucky on Thursday and will be at Michigan on Saturday.
UCLA hoping to woo Snider and Bluiett
Steve Alford and the Bruins are going away from the West coast for their two big visitors this weekend. Scoring forward Trevon Bluiett is heading to Westwood for his first official visit, and some think the Bruins are the leader right now. Purdue is expected to get a visit next week, while Michigan, Xavier, Butler, Arizona and Indiana are also on his list. Former Louisville commit Quentin Snider will join him on campus. This will be his first official visit since decommitting earlier this month. The point guard trimmed his list to Cincinnati, Illinois, Michigan State, Oklahoma State, UCLA, Connecticut and USC on Thursday.
Can Illinois make its play for Leron Black?
Earlier this month, top-50 forward Leron Black trimmed his list to four schools and set his official visits. The Fighting Illini get the first shot, with Baylor up next weekend. Indiana and Tennessee will receive visits later in September. Right now, Illinois has a lot of momentum heading into the visit process.
Kevon Looney starting officials with Florida
On the last day of July, top-10 prospect Kevon Looney cut his list to six: Duke, Florida, Michigan State, Tennessee, UCLA and Wisconsin. He is expected to be on Florida's campus this weekend, but the big visit for Looney will take place next week, when he trips to Duke. The Blue Devils could be the leader, while Michigan State, Tennessee and Wisconsin are certainly in the mix.
Notes:
-- Tyler Ulis is getting more attention nationally lately with Kentucky recently extending offer, but the diminutive point guard is tripping to Iowa this weekend. Gary Parrish will take a deeper look at this one later today.
-- Big man Robert Upshaw was recently dismissed from Fresno State, but the former top-75 prospect is reportedly visiting Washington this weekend. Oregon is on the agenda for next weekend.
-- Notre Dame is playing host to Martin Geben this weekend, and the Fighting Irish could be out ahead in this recruitment. Geben will bring his parents to South Bend, too. Virginia gets its shot at Geben next week.
-- Speaking of Virginia, Robert Johnson moved up his official visit to Charlottesville to this weekend. The rising shooting guard took an official visit last weekend to Indiana, but he's just getting started. Forward Isaiah Wilkins will also be in Charlottesville this weekend.
-- Vanderbilt opened its football season on Thursday, and the Commodores had Wade Baldwin, Trey Kell and Matthew Fisher-Davis on campus for it. 
-- Four-star center Elbert Robinson is in Atlanta this weekend to take an official visit to Georgia Tech. 
Show Comments
Hide Comments
Gary Parrish and Matt Norlander also discuss UNLV's recruiting class

The five-star big man is part of a surprise late-period recruiting coup by Marvin Menzies

It's time for random observers to stop being outraged by players' decisions
Plenty of decisions are still hanging in the air, calls that will help shape the 2017-18 s...

Once again coaches are participating in Oakland coach Greg Kampe's charity event

The Tar Heels point guard was the Most Outstanding Player of the 2017 Final Four