What should we realistically expect of James Michael McAdoo and UNC?
Are we headed toward another down year for North Carolina? Like, miss-the-tournament down year? Hoops fans will recall this has happened on occasion over the last decade: 2002, 2003, 2010 all saw one of college hoops' best bluebloods miss out on the big dance.
• 4 min read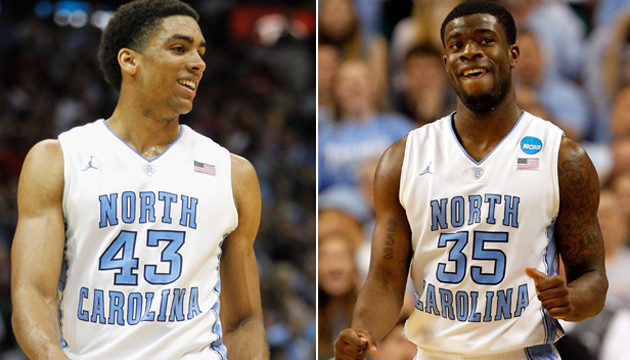 McAdoo, left, can't carry UNC without big production from guys like Reggie Bullock, right. (Getty Images)
Are we headed toward another down year for North Carolina? Like, miss-the-tournament down year? Hoops fans will recall this has happened on occasion over the last decade: 2002, 2003, 2010 all saw one of college hoops' best bluebloods miss out on the big dance.
I bring this up now because I subjected myself to the torture that was Texas over UNC earlier this week, and as I watched it, the unavoidable -- just how mediocre this team looks right now; I mean, Texas lost to Chaminade, folks -- came to light. Myck Kabongo's suspension took the immediate headlines after that game, but now we've got to look at why UNC has staggered, why it looks like an afterthought this season so far. (The team's best win is against Long Beach State.)
So where, and how, can it improve? Is it fair to say, right now, this team isn't capable of being a top-five seed, let alone a group that can keep up with the pack at the top of the ACC? I think it is.
Few had the Tar Heels competing for the ACC title back in October. But many figured Roy Williams would at least have another sure-fire NCAA tournament team, one led by sophomore James Michael McAdoo, the future first-round NBA draft pick. Plenty even pegged him as a top-five draft pick in the preseason. To date, I can't find evidence why he justifies that. In that sense, UNC and McAdoo have been a letdown. It's not their fault. Teams and players are burdened with expectations every year, and in large part that comes from people like the chap you're reading right now.
You were supposed to be better, and now you're not. So sit there and let me dress you down!
Not my intention at all with this post. UNC fascinates me because I see talent there. It's still trying to crack the shell. For some reason the young-and-old mix isn't meshing. I'm asking: Is McAdoo to blame? Partly, I think, yes.
McAdoo is a 3/4 combo forward who can't decide how he wants to state his game and use his ability: back-to-the-basket or aggressive slasher with a knack for the mid-range touch? He's a 47 percent shooter (up from 43 a year ago, when he played limited minutes behind a boatload of draft picks) but has really struggled in UNC's three losses, shooting 13 of 37 from the field (he's yet to attempt a 3 this season --nay, in his college career) with as many blocks as foul-outs (one) and 13 turnovers to boot. That trend line indicates to me that, as he goes, so do the Heels. And he's not going so well, most notably against the good teams.
His overall numbers of 15.3 points and 8.4 rebounds per game are nice, but they're really non-caloric. He's stuffed his stats against bad competition, and against the good teams he's not been a take-over player. On top of this, McAdoos's only a 65 percent free-throw shooter. I can offer more. Look at his 94.8 offensive rating on KenPom.com. That's brutally low, showing he is scoring much less than one point per possession. It's lower than every contributor on this year's team except freshman Marcus Paige, whom I'll get to a minute.
Stats or eyes only, it's clear to see McAdoo hasn't been the productive player his team needs him to be. Eleven games into its season, is UNC too deep to expect a change from him? Will McAdoo be a default "star" instead of a true, quintessential Carolina player of impact? I think that's probably bound to be the case.
It now seems McAdoo is not built to be a player who can shoulder a team, to be a leader through voice and example, no matter the opponent. He's good; he's not great. Not great yet, anyway. And the problem is compounded by what's around him; how underdeveloped this group still is. Paige at the 1 is a kid who has recognizable talent. It's frustrating to watch him struggle, knowing how good he can grow to be. But that's the game with freshmen.
Look at experienced players, Reggie Bullock and Dexter Strickland. Good. Good as they've been in the past? Not the case this year. The pieces around McAdoo can't lift him the way, say, Doug McDermott's do at Creighton. Or even Russ Smith with Louisville.
Moving beyond McAdoo and his cast, there's more reason for concern with Williams' team as a whole. Normally UNC is steady and even fantastic -- on both ends. UNC gets up and down the floor. It runs, it causes turnovers and is generally a nightmare to play against. Year in and year out, the Heels are ranked in the top 10, or at worst top 20ish, on offense and defense. The exceptions? You guessed it, those non-tournament years shown above.
And that's where UNC is right now. They're ranked 52nd on offense and 32nd on defense overall in KenPom's rankings. From a tournament-seeking standpoint, those are average numbers. Harbingers for NIT bids.
Couple that with the fact UNC's done virtually nothing in non-conference, and here we are. A down UNC in a decent ACC. Its last chance at a good win out of league comes Dec. 29, against UNLV at home. That'd be a big one. That'd be the right time to earn a good victory and head into the ACC season with momentum and something proven.
But if it doesn't happen, we'll know why. It might just end up being one of those years for the Heels.
Show Comments
Hide Comments
Some of these future NBA picks might work out, but others won't sniff being drafted

This is a good development for Louisville, which may avoid having its coaches forced to testify...

The athletic guard withdrew from the NBA Draft late Wednesday night
Next step in the case, which began in 2011, is for UNC to face the NCAA's Committee on Inf...

We look at 40-plus teams affected by this year's NBA Draft

Former USF head coach Orlando Antigua is not implicated in any violations