What's the next coaching step for Syracuse, Duke, UNC and Louisville?
Four active Hall of Famers at four national programs are in their 60s and thus approaching retirement. What happens when Jim Boeheim, Mike Kryzewski, Roy Williams and Rick Pitino retire? Here are some thoughts on the matter.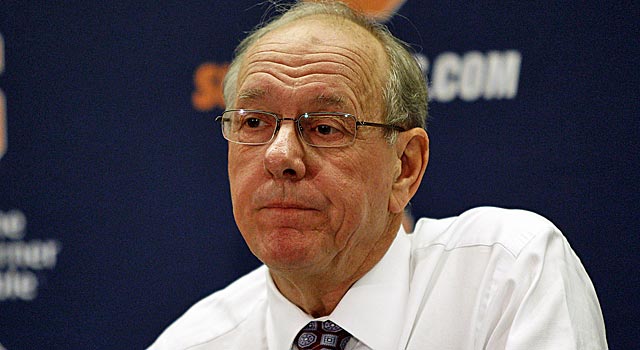 Just nine days stand between us and the start of the 2013-14 college basketball season that seems destined, at this point, to be headlined, at least early on, by Kansas freshman Andrew Wiggins and/or John Calipari's Kentucky Wildcats. But what's also interesting is that four of the top 11 teams in the preseason USA Today's Coaches Poll -- and four of the sport's very best programs in general -- are coached by men who are at least 61 years old.
They are, of course, from oldest to youngest:
Just so we're clear, none of them seems a year-or-less away from retiring, and it's not even worth asking them for a timetable -- it's especially not worth asking Boeheim, unless the goal is to create an interesting press conference -- because they either genuinely don't know or genuinely have no interest in sharing. And that's fine. All four have already been inducted into the Hall of Fame, and none of them seem to be slipping in recruiting or coaching or anything. In other words, Boeheim, Krzyzewski, Williams and Pitino are still, even at this advanced age, even after all of these years, consistently operating at a high level. So it's not like anybody is or should be trying to push any of them into retirement.
That said, it's reasonable to think that at least one or two of them could be gone in the next three or four years, and I'm not completely confident that any of them will still be coaching in six or seven. Again, they could. They absolutely could. But will they? Man, I don't know. At some point some combination of age, health and focus tends to get the best of all of us. And, it should be noted, that a little north of 70 is typically the ceiling even for the most successful guys in coaching. So I guess we'll see, right?
In the meantime, let's speculate!
Where could Syracuse, Duke, UNC and Louisville eventually turn?
Here are some possibilities:
SYRACUSE: The Orange job is the easiest to peg because the school actually has a succession plan in place. Whenever Boeheim retires -- again, DO NOT EVEN THINK ABOUT ASKING FOR A DATE! -- the program will move to longtime assistant (and Syracuse graduate) Mike Hopkins, provided he's still on staff at the time, which is no guarantee. Remember, Hopkins was in play for USC last March and almost certainly would've taken it had it not gone to Andy Enfield (as detailed in this nice story from Mike Waters). So Hopkins' presence isn't promised when Syracuse needs its next coach because he'll listen to offers, and, at some point, a smart athletic director will try to hire him. But we'll worry about that when/if we get there. For now, let's assume Hopkins replaces Boeheim ... whenever.
DUKE: Krzyzewski has agreed to coach USA Basketball through the 2016 Olympics, meaning most believe he'll at least do another three years at Duke. The question would be whether the sport's all-time winningest coach would, at the age of 69, want to return to college after, presumably, a third gold medal. But that's a question for another day. The question for this day is who could theoretically replace K someday and, truth is, there's no clear answer. Northwestern's Chris Collins, a longtime Duke assistant, makes some sense for lots of reasons, and I'd bet on him being the guy if he proves worthy over the next few years in the Big Ten. Current Duke assistants Jeff Capel and Steve Wojciechowski should also get serious looks. Beyond that, here's a question worth considering: How will Brad Stevens' NBA tenure be going whenever Krzyzewski walks away? Because if Stevens' desire to return to college coincides with Krzyzewski's retirement, then the current coach of the Boston Celtics would obviously be a worthy candidate for a place like Duke.
NORTH CAROLINA: No program likes to "keep it in the family" more than UNC, but there's no active coach with UNC ties obviously ready to succeed Williams. Perhaps Hubert Davis could emerge as a candidate after a few years as an assistant. Who knows? But my guess is that North Carolina would be forced to look outside of its family, which is where Shaka Smart could come into play. Yes, I know, Smart has turned down a gazillion jobs to date -- jobs like North Carolina State, UCLA and Illinois. But I can't imagine a scenario where he could pass on a chance to coach the Tar Heels because coaching the Tar Heels might be the nation's best job, and Smart is a former ACC assistant so he's familiar with the landscape (even if the landscape has changed since he worked for Oliver Purnell at Clemson).
LOUISVILLE: Pitino seemed close to retiring a couple of years back and actually announced in 2011 that he'd walk away after the 2016-17 season. But that no longer seems likely. He's rejuvenated, coming off a national title and possibly headed for another. So retirement appears at least four or five years off, and, by then, it's difficult to project where some of his former assistants with Louisville ties might be. If Steve Masiello's career takes off, might the current Manhattan coach/former Cards assistant get a call? Smart would obviously also make a lot of sense here, and he'd have to listen. But the ideal plan, I think everybody agrees, is for Richard Pitino to succeed at Minnesota so that he could be in a reasonable position to succeed his father when the time comes. Whenever that time comes.
Show Comments
Hide Comments
The 2017 NBA Draft had more freshmen, and fewer seniors, taken in the first round than ever...

A scandal at New Mexico leads to a rarity for the NCAA Tournament selection committee

These two Hall of Fame coaches have been in the crosshairs of NCAA justice in recent years
Will Kentucky have more than two players taken in the first round of the NBA Draft?

Continues to lobby for a college hoops commissioner; hopes the NBA, NCAA can come together

This development means every Division I job is now filled