Wichita State is 16-0 but not talking about unbeaten season
With Creighton gone to the Big East, Wichita State is the class of the Missouri Valley and has picked up where it left off last season.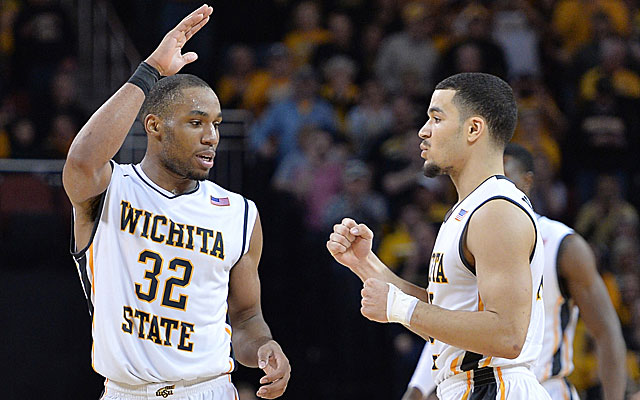 Gregg Marshall has made Wichita State one of the major stories in college basketball for the second consecutive season.
The Shockers nearly beat Louisville in the Final Four last April, and are currently 16-0 heading into Saturday night's game at Missouri State.
With Creighton now in the Big East, Wichita State clearly is the anchor program in the Missouri Valley with a much easier path to a perfect season.
But does Marshall ever talk about that with his team?
Not once.
"We never talk about it," Marshall said on Friday morning about the prospect of going undefeated. "We talk about the next game. Before the Davidson game right after Christmas, we said we wanted to be undefeated going into league play but that was it. We just focus on what's next."
Wichita State lost Carl Hall and Malcolm Armstead from last year's team but has gotten stellar play this season from Cleanthony Early, Ron Baker, Tekele Cotton and Fred VanVleet.
VanVleet, a 5-11 sophomore point guard has 31 assists and just a single turnover in his last five games and is averaging 12.0 points, 5.4 assists, and 3.6 rebounds per game while shooting 44.7 percent from three-point range.
"He's remarkable," Marshall said of VanVleet. "His skill level, toughness and will to win are second to none."
Despite the 16-0 start, Wichita State can still improve.
Marshall said he'd like to see his bench continue to get better and have guys like Kadeem Coleby, Evan Wessel and Chadrick Lufule expand their roles.
"We've got so many guys who can play better than they are right now," Marshall said. "That's the beauty of this group."
Show Comments
Hide Comments
Gary Parrish and Matt Norlander also discuss UNLV's recruiting class

The five-star big man is part of a surprise late-period recruiting coup by Marvin Menzies
It's time for random observers to stop being outraged by players' decisions

Plenty of decisions are still hanging in the air, calls that will help shape the 2017-18 s...

Once again coaches are participating in Oakland coach Greg Kampe's charity event