13 for '13: Auburn takes it from the top
Two years after winning a national title as Auburn's offensive coordinator, Gus Malzahn returns to find a program in disarray and no Cam Newton in sight.
Thirteen recurring themes for the offseason agenda.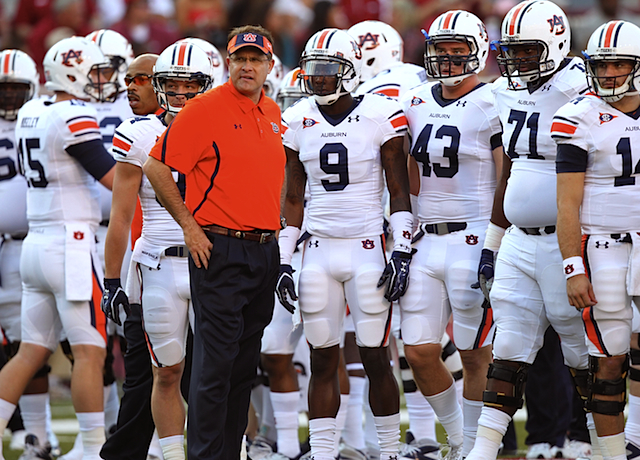 Gus Malzahn is back at Auburn as head coach after three years as an offensive coordinator. (US Presswire)
In the end, Gene Chizik got it backwards. Of course, a rebuilding job is supposed to start from the bottom up. By winning a national championship in his second year at Auburn , he gave himself nowhere to go but down. Within two years, he hit rock bottom more quickly than any coach who's ever stood on top of the mountain.
Imagine his brief but eventful tenure in reverse. If Chizik's first team, in 2009, had fallen on its face out of the gate, finished 0-8 in SEC play and endured one of the most lopsided beatings in Iron Bowl history to close the year, as his final team did in 2012, Tigers fans would have been up in arms. But however grudgingly, they would have also been patient enough to let the new guy see the project through. If Chizik had produced exactly the same record at Auburn over four years, but delivered a championship after the catastrophe, he would have been hailed, beloved and entrenched in the burgeoning juggernaut he built. In virtually any other order, his first four years at Auburn would have guaranteed a fifth.
Instead, Chizik was given the boot in November on the heels of a 3-9 debacle, capped by a fittingly futile flop at the hands of Auburn's most bitter rival in his final game. The historic BCS triumph of 2010 was no match for the bleak trajectory two years later, which found Chizik over a team that was both wholly of his own making and much further behind the pack in the SEC than the program he inherited.
The spiral was only hastened by transitions on the coaching staff and the depth chart after a turbulent, disappointing season in 2011. If the 2012 Tigers were the worst edition in 60 years, to a large extent they were also an extension of the team that had been blown out in 2011 by 24 points at Arkansas, 35 points at LSU, 38 points at Georgia and 28 points in the Iron Bowl, where they failed to score an offensive touchdown. Fast-forward one year, and essentially the same team was thumped by 18 points at Mississippi State, 17 points against Arkansas, 21 points at Ole Miss, 42 points against Texas A&M, 38 points against Georgia and 49 points in the finale at Alabama, where Auburn failed to score a touchdown of any stripe. All of those scores could have been worse.
In retrospect, the one aspect of the job that Chizik aced -- at least at the beginning -- was recruiting. In Cam Newton, he landed the single brightest, most valuable, supernova of a player in generations. He also recruited the best defensive player in college football that season, Nick Fairley, and the five-star running back, Michael Dyer, who broke Bo Jackson's freshman rushing record and was voted MVP of the championship win over Oregon.
But long before those victories, before he'd even signed a single player, Chizik's first major move on the job was hiring the unorthodox play-caller, Gus Malzahn, whose system would produce more yards and points per game in 2010 than any other offense in the SEC, thereby overcoming the most generous defense ever to win a BCS title, by far. If you had taken a poll of Auburn partisans at any point in the last four years concerning the best decision of Chizik's tenure, the vast majority of them would have pointed to Malzahn.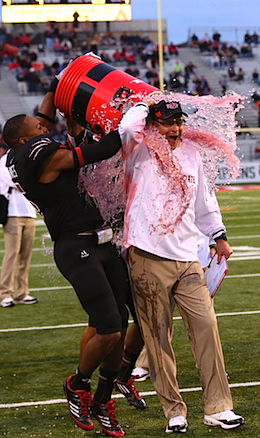 Malzahn's only season at Arkansas State resulted in a Sun Belt title. (US Presswire)
Newton's departure for the NFL was a blow, albeit one everyone saw coming. A year later, though, Malzahn's abrupt, puzzling exit for the top job at Arkansas State was a death knell. Without their caffeine-fueled puppet master, the Tigers plummeted to the bottom of the SEC by almost every measure, finishing last or next to last in total offense, scoring offense, passing offense, third-down offense and turnover margin. In conference play, they averaged 10.1 points per game, with a grand total of eight offensive touchdowns in eight games. The Tigers were inexperienced, bland, unsettled at quarterback (again) and entirely devoid of reliable playmakers.
Meanwhile, Malzahn was busy two states over, at Arkansas State, overseeing the highest-scoring offense in the Sun Belt en route to a conference championship in his first season as a college head coach. It goes without saying, then, that the locals are duly ecstatic with Malzahn's return to replace his old boss, where many of them thought he belonged all along -- so much so that Chizik took much of the blame even for the decline of Malzahn's offense in 2011 (and for his subsequent departure for ASU) due to his apparent insistence on slowing down the attack over the second half of the season.
Malzahn was arguably the winter's most obvious hire: He knows Auburn, he knows how to move the ball against the likes of Alabama and LSU, he's demonstrated basic head-coaching chops at the FBS level and there was zero chance he would be met by any hecklers at the airport.
He's also a gamble, a bet that there's more to recommend the man than having once had enough sense to give the ball to Cam Newton and get out of his way. Even more so than the championship run with a freak talent at quarterback, Auburn fans also respect Malzahn for his first season in 2009, when the offense averaged 33 points and 432 yards per game behind a quarterback, Chris Todd, who had to improve dramatically from his abbreviated turn as a starter in 2008 just to qualify as "pedestrian." That team had no one on the level of a Cam Newton or Michael Dyer on offense, finished dead last in the conference in scoring defense, and still managed to hold its own at 8-5. The 2012 edition that cost Chizik his job had at least as much talent, and was a start-to-finish train wreck.
Once Malzahn sorts through the wreckage, he should be able to salvage a team that at the very least has no business finishing in last place. In a division as harrowing as the SEC West, that will be enough, at first. Eventually, in a state under the jurisdiction of Nick Saban's fully operational Death Star in Tuscaloosa, the hill will get steeper. In the meantime, the prospect of reigniting the spark that briefly propelled an unhereladed, unassuming outfit to the to top will only carry the new regime so far.
Show Comments
Hide Comments
Welcome to the world, Flynt Anderson-Foster Pruitt

Baylor should value faith over football and do what's right in the wake of seven Title IX...

The conference will adopt two divisions when it becomes a 10-team league in 2018
Like his brother, Lanard Fournette will be running the ball for the Tigers

Ranking the strength of schedule for each of the 12 teams in the Pac-12 entering the seaso...

Thomas Tyner will reportedly re-start his college football career at Oregon's biggest riva...