3 Vols see charges from party dropped, 4 get community service
Seven Tennessee football players have learned their legal status from a February party has been resolved, with three seeing their charges dropped.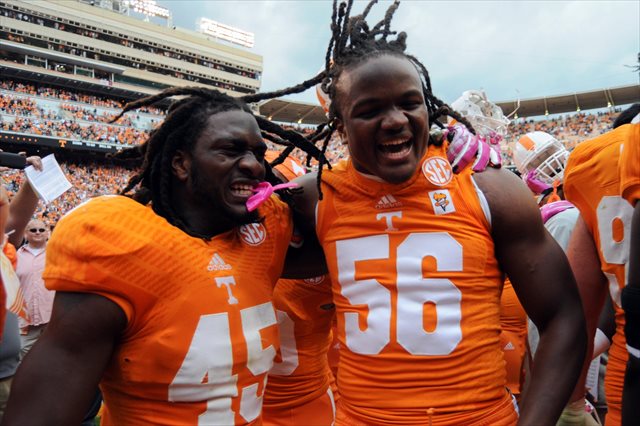 More college football: Bruce Feldman | Dennis Dodd | Jeremy Fowler | Latest news
Seven Tennessee football players have had their alcohol-related charges dropped or will have them dropped after a Thursday ruling, the Associated Press reported.
The seven Volunteers were cited after a February party at which two other current players were arrested. The citations were for either underage consumption for providing alcohol to minors.
Per the AP, linebackers Jakob Johnson and Jalen Reeves-Maybin each had charges of providing alcohol to underage people dropped, and defensive lineman Malik Brown's underage consumption charge was dismissed after he paid court costs.
Linebacker Curt Maggitt, offensive lineman Dontavius Blair, cornerback Justin Coleman and defensive lineman Dimarya Mixon must all complete 16 hours of community service and their charges will be dropped as well. Maggitt was cited for providing alcohol to minors, with the other three all cited for underage consumption.
Defensive lineman Danny O'Brien, arrested on charges of criminal impersonation and resisting arrest as well as underage consumption, entered an agreement earlier this week which will see his charges dropped after 40 hours of community service.
"Everything is about choices, and these were 21-, 19-year-old individuals that got caught up and made some poor choices, so we'll deal with it appropriately inside," Jones said at a luncheon this week, per WBIR TV. "I will handle that myself and work through our athletic department. But also, everything is a teaching opportunity, and our players understand [that]."
Will Sunderland allegedly stole and tried to sell video game systems

National powerhouse Alabama joins the throng of schools trying to lure five-star QB Justin...

The shooting took place during an apparent meeting over a cell phone
A decision in either direction would help the NCAA move forward in Sin City

White is the No. 1 running back recruit and No. 6 overall recruit for next year's class

Dennis Dodd goes inside college football to explain why realignment is still an agenda ite...