9-year-old battling brain tumor signs a letter of intent to UCLA
9-year-old Cade Spinello, who has battled a brain tumor for four years, signed a letter of intent with the UCLA Bruins.
• 1 min read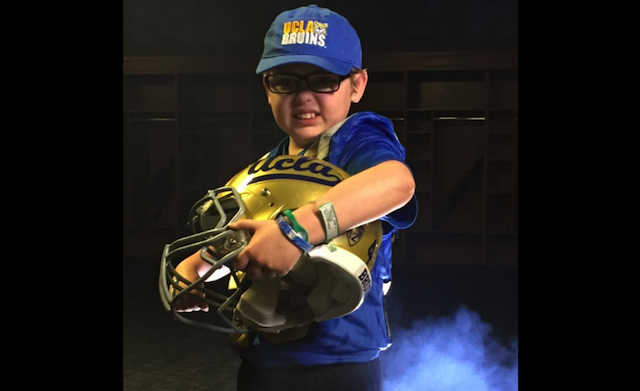 UCLA's latest signing for the 2016 recruiting class is 9-year-old Cade Spinello, who has battled a brain tumor since he was five years old. 
.@UCLAFootball is incredibly excited to announce the official signing of 5 star recruit Cade Spinello!! #8CLAP #NEGU pic.twitter.com/wI1UecelTY

— Patrick Girardi (@pgirardiUCLA) January 30, 2016
Spinello has been around the Bruins' program since last year, when UCLA brought him in to participate in practice one day. Cade had two surgeries when he was five to remove a benign brain tumor, but a stroke suffered after the second surgery left him legally blind and paralyzed on the right side. 
It was a great gesture by UCLA to bring Cade to practice and then to follow it up this offseason by bringing him in to sign a letter of intent and take pictures with a UCLA helmet. 
Cade's parents announced on Facebook in January that remnants of his brain tumor that had been "stable" for the last four-plus years were beginning to show activity again. 
Show Comments
Hide Comments
Kirk Merritt claims 'jock itch' was the reason he exposed himself to two tutors

The former coach weighed in on the new NCAA recruiting rules

Wiggins has played more than 30 games in the ACC and SEC during his career
Our panel of experts drafted the best sports video games that have ever been created

The players allegedly conspired to steal belongings from another student's dorm room

Harbaugh handed the Pope a Wolverines helmet and special shoes