A 'Jim Harbaugh Rule' appears inevitable for spring football practice
Michigan coach Jim Harbaugh is trying to turn college football on its collective head. And he's succeeding. So much that the NCAA may have no choice but to try and slow him down.
The best analogy I have seen that describes Jim Harbaugh comes from Michigan beat writer Nick Baumgardner of MLive.com. As people rush to stop Harbaugh from trying new tactics to promote Michigan's brand, Baumgardner thought of a scene from "The Office."
Dunder-Mifflin, a paper sales company in the fictional television series, tried to close the Michael Scott Paper Company. But Michael, the often-annoying boss you couldn't help but grudgingly respect for his persistence, refused to be closed. He said he'd just start another paper company, and then another and another and another. "I have no shortage of names," Michael said.
Baumgardner nailed the analogy. "That, in my mind, is Jim Harbaugh," he wrote. "If the NCAA bans satellite camps, he'll just do something else. If the NCAA stops the spring break thing, he'll just do something else."
College football coaches and administrators haven't paid this much attention to how one coach recruits since Nick Saban arrived at Alabama. Just as the "Saban Rule" was created to keep coaches off the road in the spring to avoid impermissible "bumps" with recruits, there will likely be a "Harbaugh Rule" to keep teams on campus for spring practices.
There's a reason the NCAA rulebook became so big, even as everyone shouted for it to get smaller. Creative coaches look at the written rules -- or even better, what's not written -- and figure out loopholes that benefit them.
Back in 2008, Saban gained a reputation as the worst violator of the "bump" rule during spring recruiting visits at high schools, particularly in Miami. Head coaches were only allowed to have brief, inadvertent contact with recruits during those visits. Saban was accused of having improper contact while tirelessly visiting around 100 high schools in the spring -- a period when some head coaches wanted time off.
There was no good way to enforce this rule but enough coaches were griping. So the NCAA created a rule that's still on the books: Head coaches can't visit high schools during the spring. Saban was furious. He found a workaround by adopting video conferencing with recruits. Instead of bumping into a recruit, Saban could appear on a prospect's computer screen and they could chat via webcam.
"Is that legal?" Steve Spurrier asked at the time.
Yes. The NCAA viewed video conferences as permissible and subject to the same rules as phone calls between coaches and recruits. Today, a coach is behind the times if he doesn't video conference.
This brings us to Harbaugh. After staging satellite summer camps in the Southeast last summer, Harbaugh is ready for his latest invasion by holding spring practice next week in Bradenton, Fla., home of IMG Academy and many top football recruits. SEC commissioner Greg Sankey, ACC commissioner John Swofford and NCAA president Mark Emmert have objected in the name of time demands on players, meaning Michigan should enjoy this trip as a one-time excursion.
Georgia coach Kirby Smart became the latest to complain. "They're obviously trying to gain a competitive advantage, and obviously that's their right, but I think the NCAA in due time will have to step in and keep it from getting out of hand," Smart said this week. To which Harbaugh replied on Twitter: "If the Georgia coach is implying any intent on our part to break rules, he is barking up the wrong tree."
Yes, of course the SEC and ACC are trying to protect their recruiting territory. Until Smart spoke up, that was a significant and unspoken reason for their objections. Michigan should be allowed to hold satellite camps across the country. That's not that big of a deal. But traveling to Florida over spring break for required practices goes a step too far.
Undoubtedly, many Michigan players will love vacationing in Florida in between four practices. Still, the objections related to time demands, even if you don't believe that's why the SEC is complaining, aren't wrong. It's one more choice that's out of the players' hands -- over spring break, no less -- that encroaches on their time as they spend 40-plus hours a week on football. Maybe some of them want real time off from both school and football. Perhaps some want to go home or take their own vacation.
There's a big-picture issue at play here. The NCAA and conferences say they want to give players more time off to be normal students, not make them travel over spring break for practice. The National Labor Relations Board initially declared Northwestern football players are university employees before the decision got overturned. The initial ruling to identify them as employees was made largely because of the number of hours football players spend on their sport and the rules required of them.
Michigan's spring practice has spotlighted some hypocrisies of college sports (not that they're hard to find). The collective reaction from many fans and media members is, "Stop pretending people care about whether players get a spring break." That speaks to decades of colleges treating players as commodities first, students second. Good luck changing that reaction in an industry where self-interests tend to win the day.
Consider the case of Big Ten commissioner Jim Delany, the godfather of player time demands. He told our Dennis Dodd that he has "no reaction at this point" about Michigan's spring practice. How convenient. Delany is stuck between defending his vision of creating a way to better integrate athletes with other students, or criticizing his hot new coach who's trying to expand Michigan's recruiting footprint given declining population in the Midwest. And we wonder why there's so little faith in doing right by players.
Harbaugh has compared spring practice in Florida to basketball teams spending a summer traveling the world for team bonding and development. "How is football traveling to Bradenton so different?" he asked.
It's actually a creative argument, even though it's not an apples-to-apples comparison. Last I checked, universities aren't lining up to go to Bradenton, Florida, and saying it will be a great cultural experience for their players as they do with foreign trips. Harbaugh could take his argument even further and ask why, in the name of time demands, Big Ten schools travel from Maryland to Nebraska to play games on Tuesday nights. But that would allow the elephant into the room -- televised games and the money attached to them -- that no one dares address.
What's different about Michigan spring practice at IMG Academy is the main point of the trip: Recruiting. Michigan will be practicing on a campus filled with talented prospects during a "quiet period," meaning coaches aren't allowed any off-campus recruiting or viewing of prospects from Feb. 5-April 14.
IMG Academy has 12 of the top 250 recruits for 2017 as ranked by 247 Sports. All of these players are four stars or higher: linebacker Dylan Moses (the nation's No. 1 recruit), defensive end Joshua Kaindoh, safety Isaiah Pryor (Ohio State commitment), wide receiver Jhamon Ausbon (Baylor commitment), dual athlete Kellen Mond (Baylor commitment), linebacker Will Ignont, running back Jordan Anthony, offensive tackle Robert Hainsey, center Cesar Ruiz, defensive tackle Cam Spence, linebacker Santino Marchiol, and wide receiver Emmanuel Greene.
To summarize, during a quiet period, Harbaugh gets to have Michigan's presence in front of 5 percent of the nation's top 250 recruits and their coaches. Talk about a stroke of genius.
"They'll be recruiting, I know that," said Maryland coach D.J. Durkin, who was Harbaugh's defensive coordinator last season. "If I had been here six months ago, we may be doing the same thing. All these guys get caught up in it and get all mad. My guess is this is the last time anybody is ever able to do that. He did a nice job getting in on the front end before it gets outlawed.
"It was a hell of an idea on his part. I'm with my staff saying, 'Let's think of stuff like that.' Are they going to have an advantage? Absolutely. Am I going to stay awake at night? No. We have to make up ground because he's going to spend a week there with them. It was a hell of an idea. Just call it like it is."
What can and can't Michigan do with its players and recruits during the trip? The NCAA and Michigan have been discussing this for weeks. But neither granted interviews so I communicated with another university's compliance director about what he would watch for if this were his team.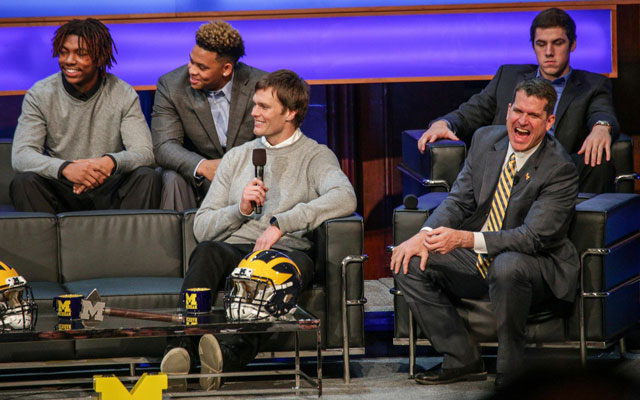 Interacting with recruits. Michigan will have to be very mindful about interacting with recruits during the trip. NCAA rules allow recruits to watch practices so that's presumably the only time prospects are permitted to be around Michigan next week. (Still, be prepared for possible stories of accidental "bumps" between a coach and player.)
It's likely that NCAA enforcement will be at IMG Academy watching what happens. "My guess is any contact with a recruit would result in a coach being suspended for one game this fall since that's the typical penalty now," the compliance director said.
In an email to media members on Thursday, Michigan said NCAA rules will prevent Wolverines' coaches and players from commenting about IMG Academy, its facilities, players or coaches. "We are not permitted to discuss those topics and won't be talking about them before, during or after our trip," Michigan spokesman David Ablauf wrote.
Interacting with recent signees. Michigan's 2016 class included some players from Florida who perhaps might travel to Bradenton to watch practice. By NCAA rule, players who have signed can have contact with any of the 10 countable college coaches. Michigan's signees could be on the field during practices while IMG recruits watch from the stands.
But the NCAA put out a new interpretation on Feb. 10 that could make this tricky. Staff members and coaches who aren't off-campus recruiters can't have off-campus contact with a recruit, even if that prospect has signed with the school. In other words, Michigan staffers who can't recruit off campus need to be dodging any new signees who appear in Bradenton.
Entertainment for current players. Harbaugh has said Michigan will spend time at the beach, the pool and on the putt-putt golf course while in Florida when not practicing. Snorkeling, jet skis, spring training baseball games -- that's all likely permissible. The Power Five conferences' deregulation of the NCAA rulebook in 2014 changed the rules so this type of entertainment can occur.
NCAA Bylaw 16.7 allows for "reasonable entertainment" to players -- but not cash -- in conjunction with practices or competition. This is the bylaw Michigan State used to send its men's basketball team to Arlington, Texas, to watch its football team play in the College Football Playoff semifinals.
This is now the bylaw Harbaugh will use to troll everybody on social media as Michigan enjoys spring break. God only knows what Harbaugh will do to thumb spring break in the nose of critics.
Inevitably, a "Harbaugh Rule" will likely make the NCAA rulebook thicker, just as the "Saban Rule" once did. Then Harbaugh, like Saban, will move on and have his compliance office scour the NCAA rules for his next idea.
"If it's in Jim's head and he wants to do it," Durkin said, "he's going to do it."
There's always another paper company name in the world of Jim Harbaugh.
Follow and read more from Jon Solomon on Facebook and Twitter.
Show Comments
Hide Comments
Kirk Merritt claims 'jock itch' was the reason he exposed himself to two tutors

The former coach weighed in on the new NCAA recruiting rules

Wiggins has played more than 30 games in the ACC and SEC during his career
Our panel of experts drafted the best sports video games that have ever been created

The players allegedly conspired to steal belongings from another student's dorm room

Harbaugh handed the Pope a Wolverines helmet and special shoes