Alabama backup QB Ely transferring to Toledo
Phillip Ely, who had been Alabama's backup QB, is transferring to Toledo, where he will be eligible in 2014.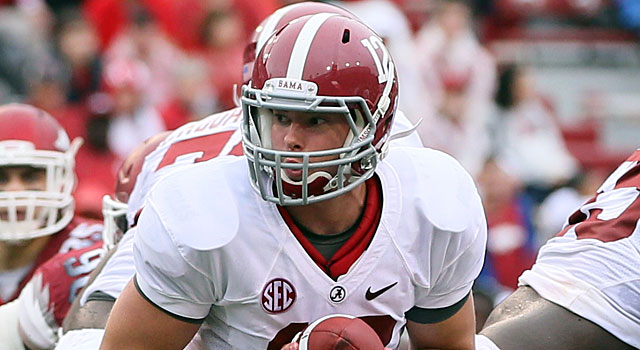 Phillip Ely, who had been Alabama's backup QB, is transferring to Toledo, the Tampa native told CBSSports.com Wednesday morning.
The 6-foot-1, 215-pound quarterback said he chose the Rockets over Vanderbilt, Illinois and South Florida. He said his visit to the Toledo campus and the time he spent with the Rockets coaching staff really wowed him. "It had a 'Plant' feel with all of the young coaches," he said in reference to his high school, Tampa Plant, a state powerhouse.
Ely joins a strong Toledo program that just went 9-4 in coach Matt Campbell's first season. Starting QB Terrance Owens will be a senior at Toledo in 2013.
As a high school sophomore, Ely took over for an injured Aaron Murray and led Plant to the Florida state title in 2008. Ely also led Plant to another state title in 2009. In 2010, his team lost in the state title game. In his two years at Alabama, the Crimson Tide won two national titles.
"He personifies the word 'winner,'" Plant coach Robert Weiner said.
Ely will sit out 2013 and then have two seasons of eligibility starting in 2014.
"I've learned so much that I can take with me from my time at Alabama," Ely said. "I was a part of a great team. It only betters myself. It's made me who I  am. I can take what I've learned and use it at Toledo."
He said one of the biggest things he's learned while at Alabama from coach Nick Saban and QB AJ McCarron is how to prepare for big games.
Show Comments
Hide Comments
Ousted by a school despite not being charged with a crime, Faulk is clawing his way to the...

Sometimes spring practice is about avoiding the negatives as much as it is building moment...

Baylor is moving to dismiss the lawsuit, filed in January, on a two-year statute of limita...
USF senior Hassan Childs was injured in a shooting on Saturday night

It looks like LSU is moving towards having a beer garden for its home games

HB1249 would allow Arkansans with a certain permit to carry guns almost anywhere in the st...