Alabama backup QB Ely transferring to Toledo
Phillip Ely, who had been Alabama's backup QB, is transferring to Toledo, where he will be eligible in 2014.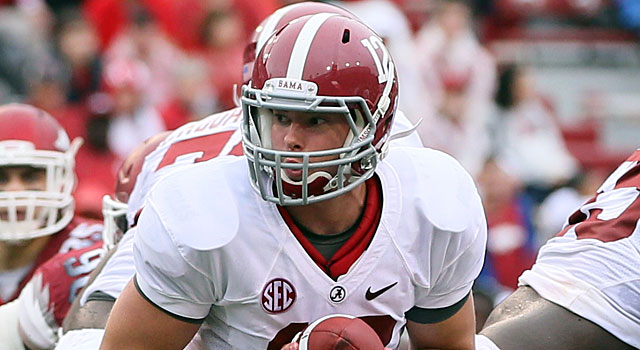 Phillip Ely, who had been Alabama's backup QB, is transferring to Toledo, the Tampa native told CBSSports.com Wednesday morning.
The 6-foot-1, 215-pound quarterback said he chose the Rockets over Vanderbilt, Illinois and South Florida. He said his visit to the Toledo campus and the time he spent with the Rockets coaching staff really wowed him. "It had a 'Plant' feel with all of the young coaches," he said in reference to his high school, Tampa Plant, a state powerhouse.
Ely joins a strong Toledo program that just went 9-4 in coach Matt Campbell's first season. Starting QB Terrance Owens will be a senior at Toledo in 2013.
As a high school sophomore, Ely took over for an injured Aaron Murray and led Plant to the Florida state title in 2008. Ely also led Plant to another state title in 2009. In 2010, his team lost in the state title game. In his two years at Alabama, the Crimson Tide won two national titles.
"He personifies the word 'winner,'" Plant coach Robert Weiner said.
Ely will sit out 2013 and then have two seasons of eligibility starting in 2014.
"I've learned so much that I can take with me from my time at Alabama," Ely said. "I was a part of a great team. It only betters myself. It's made me who I  am. I can take what I've learned and use it at Toledo."
He said one of the biggest things he's learned while at Alabama from coach Nick Saban and QB AJ McCarron is how to prepare for big games.
Show Comments
Hide Comments
Our Latest Stories
The Rebels are likely headed for some tough times, as much as they may want to deny it

The Ole Miss coach finds himself in a no-win situation

The Rebels have been hit with eight new allegations in football of which they agree with t...
New Washington receivers coach Matt Lubick has been well-traveled lately.

Jim Harbaugh danced to One Direction and Frank Sinatra in one evening

The death penalty is a topic of conversation to this day, though the NCAA hasn't used it in...