Alabama RB Derrick Henry is off to the 2016 NFL Draft: 3 things to know
Alabama running back Derrick Henry will choose the NFL over returning to Tuscaloosa for his senior season.
• 2 min read
Alabama running back Derrick Henry will leave for the NFL Draft instead of returning to Tuscaloosa for his senior season, the junior announced during a press conference on Friday. 
Henry set a new SEC single-season rushing record with 2,219 yards on the way to Alabama's 14-1 national championship winning season, collecting a Heisman Trophy along the way. So after accomplishing about everything you can accomplish, and totaling 395 rushing attempts (most of any college running back since 2008) it is no surprise that Henry is done with college. 
The launching point for Henry's dominant career may have come in a game that most Alabama fans would otherwise like to forget. As a freshman, Henry saw the most action of the 2013 season in the Sugar Bowl loss to Oklahoma. While Trevor Knight took the headlines, it was the power and speed shown by Henry on just eight carries that totaled 100 yards and a touchdown. 
While sharing the backfield with T.J. Yeldon in 2014, Henry totaled 990 yards (5.76 yards per carry) and 11 touchdowns. This season, injuries to the backfield and other offensive issues put the ball in Henry's hand more than anyone expected, but not too much for Nick Saban and Lane Kiffin. While Jake Coker played his best football in the playoff, Henry's dominant run at the end of the regular season helped get Alabama in position to claim its fourth national title in seven years.
Here are three things to know about Henry's decision and what it means for the Tide moving forward:
1. Though his college performance was outstanding, the NFL projections don't exactly match. CBS Sports has Derrick Henry listed as the No. 2 running back in the 2016 class, with a first-or-second round projections. Henry's one of the best backs on the board, but Rob Rang pointed out some shortcomings in the Heisman Trophy winners game.    
"Henry's ability to get to and through the hole in a flash projects best in a traditional power-blocking scheme that limits his dancing at the line of scrimmage," Rang wrote after the Auburn game. "This isn't to say that he couldn't be successful in a zone-blocking scheme, as he possesses vision and surprising agility. Asking Henry to dance laterally, however, takes away the raw speed and power combination that make him special."
2. You better get to know Bo. Remember how much fun we had looking at Derrick Henry in comparison to Mark Ingram? Well the next back in the line of royalty is just as big. Bo Scarbrough is 6-3, 240 pounds and punished Michigan State defenders in the second half of the Cotton Bowl win. 
Scarbrough suffered a torn ACL, then was suspended for the first four games of 2015 because of an NCAA issue. But if he can stay healthy this offseason, the No. 2 athlete from the 2014 recruiting class will be a redshirt sophomore ready to make up for lost time. Another massive human ready to pound the rock for Alabama's offense? Sign me up. 
3. Alabama will always remember Henry for what he did on the field, but he was just as influential off the field. Derrick Henry was not the loudest voice in the locker room, but he was the most aggressive in the weight room.    
Let's give that 500-pound squat a second look.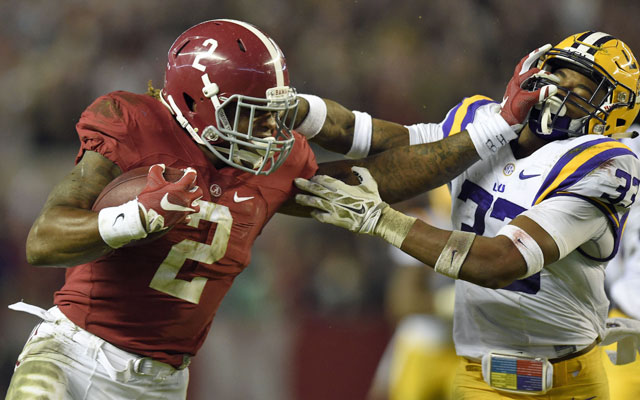 Show Comments
Hide Comments
Fitzerald is already the program's leader with 77 wins

Darryl Rudolph was just 55 years old

The Michigan coach nearly caused an international incident throwing a football
Using college stats and math to determine which FBS quarterbacks will be the most successf...

The LSU quarterback has been dealing with back issues for some time

Moss, a tight end, announced his decision to transfer from NC State this spring