Alabama State coach: Isaiah Crowell has matured a bunch
Former Georgia star Isaiah Crowell, a talented but troubled former five-star recruit, has 'matured,' says his coach at Alabama State, where the one-time Bulldog apparently is doing well with his second shot at college football.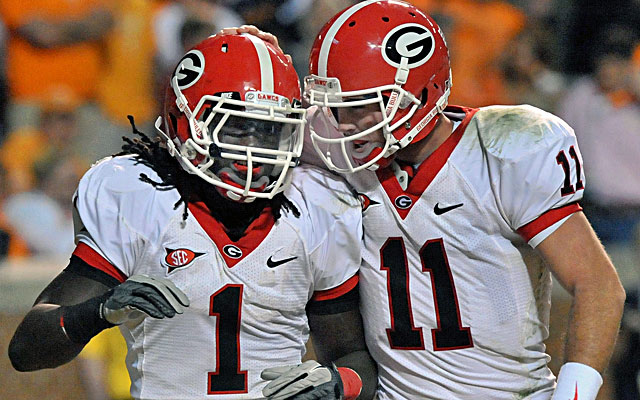 BIRMINGHAM, Ala. -- The best-known player in the SWAC was nowhere to be found at Monday's SWAC media day, but Isaiah Crowell was the name most of the league's coaches mentioned when they were asked to name the most talented guy in the conference.
Crowell, as most of you probably recall, was a five-star recruit at Georgia who ran for 850 yards in 2011 to earn SEC Freshman of the Year honors. However, a string of off-field issues, including him failing a drug test and later being arrested and charged with two felonies and a misdemeanor, led to his departure from the SEC powerhouse. Crowell resurfaced last season at Alabama State, where he rushed for 842 yards and 15 touchdowns for the Hornets -- and where bigger things are expected of the junior running back in 2013.
While each school brought two players along with their coach, ASU didn't bring Crowell.
"He said he didn't want to miss class," coach Reggie Barlow explained to the Montgomery Advertiser over the weekend. "His Monday classes are really special to him."
On Monday morning at the Birmingham Marriott, Barlow spoke of the growth Crowell has made, on and off the field.
"He's matured a bunch," Barlow said. "Going to Georgia and being 18 years old and being in that limelight is tough. But he's doing a good job for us, been a really good teammate and is working hard."
Barlow, a guy who spent eight seasons in the NFL as a wide receiver for the Jacksonville Jaguars, Oakland Raiders and Tampa Bay Buccaneers, compared Crowell's on-field talents to those of Tennessee Titans star Chris Johnson.
"Isaiah can run with power, hit the home run at 227 pounds, and he catches the ball well," Barlow said.
Asked if Crowell has the similar kind of burst as Johnson (who ran in the 4.2s in the 40 at the NFL combine), Barlow nodded his head. "He can run in the low 4.4s, high 4.3s."
Alabama State, picked Monday by the SWAC media to win the East Division of the conference, must be pleased with the returns from the one-time Georgia Bulldog because this offseason Barlow has taken on a dozen more FBS transfers. In fact, ASU has so many former transfers from major college football programs that Barlow and two of his players struggled to rattle off all their names. The coach acknowledged it's more than usual, but there was a reason for it.
"It's the Isaiah Effect," he said.
Show Comments
Hide Comments
It seems there's a lot of talent in the SEC

There are all sorts of drafts out there and these are my favorites

It's time to say goodbye to so many great players
What colleges and conferences had the most first-round picks in the 2017 NFL Draft?

Myles Garrett and Leonard Fournette were top-rated prospects coming out of high school

Ohio State and Washington will play in Seattle in 2024 and Columbus in 2025