Alabama student describes attack after player arrests
A friend of an Alabama student, who says he was attacked, describes finding his pal covered in blood. 'His left side of his face was gigantic. The bottom half of his face was completely covered in blood; he was bleeding badly from his lip. He had clearly been badly beaten.'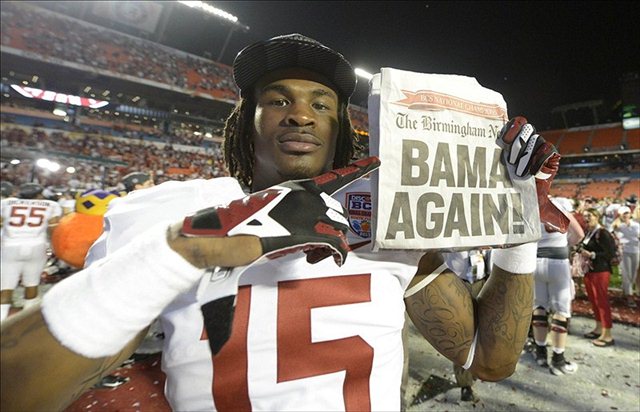 Eddie Williams has been suspended indefinitely after an attack, in which he is a suspect, on a fellow student. (US Presswire)
One of the two Alabama students injured in on-campus attacks that led to the arrests and indefinite suspensions of four Crimson Tide players has spoken out to the university's student paper, the Crimson White -- and his description of the incident doesn't paint any prettier a picture than the players' arrest report.
"The police report doesn't say that they just punched me and robbed me," Samuel Jergens said. "They punched me, they kicked me in my back, in my ribs. I would definitely classify it as excessive."
Jurgens said he was walking home and listening to music on headphones when someone approached and asked him for a lighter. After replying in the negative and turning back toward home, Jurgens said he lost consciousness and woke up bleeding, disoriented and with his backpack stolen. As he stumbled back toward a dormitory, Jurgens called friends for help.
"His left side of his face was gigantic," Jurgens' friend, Chris Burks, said after receiving a confused phone call and coming to Jurgens' aid. "The jacket he was wearing and his headphones were completely drenched in blood, the bottom half of his face was completely covered in blood; he was bleeding badly from his lip. He had clearly been badly beaten."
Burks drove Jurgens to a hospital, where he was diagnosed with what the Crimson White described as a "mild concussion" and received stiches in his lower lip.
Alabama players Eddie Williams, D.J. Pettway, Tyler Hayes and Brent Calloway were arrested Monday after Jurgens' attack and a second incident, in which another student was punched in the face and had his wallet stolen. Williams, Hayes and Pettway were each charged with two counts of second-degree robbery, with Calloway charged with fraudulent use of a credit card.
Arrrst records showed Hayes and Williams admitted to robbing Jurgens, with Williams also admitting to robbing the second student as Hayes and Pettway watched. 
Despite his injuries and the alleged involvement of the Tide players, Jurgens said the incident wasn't going to alter his view of his school's football program.
"This was just a matter of chance. I'm still gonna love Alabama football. I just want to deal with this case, move on with my life," Jurgens said. "I just want to get on with my education. I want to continue being happy here. I was happy here before, and I will continue being happy here."
Show Comments
Hide Comments
Our Latest Stories
The Rebels are likely headed for some tough times, as much as they may want to deny it

The Ole Miss coach finds himself in a no-win situation

The Rebels have been hit with eight new allegations in football of which they agree with t...
New Washington receivers coach Matt Lubick has been well-traveled lately.

Jim Harbaugh danced to One Direction and Frank Sinatra in one evening

The death penalty is a topic of conversation to this day, though the NCAA hasn't used it in...