Alabama to name Bill Battle new athletic director
Bill Battle, a former Crimson Tide football player and one-time head coach at Tennessee, could be named the new Alabama athletic director as early as Friday morning.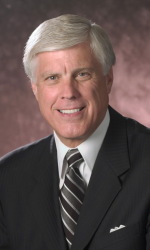 Judy Bonner, president of Alabama, has wasted no time in selecting a successor to Crimson Tide athletic director Mal Moore, who resigned Wednesday due to health issues.
Bonner issued a statement Thursday announcing her recommendation of former Alabama football player and Tennessee head coach Bill Battle to replace Moore. The decision could become official during a board of trustees conference call scheduled for Friday morning, al.com reported. 
"Based on Mal's strong endorsement, as well as Coach Battle's affiliation with UA as a player, partner and donor, his experience as a coach and his significant business background, I am confident that he is the right person to serve UA in this position," Bonner said in her statement. "I am looking forward to working with him as we continue to build on the foundation of excellence that is the hallmark of Coach Moore's tenure."
"It is with extremely mixed emotions that I am involved in this process," Battle said in the statement. "My strong preference is that my teammate and longtime friend Mal Moore would be announcing another amazing accomplishment. When the University reached out to me, my instinct was to say no. However, after speaking with Dr. Bonner, [Alabama systems chancellor] Dr. [Robert] Witt, Coach Saban, Mal and Paul Bryant, and seeing what I've seen at the University, I couldn't find a way to say no."
Since leaving the Volunteer head coaching position in 1976 with a record of 59-22-2, Battle has become a highly successful businessman, founding the Collegiate Licensing Committee in 1981 and signing Alabama as the company's first client shortly thereafter. He served as CLC's president and CEO until 2002.
His time with CLC has meant that Battle has not been directly involved with a college athletic department in quite some time. But according to Moore, that's as much a positive than a negative. 
"Certainly, his background at the University as a student-athlete coupled with a career as coach and his creativity and unparalleled success at Collegiate Licensing gives him an extensive background to lead the Crimson Tide Athletics Department," Moore said in the statement. "I personally recommended Bill to Dr. Bonner for this job knowing he will appropriately support our coaches in their efforts to bring championship teams home to Tuscaloosa and ensure that our student-athletes earn their degrees and represent the Crimson Tide in the same manner that Bill did as a player and as an alumnus."
Moore's not wrong; given the enormous looming financial implications of the coming SEC Network paired with the potential fallout from the Ed O'Bannon lawsuit, business acumen is as vital a requirement for an SEC-level athletics director in 2013 as athletic foresight. Alabama fans will be hoping Battle displays the expected amount of both. 
Show Comments
Hide Comments
Our Latest Stories
The Deadman gave a speech to the Texas football team, which listened on one knee

Trent Thompson was spotted at Georgia's spring practice

The ex-Notre Dame star may have started a change in postseason college football
When asked how you win the Heisman Trophy, Watson said 'I guess lose a couple games'

Tre'von Armstead was arrested on charges stemming from 2013

The former Baylor player was convicted in August 2015