All Players United campaign launched with 'APU' on wrist tape
The National College Players Association has supported a player-led movement to protest the NCAA's treatment of athletes.
• 2 min read
Players from Georgia Tech and Georgia wrote "APU" on their wrist tape, an acronym standing for "All Players United," in act of protest against the NCAA's treatment of athletes. 
The movement is being backed by the National College Players Association, and NCPA president Ramogi Huma said that the gesture has been discussed for months via weekly conference calls with players across the country. It is expected that players will continue to use the social-media hashtags #APU and #AllPlayersUnited, along with more exposure in nationally televised games.
"Players will continue to wear the APU throughout the season and spread the word," Huma told Outside The Lines. "They're taking the reform effort to television, which has never been done. They've been using their bodies to make money for the people who run NCAA sports. Now, for the first time, they're using their bodies to push for basic protections at the very least."
Georgia Tech starting quarterback Vad Lee can seen below with the "APU" on his wrist, along with Synjyn Days (above) and All-ACC defensive end Jeremiah Attaochu. At Georgia, the entire starting offensive line joined Kolton Houston, the junior forced to sit out three years because of a failed NCAA drug test, with APU written on their wrist.
According to NCPAnow.org, there are four primary goals of the #AllPlayersUnited campaign. 
• Demonstrate unity among college athletes and fans in favor of NCAA reform.
• Show support for players who joined concussion lawsuits against the NCAA, which could "force the NCAA to finally take meaningful steps to minimize brain trauma in contact sports and provide resources for current and former players suffering with brain injuries."
• Show support for the players who "stepped up in the O'Bannon v. NCAA, EA Sports lawsuit regarding the use of players' images/likeliness, which could unlock billions of dollars in resources for current, future, and former players."
• Stand behind individual players being "harmed by NCAA rules."
After All Players United became a national story on Saturday, the NCAA issued an official statement in response to the movement.
"As a higher education association, the NCAA supports open and civil debate regarding all aspects of college athletics," NCAA Director of Public and Media Relations Stacey Osburn said in a statement. "Student-athletes across all 23 sports provide an important voice in discussions as NCAA members offer academic and athletic opportunities to help the more than 450,000 student-athletes achieve their full potential." 
Check out more photos from Georgia Tech players with the APU on their wrist tape.
(PHOTO CREDIT: USA TODAY Sports Images)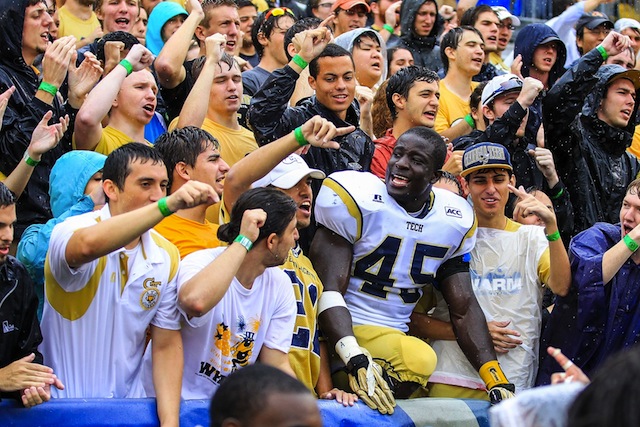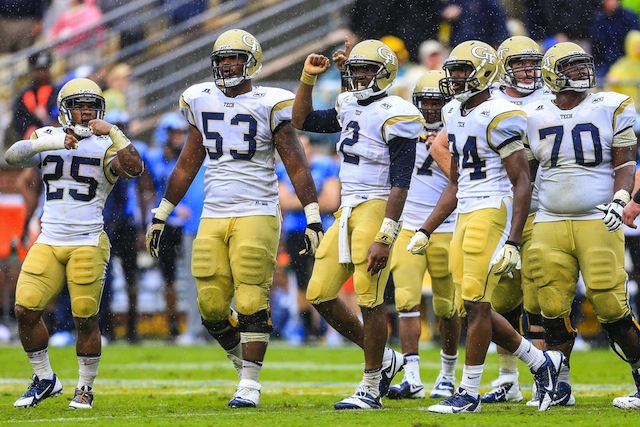 Will Sunderland allegedly stole and tried to sell video game systems

National powerhouse Alabama joins the throng of schools trying to lure five-star QB Justin...

The shooting took place during an apparent meeting over a cell phone
A decision in either direction would help the NCAA move forward in Sin City

White is the No. 1 running back recruit and No. 6 overall recruit for next year's class

Dennis Dodd goes inside college football to explain why realignment is still an agenda ite...