All-Walk-On Team: The decade's most surprising successes
A brief reminder from the past decade of the undersized, overlooked and un-scholarshiped who came out on top despite initially falling through the cracks.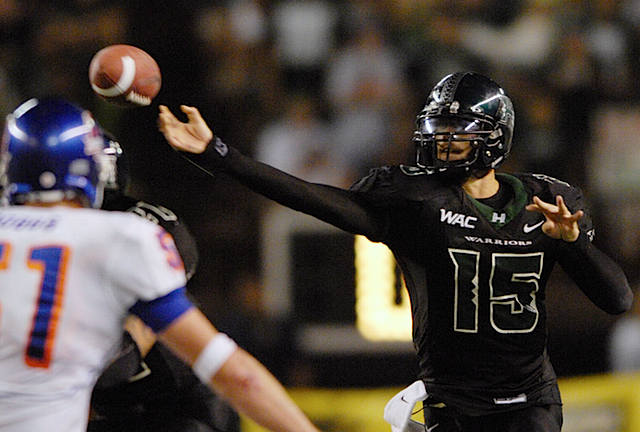 Colt Brennan walked on at two schools before finishing third in 2007 Heisman voting. (AP)
People who make their living sizing up high school recruits for the next level overwhelmingly know what they're doing: Coaches who pass on future stars while handing out scholarships to future busts tend not to last very long. And even the online recruiting rankings, when taken as a whole, have a consistent track record of predicting who's going to make it and who's not. The conventional wisdom about what makes (or breaks) a viable college player is conventional for a reason.
And then, inevitably, every so often it is dead wrong. With another signing day in the books and all but a few available scholarships off the table, here's a brief reminder from the past decade of the undersized, overlooked and un-scholarshiped who came out on top despite initially falling through the cracks. All of the following players saw the field within the last 10-12 years, but none of them were considered worthy of a scholarship at the FBS level -- until they showed up on campus and earned it the hard way.
Quarterback: COLT BRENNAN Hawaii
Brennan actually walked on twice: First at Colorado, where he was eventually dismissed amid multiple felony charges, and later at Hawaii, where coach June Jones decided to give Brennan a second chance after stumbling across his junior college film while scouting another player. Three years later, Brennan left the islands on the heels of the best season in school history with NCAA records for passing yards, completion percentage and efficiency in a career.
Running Back: CHAD SPANN Northern Illinois
He's easy to overlook in a long line of productive NIU workhorses, but the diminutive Spann made his mark with a pair of 1,000-yard campaigns in 2009 and 2010, earning first-team All-MAC honors both years as the engine of the best ground attack in the league. He led the nation as a senior with 22 touchdowns.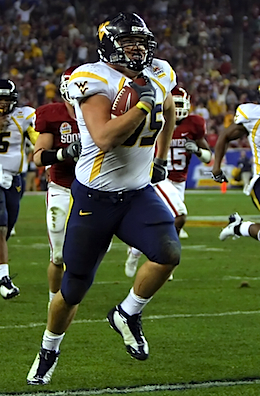 Schmitt got his start in D-III. (US Presswire)
Fullback: OWEN SCHMITT West Virginia
Before he famously bloodies himself up for the NFL crowd, Schmitt was immortalized in the 2008 Fiesta Bowl as the "Runaway Beer Truck," a fitting tag for a career spent flattening things in service of one of the most feared offenses in the country. Despite his reputation as a blocker, Schmitt began his college career as a 1,000-yard rusher at a Division III school, Wisconsin-River Falls, and ended it with nearly 1,300 total yards and 15 touchdowns in three years as a Mountaineer. (Just please, for his own sake, don't ask him to punt.)
Wide Receiver: PATRICK EDWARDS Houston
For Edwards, in retrospect, getting on the field sans scholarship was the easy part. The hard part was getting back on the field after suffering a grisly broken leg on national television in 2008. From there, Edwards returned to haul in 291 receptions over the next three years for more yards (4,507) and touchdowns (43) than any other receiver in college football in that span, and was rewarded as a senior by being named Conference USA's Offensive Player of the Year.
Wide Receiver: MIKE HASS Oregon State
Hass broke into the Beavers' receiving rotation as a sophomore in 2003 and proceeded to establish himself as one of the most quietly reliable receivers in the Pac-10, turning in three consecutive 1,000-yard seasons in an offense better known at the time for producing prolific tailbacks. By his senior year in 2005, the secret was out: Hass went over 100 yards receiving in nine of 11 games, and multiple outlets made him a first-team All-American.
Wide Receiver: JORDY NELSON Kansas State
His subsequent success at the next level has made the scouts' indifference toward Nelson that much harder to grasp. But even K-State fans had to be taken by surprise when Nelson made the leap from solid-but-unspectacular role player to consensus All-American as a senior, setting school records for catches (122), yards (1,606) and touchdowns (11) in the process. He still ranks second in Wildcat history by all three measures.
Tight End: DENNIS PITTA BYU
Pitta was the only former walk-on in either starting lineup in Sunday's Super Bowl, which will come as no surprise to anyone who followed his All-America career at BYU. Over four years in Provo, Pitta set the school record for receptions (221). The Cougars landed in the final Top 25 all four years.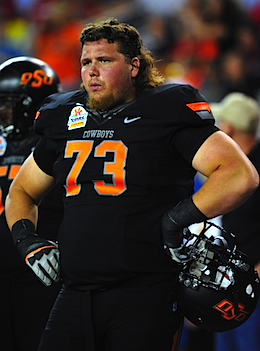 Adcock started 26 consecutive games for Oklahoma State. (US Presswire)
Offensive Line: LEVY ADCOCK Oklahoma State
Adcock never had a chance of stealing the spotlight from the walk-on quarterback whom he protected, Brandon Weeden, but he was every bit as integral to Oklahoma State's emergence as a perennial offensive juggernaut, starting 26 consecutive games at both left and right tackle with a pair of first-team All-Big 12 nods after transferring from Northeastern Oklahoma A&M. He went out in 2011 as a consensus All-American on a team that came within inches of playing for the national championship.
Offensive Line: LOGAN MANKINS Fresno State
Before he was an iron man for the New England Patriots, Mankins was a rock up front for Fresno State, starting every game in both 2001 and 2002, then returning from an ACL injury that cost him all of 2003 to start every game in 2004. He didn't allow a sack that year, was voted first-team All-WAC and went off the board in the first round the following April. Before he hurt his leg last December, Mankins hadn't missed an NFL start to injury in nearly eight full seasons.
Offensive Line: RYLAN REED Texas Tech
If he'd never set foot on the field, there'd still be plenty to say about Reed, a former minor league pitcher who beat cancer and reportedly bench-pressed 625 pounds. (According to Reed's o-line coach at Tech, "It's almost like he plays football so he can work out.") But it turns out Reed was actually kind of good at football, too, eventually earning first-team All-Big 12 and All-America honors in 2008 as an immovable left tackle on the best team in school history.
Offensive Line: RICKY WAGNER Wisconsin
A dozen Wisconsin offensive linemen have been drafted in the last dozen years -- 300-pound behemoths are the state's leading export, in fact -- but when Wagner goes off the board this April, he'll be the first who arrived in Madison without a scholarship since Mark Tauscher went to the Green Bay Packers in the seventh round in 2000. Wagner leaves with 38 starts over the last three years for teams that steamrolled their way into three consecutive Rose Bowls and as the best example yet that the Badgers can basically stumble across All-Big Ten blockers without even trying.
Center: SEAN BEDFORD Georgia Tech
As a center, Bedford was a two-time All-ACC pick, starting 27 consecutive games as the anchor of the prolific triple-option attack that carried the 2009 Yellow Jackets to their first conference championship in nearly two decades. As an aerospace engineering major, he's also a rocket scientist. When we come back: Precision cut blocks on Mars.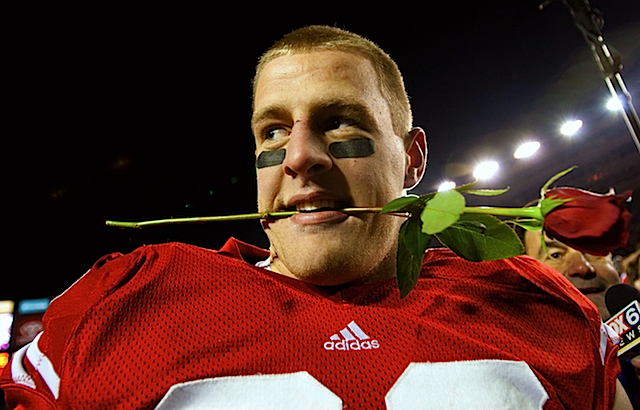 J.J. Watt passed up a full ride in the MAC for a shot at the Rose Bowl with his home state school. (Getty)
Defensive Line: IAN CAMPBELL Kansas State
K-State is a perennial pipeline for the overlooked. But even by Wildcat standards, Campbell was an obscurity, walking on in 2004 from a tiny town of barely 2,000 people. From there, he grew into a three-time All-Big 12 pick by league coaches as both a linebacker and a defensive end and lives on on YouTube for the time that he was caught on film clearing a 62-inch hurdle.
Defensive Line: MARGUS HUNT SMU
A former discus champion from Estonia, Hunt originally enrolled at SMU in 2007 to work with women's track coach, Dave Wollman, a renowned throwing expert who was attempting to revive the school's defunct men's team. When that effort fell through, Wollman pointed Hunt in the direction of June Jones, who took one look at the 6-foot-7, 280-pound hulk in a tryout and put him on scholarship before he'd played a single snap of organized football. Five years later, Hunt is leaving as a first-team All-Conference USA pick and a likely second- or third-rounder in April's draft.
Defensive Line: J.J. WATT Wisconsin
Watt is an exception here, the only player on this list who actually began his college career on scholarship: As an unheralded, 220-pound tight end at Central Michigan. After a single season in the MAC, though, he returned to his home state to walk on with the Badgers, who molded him into a 280-pound All-American, first-round draft pick and all-purpose wrecking ball on the defensive line. Watt is recognized as arguably the best defensive player in the NFL and the inspiration behind at least one bizarre wedding cake.
Defensive Line: RYAN WINTERSWYK Boise State
Most of the credit for Boise's ascent went to the ultra-efficient offense, but the defense also ranked among the nation's best during Winterswyk's tenure, which spanned the Broncos' insurgent 38-2 run from 2008-10. Initially pegged as a safety, Winterswyk emerged instead as a cornerstone on the line, where he led the team in tackles for loss as a redshirt freshman and earned All-WAC nods from opposing coaches three years in a row.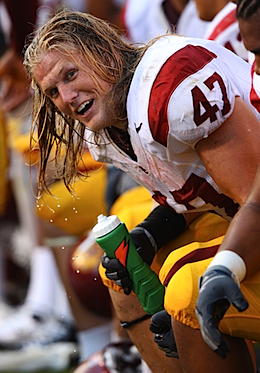 Matthews only started one season at USC. (US Presswire)
Linebacker: GARY BRACKETT Rutgers
Before he picked up a Super Bowl ring with the Indianapolis Colts, Brackett picked up team MVP honors at Rutgers in 2002 after leading the team with 130 tackles as a senior. The Scarlet Knights went 1-11 that season, Greg Schiano's second as head coach, making Brackett one the last players to escape the black hole that was Rutgers football before Schiano's rebuilding effort finally took root. He might also be the only author to actually incorporate the term "walk-on" into a book title.
Linebacker: CLAY MATTHEWS USC
Matthews has not always cut the Herculean figure that he currently exploits on TV: In high school, his own father, a longtime NFL linebacker turned defensive coordinator, considered his son too small to start until he was a senior. College scouts agreed. At his dad's alma mater, Matthews found a niche on special teams but didn't crack the regular starting lineup until his senior year, 2008, when a unit loaded with future NFL talent led the nation in scoring defense en route to USC's sixth consecutive Pac-10 title. Of the dozen Trojans eventually drafted off that defense, only Matthews and fellow linebacker Brian Cushing went in the first round.
Linebacker: DARYL WASHINGTON TCU
He doesn't have the pedigree or the profile, media-wise, but the trajectory of Washington's career has been strikingly similar to Matthews'. Like Matthews, Washington was overlooked by scouts after starting only one season in high school; like Matthews, he spent most of his time on campus as a backup on a series of first-rate defenses. When he finally cracked the lineup as a senior in 2009, Washington was an instant hit, picking up a handful of All-America notices as the leading tackler on the No. 1 total defense in the nation; TCU finished the regular season 12-0 and entered the Fiesta Bowl ranked No. 3. And, like Matthews, Washington has justified his high draft status by emerging as one of the best young linebackers in the league.
Cornerback: KEVIN ARBET USC
Arbet is not destined to go down as one of the great Trojan talents of the Pete Carroll era. But he did start 12 games in 2003 and 2004 for teams that spent a combined 18 weeks at the top of the Associated Press Poll, making him the only player on this list to start on a team that claimed a national championship, disputed, vacated or otherwise. Before his move into the starting lineup, Arbet also returned kicks and was a first-team All-Pac-10 pick in 2001 as a special-teams player.
Cornerback: IKE TAYLOR Louisiana-Lafayette
Taylor is another late bloomer, forced to sit out his first two years at UL-Lafayette due to academics and then relegated to a backup role at tailback as a junior. It was only after he requested a move to cornerback for his senior season that he found his niche on defense, starting every game opposite Charles "Peanut" Tillman in 2002. From there, Taylor's blazing speed at the NFL Combine led to a fourth-round flier from the Pittsburgh Steelers, where he remains one decade and two Super Bowl rings later.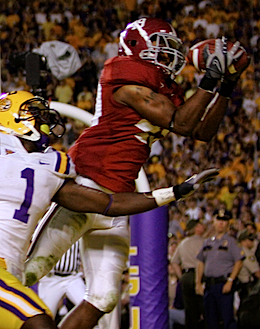 Johnson had 11 career interceptions. (AP)
Safety: RASHAD JOHNSON Alabama
Far fetched as it seems when contemplating Alabama's fully Sabanized depth chart in 2013, it was still possible for a walk-on to break through in Saban's first two seasons, 2007 and 2008, when Johnson started every game and led the Tide in tackles and interceptions both years. As a senior, Johnson was voted first-team All-SEC by league coaches and landed on a pair of All-America teams, while the Saban era began in earnest with a 12-0 regular season.
Safety: JIM LEONHARD Wisconsin
Poster child for the undersized and overlooked, Leonhard set the standard for Big Ten safeties from 2002-04, tying a school record for career interceptions (21) en route to first-team all-conference honors -- and at least one All-America nod -- in all three seasons. He also set a Big Ten mark for punt return yards in a career (since broken by Michigan's Steve Breaston), taking three punts to the house for touchdowns. Ignored again by NFL scouts, Leonhard just wrapped up his eighth season in the league with his fourth team.
- - -
HONORABLE MENTION: WR Jared Abbrederis, Wisconsin … LB Ezekiel Ansah, BYU … WR Antonio Brown, Central Michigan … QB Austin Davis, Southern Miss … OL B.J. Finnie, Kansas State … LB Josh Hull, Penn State … S Jordan Kovacs, Michigan … OL Spencer Long, Nebraska … QB Bryant Moniz, Hawaii … WR Tommy Saunders, Missouri … QB Brandon Weeden, Oklahoma State … WR Ryan Whalen, Stanford.
Show Comments
Hide Comments
USC enters as the favorite, but are the Trojans the best bet?

Jim Harbaugh's Michigan staff will be at FAU on June 5

These five coaches will be hot names on the market after the 2017 season
The Big 12 could be wide open in 2017 ... we mean it this time

Rhule's stance on sexual violence is much-needed for a program that's been submerged in co...

The former Oregon coach was most recently the coach of the San Francisco 49ers