American Athletic Conference gets its chance after brutal two years
The American Athletic Conference relaunches this week knowing realignment could have been worse and wanting a fighting chance on the field.
• 4 min read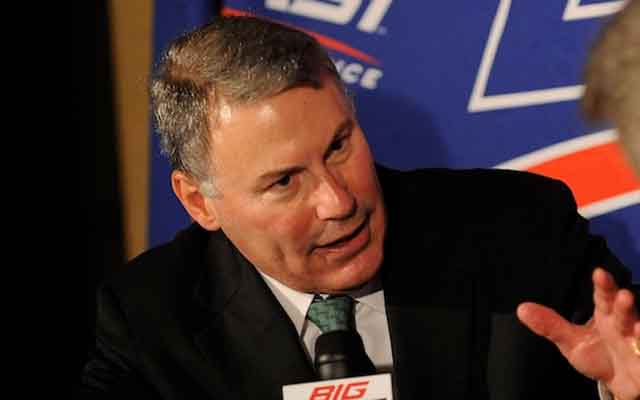 In the last two years, just about everything that could have gone wrong for the old Big East -- relaunched Monday as the American Athletic Conference -- did exactly that.
Once the Big East turned down that $130 million annual deal from ESPN in 2011, the realignment avalanche poured on the conference's Providence, R.I., office. The league lost football members to the Big 12, Big Ten, ACC and Mountain West. The deal with ESPN shrunk nearly sevenfold for a conference left with a few tenured members and old Conference USA parts.
To hear "American" commissioner Mike Aresco tell it, however, things probably could have been worse.
The ACC's grant of rights shielded the American from further poaching. Aresco calls the ACC's move a "big deal." Had the Big Ten raided the ACC again, longest-tenured American members UConn, Cincinnati and USF would have been the prime replacement candidates. Lose two more, and maybe the incoming Conference USA schools for 2014 -- East Carolina, Tulsa and Tulane -- would have stayed in Conference USA. Navy joins the American in 2015 to make a 12-team football league.
A clean break with the Catholic 7 basketball schools that kept the namesake, thus avoiding litigation, helped the American finalize an ESPN deal in early 2013 instead of prolonging the instability, Aresco said.
There was extra cash from the Catholic 7 naming rights, and the American distributed revenue from NCAA men's basketball tournament "units" left behind by the basketball schools.
"It could have been a messy situation," Aresco said.
Fair or not, the American was widely perceived as the nation's sixth-best football conference before the defections, only this is the last year with BCS automatic-qualifying status. Now, the dividing line between the five power conferences and the smaller "Group of 5," where the American finds itself, is clearly cut by more than $100 million from now to 2020.
This leaves the American with no choice but to get creative and, well, win.
There's enough left to do just that, Aresco said.
"All I've ever wanted for this group is a chance," Aresco said, "and we have a chance."
Aresco isn't calling this a new conference but a successor to the old Big East. With UConn, Cincinnati and USF still on the roster, perhaps the succession plan is fitting.
But the American must welcome the new-league feel of this week after what became a perpetual break-up scene, only with no one left to carry out the boxes.
Pitt and Syracuse's move to the ACC finally became official this week. Louisville, a top-10 contender for 2013, still has one more year. Heck, Cincinnati president Santa J. Ono might still be sending holiday cards to ACC brass.
For once, there's not a divorce to finalize or a name to rebrand or a logo to draw up.
"We've done a lot of conference calls," joked Aresco about his tenure that started in August.
The American's basketball lineup is still impressive, and Cincinnati football is coming off five double-digit-win seasons in the last six years. Tulsa has been a winning program for much of the last decade. Several other football programs have shown glimpses, including new addition UCF. USF briefly ranked No. 2 in 2007.
But the league could use a cornerstone football program, which would help in future media rights negotiations in 2020.
There will be chances for upset non-conference wins and jockeying for a College Football Playoff "New Year's Day" bowl that produces a higher end-of-season payout.
Starting in 2014, the American is fighting with the Mountain West, MAC, Conference USA and Sun Belt for one CFP spot.
"It's going to depend on what we do on the field, but I think we're pretty good," Aresco said.
UConn athletics director Warde Manuel says two keys for the American are staying positive and growing the value.
"How you play and what you do will help determine the future," Manuel said. "By then, we can be better as a conference and extract more value in media rights once your television partner sees what we're doing as a conference and you hope you're in a position to be stronger and have proven success."
Aresco knows realignment could surface again one day, and he's not hiding from that possibility. If someone feels they found a better car, that person should buy it -- as long as you know the current home is a "great place," he says.
"We're going to be OK," Aresco said. "I think the biggest thing is this is a good group of schools that didn't -- obviously, they are not in one of those five [power] conferences -- but they felt this was the best home for them."
Bowl developments: The American is talking with the Pac-12 about partnering on a start-up bowl in the Miami area, Aresco said.
"They are looking at it," Aresco said. "They are still debating how many tie-ins they want to have. It's an attractive proposition for them."
The BBVA Compass Bowl (Birmingham, Ala.) and Military Bowl (Annapolis, Md.) are likely destinations for the American, Aresco said. The Beef O'Brady's (St. Petersburg, Fla.) and Liberty (Memphis, Tenn.) are possibilities.
Show Comments
Hide Comments
Twenty-eight of 95 early entry prospects went undrafted

The SEC and Michigan each had great weekends in the 2017 NFL Draft

Rawleigh Williams III left the field on a stretcher after a neck injury
Jim Harbaugh wants more college football programs to embrace the international trip

It seems there's a lot of talent in the SEC

There are all sorts of drafts out there and these are my favorites