American wants into NCAA 'Division 4'? Get ready to pay up
American Athletic Conference wants into an NCAA subdivision if there is one. Entry might cost millions to keep up with the SEC, Big 12 and others.
• 4 min read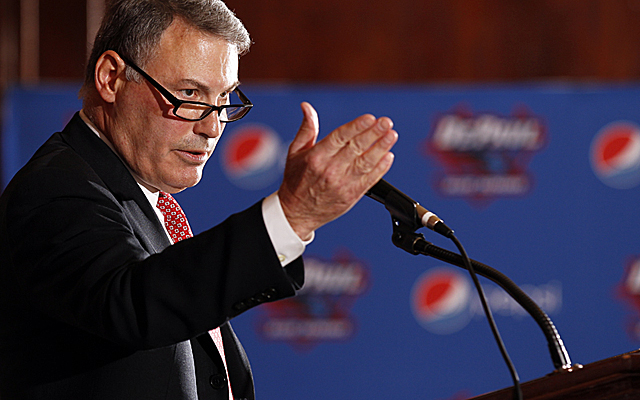 NEWPORT, R.I. -- Mike Aresco could have used PowerPoint software and a laser pointer, because he was in full sell mode from the podium of the American Athletic Conference media days.
From the conference's marquee nonconference wins to a footprint of more than 20 million homes to even the league's "dynamic new logo," Aresco covered everything the "American" has to offer.
These qualities were seemingly laid out with a bigger play in mind -- inclusion in an NCAA "Division 4" subdivision that would give high-resource schools their own set of rules. He wants the so-called 'Big Five' to add one more.
"Whatever the highest level of Division One is in the future, we expect to be a part of it," Aresco said.
That sales job pumps the conference, but it might be unnecessary. Here's why: After asking around, my guess is a subdivision might not be about who's "in" or "out." No one knows what that means yet.
It's about who can afford to be in it.
The power conferences -- the ACC, Big Ten, Big 12, SEC and Pac-12 -- want to spend their money in ways they currently can't because of NCAA legislature, whether that's paying a player stipend or providing three meals a day for players or helping a recruit's family with official visit costs.
You want to be included? Then keep up and pay up. These schools want to pass such legislation without the hassle of 340-plus schools in Division I voting on Football Bowl Subdivision matters.
Depending on how much those conferences want to up the ante, this could cost schools millions in additional dollars -- dollars the American is apparently willing to pay, despite an inferior television deal.
Cincinnati athletic director Whit Babcock told CBSSports.com the league's athletic directors and coaches met with the conference on Monday and member schools are prepared to do whatever is necessary.
With a television deal of nearly $2 million per school, a pool of realignment exit fee money spread among each remaining member and a hefty settlement with the Catholic 7 basketball schools (which took the "Big East" name), the league feels there's enough to get it done.
"Whatever it is, we deserve to be there and want a chance to go along with them," Babcock said.
To avoid antitrust complications, a subdivision likely would need entry rules that appear neutral and fair, even if they are impractical for some of the smaller schools. This would give hope for the American and others. All five of the smaller conferences should get at least a million per school in college playoff money in 2014. This alone would help pay a player stipend.
You really think ESPN -- which holds significant media rights to the American, Mountain West, MAC and Sun Belt -- would want those properties lessened in scope and scale?
But here's where the American and others could run into problems: The way the media-days circuit played out in recent days, it has become fairly obvious the power-conference commissioners have been discussing a subdivision among themselves.
Last week, Big Ten commissioner Jim Delany referred directly to the "five" conferences involved in decision-making processes.
Since the playoff will be fairly exclusive in nature, the power conferences have shown they are good at slowly muscling out those below them in the revenue scale. The American, Mountain West, MAC, Conference USA and Sun Belt have one guaranteed bowl spot under the yearly six-game playoff umbrella of semifinal games and host bowls.
The five power conferences will get roughly $90 million in annual playoff money while the other five will get about one-sixth of that, give or take performance bonuses. You could argue the playoff separation is more significant than anything the subdivision does.
Aresco is proud of his conference, but he can't avoid the post-realignment reality -- that the television revenue gap between the smaller and power conferences is more than $100 million per school in this decade.
So, instead of waxing on president Mark Emmert's tenure or other big-picture collegiate issues, Aresco used his podium time to fight for a conference that is trying to forget a rough two years.
The subdivision was the crux.
"If there's momentum to have only five conferences, I have to deal with that," Aresco said. "So I have to make the case for this conference."
Aresco said he'll "plead my case" to commissioners. There has been no determination of what the subdivision or new governance structure will entail, he said.
"You can call yourselves [the Big Five]," Aresco said. "I said we want to eventually change that discussion to the Big Six. I've been fighting tooth and nail to make sure we are perceived a certain way, the way we are. ... We have to perform, we know that."
Though the line for dividing revenue is clear -- UConn is the only American member with a long-term membership commitment ranked in the national top 50 in revenue according to USA Today databases -- Babcock said finances shouldn't be the only factor in potential subdivision inclusion.
The American wants to use the next few years to show it belongs with on-field results.
"If it was all about budget, with all due respect to those schools, then Texas and Ohio State would never lose a game," Babcock said.
However this shakes out, first-year Cincinnati coach Tommy Tuberville just wants to see a diverse college football landscape.
That's why he thinks the perception of the league -- and the media -- can help the American.
"You don't want this to be watered down to just a few people," Tuberville said. "We've pretty much done that right now. We've got 10 or 15 teams right now that are playing college football that pretty much dominate the airwaves and the media. Eventually what happens is you get stale."
Show Comments
Hide Comments
It seems there's a lot of talent in the SEC

There are all sorts of drafts out there and these are my favorites

It's time to say goodbye to so many great players
What colleges and conferences had the most first-round picks in the 2017 NFL Draft?

Myles Garrett and Leonard Fournette were top-rated prospects coming out of high school

Ohio State and Washington will play in Seattle in 2024 and Columbus in 2025