Anthony Alford opts for football at Southern Miss, but he'll take that MLB payday after all
Nation's dual-sport athlete will have his cake on campus and make enough in the minors to buy a whole lot more cake.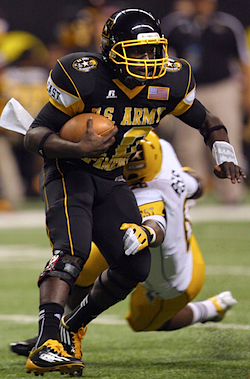 It's June, which means reruns, vacations, sunburns and an extra heaping of sports that are not college football. But with the dog days also comes the annual decision by two-sport stars about their immediate future: Take the scholarship and stick with football on campus, or take the fat signing bonus from a Major League club and head for the farm league? In the case of this year's top dual-sport prospect, quarterback/outfielder Anthony Alford from Petal, Miss., it turns out he's going to do both.
That may come as a surprise to his coaches at Southern Miss, who before Friday had every reason to expect Alford to turn down a pro baseball contract to play both sports at USM, as promised. Instead, Baseball America reports that he now plans to sign a deal with his new team, the Toronto Blue Jays, who snapped Alford up Tuesday with the 112th overall pick in the MLB Draft and are reportedly prepared to offer him a bonus that "may be close to double the $424,400 value assigned to the 112th overall pick." (You can read more about the MLB's new rookie bonus scale here.) In fact, that number could have been much higher: If not for his insistence on playing football in college, Alford would almost certainly have been looking at a first-round contract with a bonus in the millions.
As it stands, the enhanced third-round deal will instantly make him a wealthier man than any of his assistant coaches and just about everyone else on Southern Miss' campus, in exchange for spending his offseason on the pro diamond. (NCAA rules allow "student-athletes" to play professionally in one sport while retaining eligibility in another; similar deals have been struck in recent years by former Washington quarterback Jake Locker and former N.C. State/Wisconsin quarterback Russell Wilson.) At any rate, and by any standard, Alford is a rare catch for a Conference USA school: MaxPreps ranked him as the No. 24 overall player and No. 3 quarterback in the 2012 recruiting class (though the other scouting sites are somewhat less optimistic), and he boasted offers from the likes of Alabama and LSU, among others. The Golden Eagles wanted to land the hometown hero so badly that new head coach Ellis Johnson made it one of his first priorities to hire Alford's high school coach as part of his staff, and then to promote him to offensive coordinator.
So far, so good -- Alford is already enrolled and expected to make a strong push to replace prolific four-year starter Austin Davis at the top of the depth chart. In the meantime, the Blue Jays control Alford's baseball rights for up to six years. He still has plenty of time to decide how he wants to proceed by then.
Show Comments
Hide Comments
The ex-Notre Dame quarterback would be eligible to play immediately in 2017

Tuberville has been mulling a decision to run in 2018

Ranking the best draft-eligible college football players in the 2017 draft class
Taking a closer look at what went down during one of the biggest weekends of spring football...

The Wolverines will get a unique education in Italy, and maybe that's all that matters

Fitzerald is already the program's leader with 77 wins