Arizona State's Marion Grice likely out for Pac-12 championship
Todd Graham confirmed that running back Marion Grice will not be ready in time for the Pac-12 championship game.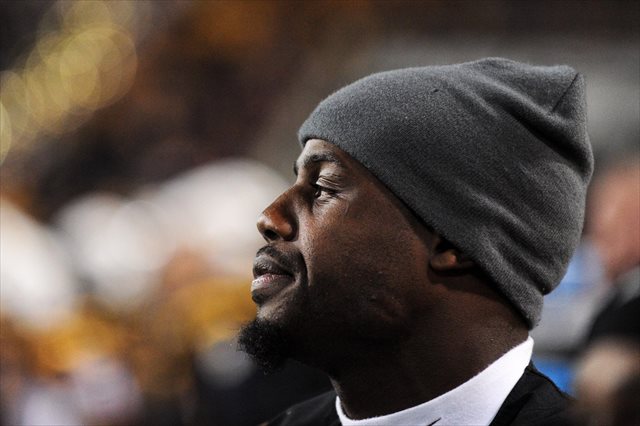 Things are pretty good for Arizona State these days. The Sun Devils are six days away from playing in their first Pac-12 Championship Game; beating Arizona Saturday night means that ASU will host that game rather than traveling to Stanford; and they didn't just "beat" Arizona, they walloped their Territorial Cup archrival 58-21, the Sun Devils' most decisive victory in the series since 1996.
But that's not to say things are perfect. Todd Graham confirmed after the game that all-purpose running back Marion Grice is still struggling with the leg injury he suffered Nov. 23 against UCLA, and is not likely to be available for the championship game.
"It's probably a three-week deal," Graham said, per Fox Sports Arizona. "He'd probably be doubtful. I think I'm safe in saying that. Our deal is we want to go win this thing, and he'll be ready for the next one."
Grice spent the Arizona game on the sidelines, wearing crutches and a boot. Graham had been vague with Grice's status leading up to the game, calling it "day to day."
D.J. Foster excelled in replacing Grice against the Wildcats, rushing for 124 yards and 2 touchdowns on 23 carries and adding 26 receiving yards to boot. But the loss of Grice would still be a major one, as the senior leads the Sun Devils with 996 yards rushing, is the team's third-leading receiver with 438 yards through the air, and leads the entire Pac-12 with 20 touchdowns.
And of course, even with Grice available, the first meeting between the Sun Devils and Cardinal this season ended in a 42-28 Stanford victory that was only that close thanks to a furious second-half ASU rally. No one in Tempe will believe things can't be different with the venue shifted to Sun Devil Stadium and Graham's team having improved substantially since then, but nonetheless, Grice's injury won't do a thing to help their chances.
Show Comments
Hide Comments
Like his brother, Lanard Fournette will be running the ball for the Tigers

Ranking the strength of schedule for each of the 12 teams in the Pac-12 entering the seaso...

Thomas Tyner will reportedly re-start his college football career at Oregon's biggest riva...
Collin Johnson needs to do this in a game or all of this was for nothing

The Bulldogs are upping the game in the ever-changing facilities arms race

Five things I want to do as nothing more than a college football fan