Auburn AD: 'Disservice to nation' if SEC champ Tigers left out
Auburn athletic director Jay Jacobs doesn't like the idea of Auburn being left at No. 3 by the BCS again.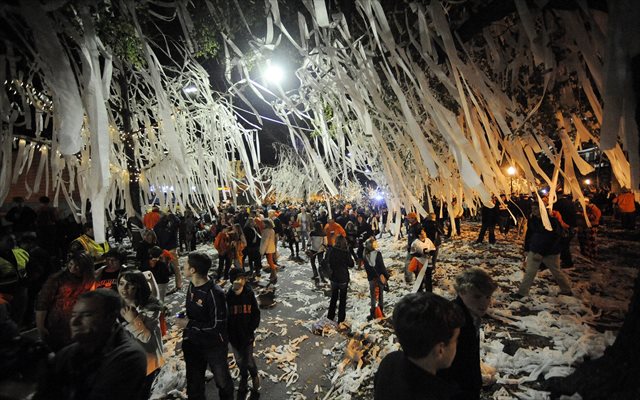 Let the politicking begin!
Auburn's heart-stopping upset of Alabama left just two undefeated teams in the national title race: Florida State and Ohio State. And while the Seminoles are considered untouchable, the Big Ten's current reputation means that the "one-loss SEC champion vs. undefeated Buckeyes" debate is certain to rage for the next eight days until the BCS pairings are finalized.
And firing the first shots in that debate Saturday night was, unsurprisingly, none other than Auburn athletic director Jay Jacobs. 
"An SEC team can't get left out of the [BCS title game] with one loss," he told USA Today.  "We just beat the No. 1 team in the nation ... And a one-loss SEC team that wins in Atlanta — if it's us or Missouri — you can't get left out of the BCS after you beat the No. 1 team. We have a better argument because we beat the No. 1 team." 
Jacobs also made references to Ohio State's close call against Michigan and Auburn's snub in 2004 -- when Tommy Tuberville's 12-0 Tigers were left out of the BCS Championship Game in favor of preseason No. 1 USC and No. 2 Oklahoma, who also ran the table.
"It's already happened in 2004, and it would be a disservice to the nation if we got left out," Jacobs told Dan Wolken.
A "disservice to the nation" is pretty clearly an overstatement -- there's a Maine lobsterman out there who will, in fact, not be affected one bit if Auburn wins the SEC and heads to the Sugar Bowl -- though Jacobs might be forgiven for being a bit emotional in the wake of a win like Saturday's, not to mention the still-fresh wounds of 2004. (If Ohio State and Florida State win their respective leagues and finish Nos. 1 and 2 in the BCS standings, the 2004 Tigers will go down as the only team from a BCS league other than the Big East to go undefeated and not play for a national title in the BCS era.)
It's also worth noting that BCS politicking has been a veritable tradition for as long as the BCS has been around, and that the team Jacobs is politicking against happens to be coached by Urban Meyer, who's certainly no stranger to entering the BCS political ring himself.
But that doesn't mean this is a tradition with a whole lot of gentleman's dignity or "sportsmanship." Jacobs' shot across the BCS's bow likely won't be the last we'll hear this coming week -- and here's hope that whatever's slung, the mud is kept to a minimum. 
Show Comments
Hide Comments
It seems there's a lot of talent in the SEC

There are all sorts of drafts out there and these are my favorites

It's time to say goodbye to so many great players
What colleges and conferences had the most first-round picks in the 2017 NFL Draft?

Myles Garrett and Leonard Fournette were top-rated prospects coming out of high school

Ohio State and Washington will play in Seattle in 2024 and Columbus in 2025