Auburn, Alabama coaches share dance floor in pursuit of five-star LB
A birthday party for five-star OLB Rashaan Evans' grandfather turned into a head-to-head recruiting showdown -- complete with coaches reportedly busting a move.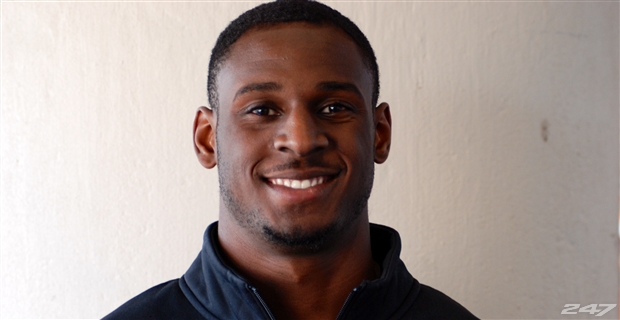 Rashaan Evans is a consensus five-star recruit from Auburn, Ala., the No. 1 outside linebacker in the class of 2014 and a top-15 player overall. So it's no surprise that Auburn and Alabama are both in white-hot pursuit, and that with Signing Day only days away and Evans still undecided, his decision has become the latest flash point in the neverending on- and off-field Iron Bowl struggle.
How heated have things gotten? According to Evans' father Alan Evans, sets of coaches from both schools were aming the party-goers at an 80th birthday bash for Rashaan's grandfather held at an Auburn hotel Saturday night -- and both went the full distance to show their support for the family.
"We walked in and the first people we saw was the entire Auburn staff standing there on our left and to my right was Kirby Smart and the Bama staff," Alan told al.com. "The coaches shook hands and talked but you could tell they were there for one thing and one thing only. Then the live band started playing and the Alabama and Auburn coaches hit the dance floor.
"It was unbelievable. I just couldn't stop laughing."
Alan singled out Smart and Gus Malzahn as the particular favorites of the gathered crowd, who he said cheered on coaches of either side and made it "like it was a football game ... being played inside the hotel." But as to whether either staff gained the upper hand in Rashaan's recruitment, he wasn't saying.
Ninety-five percent of the predictions registered in the 247Sports Crystal Ball have Evans signing with Auburn -- but given the Tide's late charge (and Evans' friendship with former Auburn High star Reuben Foster, an Alabama linebacker signed after another highly contentious Tide-Tigers battle), no one in Auburn is close to taking his signature for granted.
Show Comments
Hide Comments
Welcome to the world, Flynt Anderson-Foster Pruitt

Baylor should value faith over football and do what's right in the wake of seven Title IX...

The conference will adopt two divisions when it becomes a 10-team league in 2018
Like his brother, Lanard Fournette will be running the ball for the Tigers

Ranking the strength of schedule for each of the 12 teams in the Pac-12 entering the seaso...

Thomas Tyner will reportedly re-start his college football career at Oregon's biggest riva...