Baylor extends Art Briles' contract to 2023
Baylor coach Art Briles is staying in Waco for awhile. The school locked him up to a 10-year deal.
• 2 min read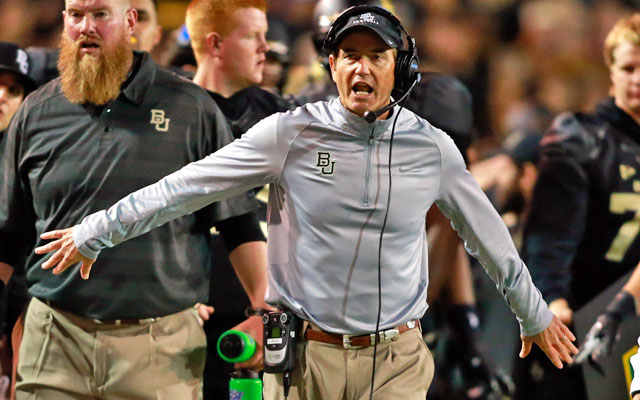 Baylor has approved a contract extension for Art Briles that takes the coach of the year candidate to 2023, according to two sources.
Reports surfaced Wednesday evening that Baylor's regents signed off on the deal Wednesday. The Dallas Morning News reports Briles will make more than $4 million next season.
The only Big 12 coaches currently above the $4-million mark are Oklahoma's Bob Stoops and Texas' Mack Brown. Briles also received a contract extension a year ago.
Baylor's 8-0 start and No. 4 national ranking symbolize vast improvement from the program Briles took over in 2007, when the Bears had won three games or less in nine of their last 11 seasons.
Briles has gone 41-30 since then, turning the Bears into the country's most prolific offense at 61 points per game.
Briles, 58, has stated publicly he intended to stay in Waco, and the contract extension seems to punctuate that intention.
A source said Briles' extension might include pay bumps for his coaching staff as well.
My take: The Texas job is not open, Mack Brown is still the Longhorns' coach, but the chance of that changing must have loomed large with the Briles extension, whether Baylor will admit it or not.
Even if for appearances, Baylor wanted to leave little doubt it would do what it took to keep its guy. We don't know the exact buyout figures yet, but let's guess the number is sizable.
Why else would the Bears give a huge mid-November extension, just 11 months after Briles' last extension, at a time when Brown's tenure at UT seems tenuous and Briles is chasing national titles just 100 miles north of Austin?
If Briles had any consideration for Texas, he would have evaluated the job before agreeing to this deal. Makes little sense to re-up for 10 years, then leave a year before the Bears roll out their new stadium -- the house Briles helped build.
Yes, Texas stores more millions in its ash trays than most schools have in their entire fundraising body. And it's hard to totally dismiss Briles-to-UT in an era of coaching agents and leverage. 
But when Briles publicly states several times this season that Baylor is his long-term home, then signs a gynormous deal to validate those claims, it'd be shocking to see him leave. He can win at Baylor while making more than $4 million per year with serious job security. What's not to like?
If the Texas job comes open, any speculation involving Briles would be just that.
Show Comments
Hide Comments
Taking a closer look at the AAC, which may very well surprise once again in 2016

Students at a South Carolina school will once again be allowed to bring flags to games

A day in Houston uncovers a Cougars team primed to meet its high expectations
Deshaun Watson has the tools to lead one of the best offenses in modern college football h...

Here's a look at the lines for a five-day slate of games for the opening week of the 2016...

One special teams contributor will don the legendary coach's number on game days for the H...