Baylor WR Tevin Reese dislocates wrist, out until bowl
The Bears' second-leading receiver left Baylor's big win over Oklahoma without catching a pass after dislocating his wrist.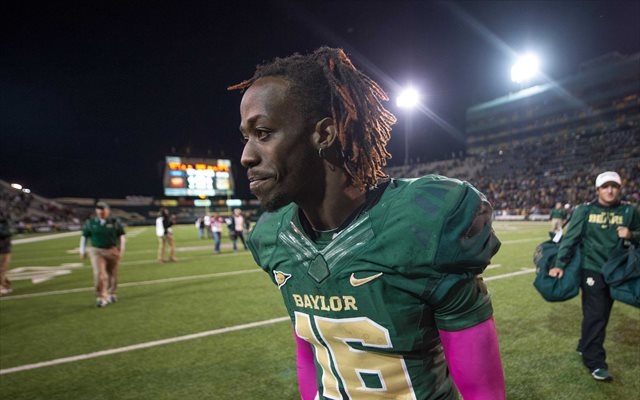 Baylor's big win over Oklahoma has come at a substantial cost, as receiver Tevin Reese will miss at least the rest of the regular season with a wrist injury suffered against the Sooners.
Art Briles said in his postgame comments that Reese had dislocated the wrist, per the Express-News, and would be out until at least the Bears' bowl game. The senior left Thursday night's Big 12 showdown without catching a pass and had his arm in a sling on the sidelines during the second half.
Though the presence of players like Antwan Goodley and Levi Norwood in the receiving corps means Reese's absence won't be a backbreaker -- as the Bears proved against the Sooners -- his departure is nonetheless a major blow. Reese's 33 catches and 824 yards both rank second among Bear receivers, only to Goodley, and Reese's eye-popping 24.97 yards-per-reception average leads the nation for receivers with more than 30 catches.
Reese's injury hurts even worse considering that the Sooners were just the first leg of a brutal stretch run for the Bears as they chase a shock BCS Championship berth. Baylor next plays Texas Tech in Arlington, followed by road trips to Oklahoma State and TCU, and then the season finale against Texas.
Thursday's result suggests Briles' team still has the firepower to run the table -- but Reese's quality means their margin for error also just got substantially smaller.
Show Comments
Hide Comments
Twenty-eight of 95 early entry prospects went undrafted

The SEC and Michigan each had great weekends in the 2017 NFL Draft

Rawleigh Williams III left the field on a stretcher after a neck injury
Jim Harbaugh wants more college football programs to embrace the international trip

It seems there's a lot of talent in the SEC

There are all sorts of drafts out there and these are my favorites