Baylor's Art Briles: 'I have no desire to pursue other coaching positions'
With the Texas coaching search dominating the college football world, Art Briles took to Twitter to affirm his commitment to Baylor.
• 1 min read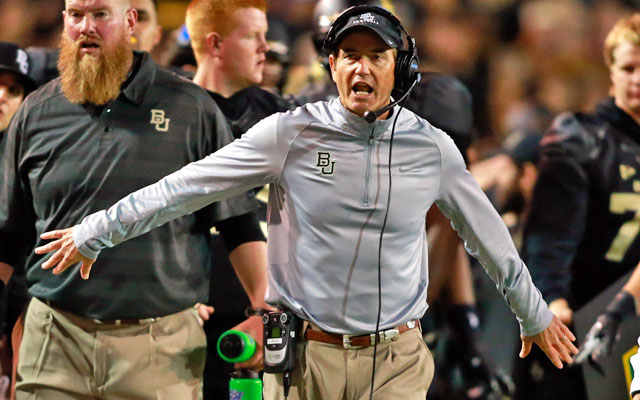 According to multiple reports, Baylor coach Art Briles was interested in discussing the open coaching job at Texas after the Fiesta Bowl. The Austin-American Statesman even reported that Briles would likely accept the job if offered.
On Friday, Briles took to Twitter to affirm his commitment to the Baylor football program.
Contrary to reports and rumors I am a Baylor Bear - 2013 Big 12 Champs

— Coach Art Briles (@CoachArtBriles) January 3, 2014
Baylor's disappointing loss to UCF in the Fiesta Bowl could have played a role in Briles' decision to stick with the Bears, but it would be far from the only reason to stay in Waco. The school has invested heavily in Briles and the football program, as the Bears prepare to defend that Big 12 title in a shiny new stadium with new facilities in 2014.
The school later released a full statement from Briles -- one that exceeded 140 characters.
"I have no desire to pursue other coaching positions," Briles said. "As I've said many times, I am both humbled and honored to be the head coach at Baylor University, and believe we have something special going here. I look forward to leading the Bears onto the field next fall at McLane Stadium and defending our Big 12 championship that our players and coaches worked so hard to win this season.
"There is tremendous excitement for our program's future, and I look forward to many more great seasons at Baylor," he added. "There is tremendous commitment from our University leadership, athletic administration, coaches and student-athletes - it truly is a great time to be a Baylor Bear."
Show Comments
Hide Comments
Florida State's star wideout saw a middle schooler eating lunch alone, so he grabbed a sea...

Utah State will take on Weber State live, and you can watch it for free

Ishmael Zamora will miss three games and is being forced to give up his dog
Osa Masina will not travel with the team while suspended

College football gets going this weekend, so we're ranking all 14 SEC teams heading into the...

The star quarterback will play in front of twice as many fans as he ever has in Week 1 at Kyle...