Bielema: Arkansas WR Mekale McKay to transfer to Cincinnati
Leading returning Razorbacks receiver Mekale McKay has asked for and received a release from his scholarship, Bret Bielema announced.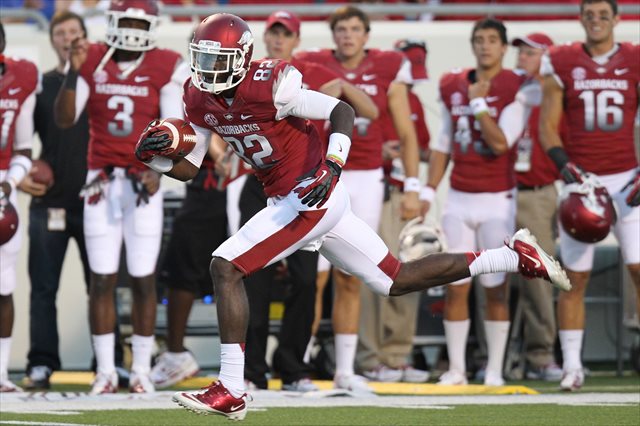 No one said hauling Arkansas back from 2012's 4-8 disaster was going to be easy. But it may have just gotten a little bit tougher for Bret Bielema.
The Hogs' first-year coach announced Saturday that sophomore wideout Mekale McKay had asked to transfer out of the program, and has been granted a release from his scholarship by the Razorbacks. Bielema said he had spoken directly with the Louisville native and, per the Associated Press, wished him the "best of luck."
Saturday, Bielema said McKay had already decided on his transfer destination but declined to reveal it, only saying it was "a good situation" for McKay. On Sunday, however, Bielema said McKay will be transferring to Cincinnati, per the Arkansas Democrat-Gazette.
Though closer to his Louisville home, it is expected that McKay will be forced to sit out the usual transfer season as a redshirt.
A glance at the Razorbacks' 2012 stat sheet suggests that McKay is a major blow to Bielema's rebuilding effort; McKay was the team's second-leading receiver with 21 catches and 317 yards, and given the loss of NFL-bound Cobi Hamilton's 1,335 yards -- more than the next four Hog receivers combined -- McKay originally seemed poised to make a major leap forward in 2013.
But McKay struggled with injuries during spring camp and failed to gain much traction with the Razorbacks' new staff. He was left off the team's post-spring two-deep on the depth chart, fueling rumors at the start of fall camp McKay was preparing to seek a transfer.
Between those developments and the amicability of the split, it seems likely Bielema wasn't planning on McKay playing a major role in the Hogs' passing game this season. Nonetheless, McKay flashed the potential to become an SEC-caliber true go-to receiver as a true freshman; those kinds of players don't necessarily grow on trees, even if Bobby Petrino made it seem otherwise. If seniors Javontee Herndon or Julian Horton can't become reliable vertical threats -- and their combined 14.2 yards-per-reception average last fall suggests there's some work to do in this area -- McKay's absence could be sorely felt all the same.    
Show Comments
Hide Comments
Welcome to the world, Flynt Anderson-Foster Pruitt

Baylor should value faith over football and do what's right in the wake of seven Title IX...

The conference will adopt two divisions when it becomes a 10-team league in 2018
Like his brother, Lanard Fournette will be running the ball for the Tigers

Ranking the strength of schedule for each of the 12 teams in the Pac-12 entering the seaso...

Thomas Tyner will reportedly re-start his college football career at Oregon's biggest riva...