Bielema: Saban's Big Ten record 'can't compare' to mine
New Hog head coach talks the talk in meeting with Razorback faithful.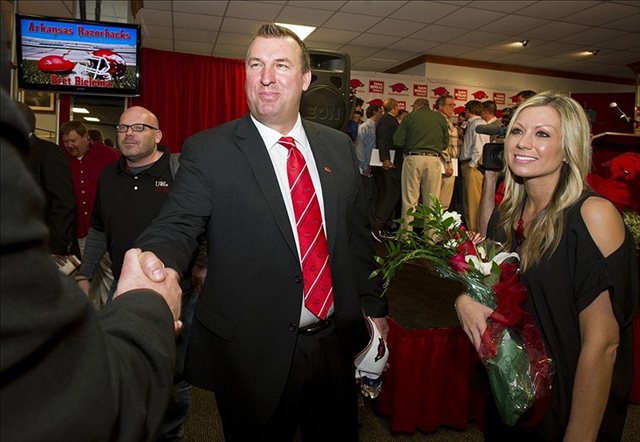 First things first: Bret Bielema is not the first football coach -- and won't be the last, either -- to make an impression on a new fanbase with some big-chested talk behind a podium.
All the same, if you throw down a gauntlet in Nick Saban's direction in any public forum, you're going to raise some eyebrows. According to Arkansas football site Hootens.com, at the Saline County Razorback Club fish fry, Bielema had this to say about his new conference home, its current champion and that champion's coach:
"The reason the SEC is talked about all the time is one team, because of their dominance. But I didn't come here to play Alabama. I came here to beat Alabama.

"You can take Saban's record when he was at Michigan State and when he was a coach in the Big Ten and put it against mine, and he can't compare."
Well then, Bret. That's some exemplary work, not only potentially drawing the ire of the conference's -- and the entire FBS's -- reigning 500-pound gorilla, but the whole of the league. It will be news to Florida, LSU and Auburn (which account for four of the crystal footballs in the SEC's seven-season national title streak) that "one team" is responsible for the SEC's current reputation, not to mention, you know, the team that boasts the defending Heisman Trophy winner, the one that's won back-to-back SEC East championships, the one that has won 11 games each of the past two seasons, etc.
But of course, Bielema's jab at the SEC still won't draw as much attention as his willingness to put himself in the same conversation as Saban before he's coaches a single SEC game. It's true that Bielema compiled a better Big Ten record at Wisconsin than Saban did in his tenure at Michigan State, but as Every Day Should be Saturday illustrates, he's far from the only coach to be able to make such a claim. And no matter how trendy statues might be in the college football business, no one's about to immortalize John Cooper or Duffy Daugherty in bronze. 
In short: it's nice that Bielema had so much success in Madison, but he should probably wait until he has had some in Fayetteville before taking a shot towards Tuscaloosa.
Of course, again, Bielema wasn't making this pronouncement at SEC Media Days or his introductory press conference; he was making it in front of an audience of diehard Razorback fans eager to hear something other than the usual pablum from their new head coach. Bielema needs the full support of the Hog faithful to make his program what he wants to make it, and that means telling them what they want to hear when he has the opportunity. And, again, Bielema's not alone in this -- Steve Spurrier is already as beloved a coach as South Carolina has ever had, and he's still playing to the Williams-Brice cheap seats.
But none of that means this quote won't be mentioned at SEC Media Days, that Saban won't be asked about it in the lead-up to the teams' 2013 meeting, that Bielema might live to regret it if the Tide continue to dominate the Razorbacks as completely as they have during Saban's tenure. It's hard to blame Bielema for saying what he said, but that still doesn't mean it was a good idea.
HT: ArkansasExpats
Show Comments
Hide Comments
Twenty-eight of 95 early entry prospects went undrafted

The SEC and Michigan each had great weekends in the 2017 NFL Draft

Rawleigh Williams III left the field on a stretcher after a neck injury
Jim Harbaugh wants more college football programs to embrace the international trip

It seems there's a lot of talent in the SEC

There are all sorts of drafts out there and these are my favorites