Big 12 may be small, but its strength in hoops, football looms large
Post-realignment, the Big 12 is tiny compared to other major conferences, but the strength of its 10 teams in hoops and football proves bigger isn't always better.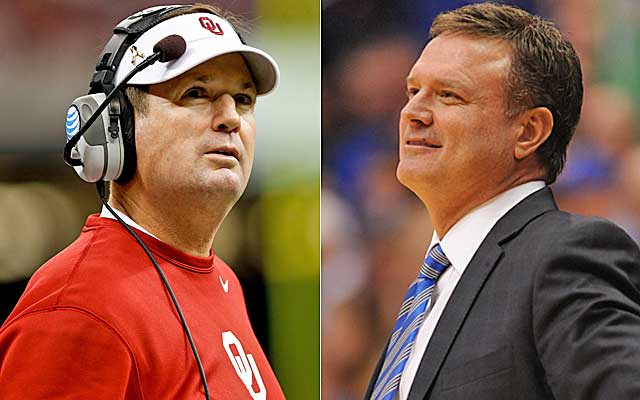 More Dodd: How will Big 12 adding booze stop court storming?
KANSAS CITY, Mo. -- The term "conference expansion" doesn't apply here this week. As the Big 12 Tournament kicks off, the league couldn't be happier -- or smaller.
So small that following the latest round of conference realignment, the Big 12 has the second-fewest teams (10) among the 10 Football Bowl Subdivision leagues (125 teams total). The Big 12 will be the smallest in that category when the Sun Belt expands to 11 in football this season.
So small that the league is tied for the third-smallest conference in the 350-plus member Division I.
So small that it is thriving. In the last 3 1/2 years, the Big 12 lost four teams and gained two in the conference realignment merry-go-round for a net result of … success.
The conference finished the regular season as the No. 1 RPI league in the country, with at least seven teams expected to advance to next week's NCAA tournament.
Two years ago eight of the 10 teams went to bowl games in football. Baylor Bears won its first Big 12 title in December, becoming perhaps the last Cinderella of the BCS era. Oklahoma Sooners then upset defending national champion Alabama Crimson Tide in the Sugar Bowl.
Since it shrank to 10 teams in 2011, only the SEC and Big Ten have gotten more bang for the BCS buck. In those three seasons the Big 12 averaged .1333 BCS bowls per team. (SEC, 1.66; Big Ten, 1.39).
While the league hasn't been in the BCS title game since 2009, neither have seven of the nine remaining FBS leagues. The ACC's Florida State Seminoles State" data-canon="Florida Gators" data-type="SPORTS_OBJECT_TEAM" id="shortcode0"> broke the SEC's seven-year stranglehold on the national championship.
That's to say nothing of how a lucrative ESPN/Fox TV contract splits very nicely only 10 ways. Each of the 10 teams are receiving approximately $21 million annually from that contract runs through the 2024-25 season.
"I am so happy, ecstatic even, that we didn't expand to 14 or 16 teams," Texas Longhorns hoops coach Rick Barnes said earlier this month.
What's left is a lean and mean league that is enhanced competitively by its reduced size. It plays a true round-robin in football and basketball. Everybody plays everybody. That's a rarity in the realignment era.
"The great thing about our league is it's a true round robin, it's a true champion," Iowa Hawkeyes State coach Fred Hoiberg said. "It prepares you for postseason play. It's the way I played back in the old Big Eight days. It's a great thing to be able to play elite teams twice."
Those elite teams include seven in the top 50 of the NCAA's Ratings Percentage Index. Kansas Jayhawks (No. 3), Iowa State Cyclones (11) and Oklahoma (22) are in the top 25. Kansas has played what is largely regarded as the toughest schedule in the country. Baylor's strength of schedule is rated 10th.
"The basketball committee knows that 9-9 or 10-8 in our league is different than 9-9 or 10-8 in other leagues," commissioner Bob Bowlsby said. "They're very quick to pick up on that."
That 18-game conference slog is something the old Big 12 -- the one that actually sported 12 teams -- never had. From 1996 through 2011, the conference schedule included 16 games, six of them only single meetings from the other division (North and South).
"It's the best I've seen in terms of depth of the conference," Texas Tech Red Raiders 's Tubby Smith said.
That means something coming from a guy who has coached in three BCS leagues (Big 12, SEC, Big Ten) and won a national championship.
"When you get 12, 14 schools in a conference it's not necessarily watered down but you may not get to play everybody," he said.
Bowlsby, a former member of the selection committee, is savvy enough himself to point out that those larger conferences -- in fact -- may be watered down.
"If you've got 15 teams and you've got some 'one plays' and maybe some 'no plays,' that's just not the same record as playing everybody twice."
The Big 12 was the poster child for realignment when it shrunk in December 2009. With Nebraska Cornhuskers already on its way out, the league barely stayed together in the summer of 2010. Those TV rightsholders finally decided that any league that included Texas and Oklahoma was worth saving. The league went right up to the brink of extinction with the Pac-12 poaching six teams for a mega-expansion out west.
The Big 12 eventually lost Texas A&M, Missouri (both to the SEC), Nebraska (Big Ten) and Colorado (Pac-12) while adding TCU Horned Frogs and West Virginia Cavaliers . For a time it lost a large part of its identity. West Virginia Mountaineers 's nearest conference rival is Iowa State. The math doesn't even add up with 10 teams in a league that kept its original name.
But who are any of us to judge? Among FBS conferences with numbers in its title, the math adds up for only one -- the Pac-12.
"Addition by subtraction makes you stronger," TCU AD Chris Del Conte said whose school left the Mountain West and flirted with the Big East before landing in the Big 12 in 2011. "We knew it was going to be a big jump up in competition."
The Horned Frogs went from going to consecutive BCS bowls (2010, 2011) to a combined 11-14 record their first two seasons in the Big 12.
Elsewhere, Texas is rebuilding with Charlie Strong. Coming off that Bama win, Oklahoma may be favored to win the league in '14. Texas Tech's Kliff Kingsbury is considered one of college football's hottest coaches -- and dressers. Bill Snyder won the league in 2012 and shows no signs of slowing down.
Both K-State (2011) and Baylor (2012) went into mid-November with a chance to play for the national championship. Oklahoma State Cowboys could have played for it all in 2011, had Big 12 played a conference championship game.
The Cowboys lost out to Alabama that year by the closest margin since the BCS formula was reconfigured in 2003 -- .0086 of a point. Lacking that conference championship game, the Big 12 continues to play significant games on the final day of the season.
If the Big 12 presidents change their minds on expansion -- adding two to go back to 12 -- there aren't many options. Four of the five BCS leagues are tied up with a grant of rights. (Only the SEC isn't.) That means if any of those teams leave, the conference would retain their TV rights.
Movement just isn't going to happen at the highest level for a while. However, there are hungry schools like BYU, Cincinnati Bearcats and Connecticut Huskies waiting for a step up.
How the Big 12 moves forward with the playoff era beginning this season is a mystery. From 2006-2011, at least one Big 12 team finished in the top four of the final BCS. As of now, the Sun Belt will be the only other FBS league without a conference title game.
Because of that round-robin structure, the Big 12 is now the only BCS league limited to one undefeated team per season.
"I like our path to the playoff," Bowlsby said. "People ask me is it an advantage or a disadvantage to not have a [league championship game] at the end of the year. It depends on how you look at it."
In basketball, this is the best era since 2002-04 when the league produced five Final Four teams. Kansas has won at least a share of its 10th consecutive conference title. The Jayhawks have two of the best freshmen in the country with Joel Embiid and Andrew Wiggins.
• Player of the year Melvin Ejim from Iowa State is somewhat of a rarity in the modern game, a senior star.
• For league balance consider Kansas and Oklahoma State meeting in Thursday's quarterfinals. The teams were picked 1-2 in the preseason.
• Nine of the 10 coaches have at least 15 years of head coaching experience. Five have at least 21.
• Six coaches have led teams to the Final Four.
• Self has had to replace all five starters three times in the last 10 years. How tough is the Big 12? Achieving that feat again and winning the league by two games didn't get him coach of the year honors.
"Probably," he said, "because I didn't deserve it."
Show Comments
Hide Comments
What colleges and conferences had the most first-round picks in the 2017 NFL Draft?

Myles Garrett and Leonard Fournette were top-rated prospects coming out of high school

Ohio State and Washington will play in Seattle in 2024 and Columbus in 2025
Kirk Merritt claims 'jock itch' was the reason he exposed himself to two tutors

The former coach weighed in on the new NCAA recruiting rules

Wiggins has played more than 30 games in the ACC and SEC during his career