Big Ten recruiting increases national scope to stay in national picture
Big Ten recruiting no longer is just nabbing every Midwest stud and calling it good. Jeremy Fowler says two factors -- a bigger footprint and need for national relevance -- figure to continue that trend.
• 7 min read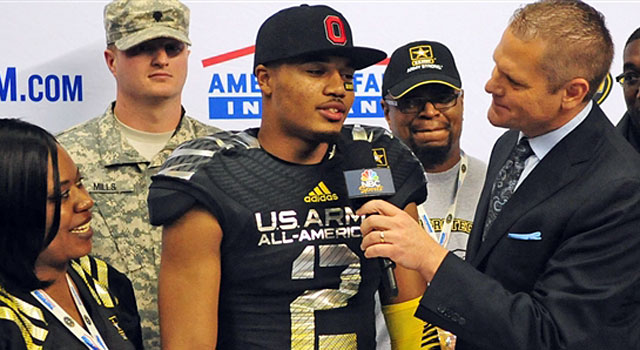 More recruiting: Penn State: No. 2 2015 class | Crystal Ball for '15 | 247 Sports

As of July 1, Big Ten football will begin its first full recruiting cycle as a 14-team league. Penn State already is welcoming new members Maryland and Rutgers by plucking several 2015 commitments out of their territory. Iowa looks like Iowa, with plenty of home-grown talent on its way.
These are recruiting moves within the expansive Big Ten footprint, but there's only one problem -- the Big Ten seems to be running from its footprint the past few years, fueling the theory that the Midwest has experienced a talent drain.
A recent CBSSports.com study of recruiting trends shows the 2014 Big Ten, as a 12-team league, signed 129 of 244 high school players from outside the nine-state footprint, or 52.8 percent -- more than 20 percent higher than in 2010.
That percentage dips to 43.8 percent (125 of 285) with Maryland and Rutgers included, punctuating the importance of an East Coast base commissioner Jim Delany long coveted.
Whether coaches admit it or not -- and most won't -- the national recruiting could be a response to the Midwest growing at a much slower rate than the South and West. That's not a bad thing for Ohio State or Michigan State, which are still winning big with local players.
But 247 Sports national analyst J.C. Shurburtt believes it's such a response, adding "we've known about (a talent drain) for a while." A 2010 census brief shows the Midwest growing at a 3.2-percent rate last decade, compared to 14.3 percent in the South and 13.8 in the West. The Big Ten discussed the Midwest demographic extensively in 2009-10, before the addition of Nebraska. On the field, Michigan State's No. 4 ranking in the final 2013 BCS standings was the conference's first in the top four since 2007.
Minnesota coach Jerry Kill, however, says the recruiting trend is about pre-existing relationships with coaches and casting a large net more than declining talent in the league.
Talent Drain in Big Ten?
Recruiting numbers compiled by CBSSports.com show Big Ten teams more than ever are leaving the Midwest for players. Talent-rich areas such as Florida and Texas will always entice outsiders, but the Big Ten is redefining national recruiting with its persistence in all areas of the country. Let the hard numbers explain the Big Ten's large variance, from 2014 to 2010, in signing high schoolers from outside the conference's footprint.
2014
2010
12-team league: 52.9 pct (129-of-244)
11-team league: 31.2 pct (93-of-298)
With Maryland/NJ players: 43.0 pct (105-of-244)
With Maryland/NJ players: 26.5 pct (79-of-298)
As 14-team league: 43.9 percent (125-of-285)
 
Note adjustments for Maryland and Rutgers, which enter the league this year. The Big Ten began 2014 with a nine-state footprint: Michigan, Ohio, Minnesota, Wisconsin, Illinois, Nebraska, Pennsylvania, Iowa, Indiana. Junior college players are not included.
"There are good players all over the country," said Minnesota coach Jerry Kill, who in February signed nine high school players outside the Big Ten. "The population base in some states is simply not as big. Since I've been here, everyone has been nationally recruiting."
Kill was not yet the Gophers' coach during the 2010 recruiting cycle, when an 11-team Big Ten signed 93 of 298 players (31.2 percent) outside the footprint. That percentage dips to 26.5 percent (79 of 298) with Maryland and New Jersey added as footprint states. The percentage doesn't change much with Nebraska, which in 2010 signed 14 of 38 high schoolers outside the Big Ten.
Big Ten recruiting expenses are increasing, as the Cedar Rapids Gazette highlighted last week, and the money's not only for new staff members or meals -- it's for commercial airline tickets.
Wisconsin athletic director Barry Alvarez knows the days of camping out at home appear over for the Big Ten. Coaches are "broadening their scope," he said.
"Years ago, I don't remember anyone going to the Southeast area to recruit," Alvarez said. "Now you see a lot of people there."
The Big Ten's location promotes a national approach because, after all, who wouldn't comb Florida and Texas or Georgia for talent? But the variance from the Big Ten to the other 14-team leagues, the ACC and SEC, is telling.
The top seven ACC schools in this year's recruiting rankings -- Florida State, Miami, Clemson, Virginia Tech, North Carolina, Virginia and NC State -- signed 20 of 168 high schoolers from states outside the ACC, good enough for 11.9 percent. Five of those players came from a Big Ten state. Eleven signees are from Maryland or Washington, D.C., so if you considered those part of the Big Ten footprint for 2013-14, then the ACC's percentage rises to 18.5.
The top half of the SEC -- Alabama, LSU, Texas A&M, Auburn, Tennessee, Georgia and Florida -- signed 29 of 154 high school players (18.8 percent) outside its footprint. Having Texas in the footprint certainly helps. A&M signed 15 high schoolers from the home state. LSU signed six Texas players.
The number would have been lower save the diverse resumes of Alabama and Tennessee, which dipped into Big Ten country for several players.
"For the Big Ten to continue to stay competitive nationally, it will need to continue to go national," Shurburtt said. "It used to never be that way. Though some states will never be heavy on talent, there used to be more to go around."
The debate over whether the Midwest has dipped in talent is nothing new. Ohio State coach Urban Meyer told CBSSports.com in 2013 that "just look on a map where the players are. There's certainly a population shift [to the South]," while adding he believed the trend was cyclical.
Who's Staying Home?
Even with incoming members Rutgers and Maryland in the equation, the Big Ten signed nearly 45 percent of its high school players from outside its 11-state blueprint. For comparison with the other 14-team leagues in FBS, here's what the top teams in the ACC and SEC did.
Category
ACC
SEC
High schoolers signed
168
154
Non-conference states
20
29
Outside the footprint
11.9%
18.8%
Top recruiting schools in ACC: FSU, Miami, Clemson, Virginia Tech, North Carolina, Virginia and NC State. Top recruiting schools in SEC: Alabama, LSU, Texas A&M, Auburn, Tennessee, Georgia, Florida.
To be sure, Michigan State just won the Rose Bowl and pumped its 2014 recruiting class with Big Ten-footprint talent. Only four of the Spartans' 22 high school signees were outside of the conference. A Michigan-heavy signing class from 2010 helped vault the Spartans to a Big Ten title last season.
Others get more creative. Just look at Wisconsin, which covered 11 states and landed six players from Florida for its 2014 class.
Wisconsin coach Gary Andersen never has heard of a Big Ten talent drain but knows about his plan -- recruit Wisconsin first, then evaluate the rest.
Andersen assigns two assistants to Florida recruiting, and just not because of the talent: The Big Ten Network's reach, the ability to evaluate recruits quickly and the relationships with high school coaches across the country all contribute to the national slant, he says.
"There's a lot of good football here," said Andersen about the Midwest. "I guess what attracts you and lets you reach out is the information that's available at your fingertips. Within 15 seconds you're evaluating a kid and you're done. That used to take weeks."
Big Ten schools get poached, too, Shurburtt adds. The talent-rich New Jersey, now part of the Big Ten, has been a hub for Notre Dame, Florida and others. Ohio State's home turf is always stout, which means the Buckeyes can stay local more than, say, Nebraska. Pennsylvania has dipped in talent but Indiana is growing, Shurburtt said.
Today's Big Ten coaches are exploring all of it, and then some.
"When I was head coach, we had a specific area -- East Coast, a little bit in the West," said Alvarez, the long-time Badgers coach before becoming athletic director. "I see our guys are more national because of their ties. I always felt you send people where they have relationships."
Though Jim Delany didn't discuss recruiting specifically at last week's spring meetings session with the media, he did discuss the cyclical nature of high-level football.
The Big Ten, Delany says, had a "strong cycle" in the 2000s, then tapered off a bit.
Regional talent, coaching talent and player development can come and go, Delany said.
In line with that theme, will 2015 spark a resurgence of Midwest recruiting or the continuation of a philosophical shift?
"I would expect over a 25-year period you'd see some good five-year periods and some less competitive five-year periods," Delany said. "That's been my experience here."
Shedrick Jackson is a three-star wide receiver

Nigerians are making waves in the U.S. due to their intensity, intelligence and athleticis...

Have fun with this, SEC defenders
Making plays on the over/under for all 12 teams in the Pac-12

Mike Gundy and the Cowboys know there's one monster they have to contend with in their own...

The initiative has been put forth to offset the burden of declining freshman enrollment