Bo Pelini receives contract extension through 2018
CBSSports.com's Gregg Doyel reports from his meeting with Bo Pelini that the Nebraska coach has received a contract extension.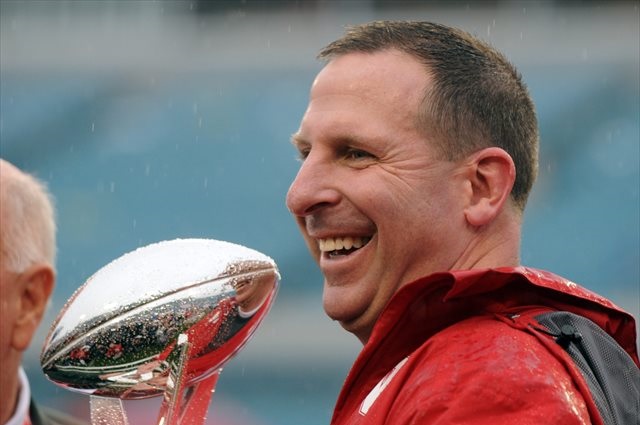 Nebraska athletic director Shawn Eichorst said in November -- even before the Huskers' upset over Georgia in the Gator Bowl -- that Bo Pelini was the man who would "lead our program in the future."
Eichorst has apparently put the program's money where his mouth was then. CBSSports.com's Gregg Doyel spent Friday with Pelini himself in Lincoln, and had this to report: 
That much-discussed contract extension Nebraska hasn't given Bo Pelini? He got it last week. Signed it Wednesday. Five years left.

— Gregg Doyel (@GreggDoyelCBS) March 7, 2014
The extension would keep Pelini at Nebraska through the 2018 season. 
Eichorst offered a no comment earlier this week when asked if Pelini had signed his usual one-year extension of his contract. Pelini told Doyel that the contract had been on his desk for a week, but that he had simply not yet had time to make his signature on it official.
Also: Pelini told Doyel that he had just learned what ... well, take a look for yourself:
"I just learned what 'selfie' means." - Bo Pelini. pic.twitter.com/k48opEB3VJ

— Gregg Doyel (@GreggDoyelCBS) March 7, 2014
Show Comments
Hide Comments
Our Latest Stories
Blake Barnett took the first snaps of the season

Tennessee heads to Georgia for a key SEC East matchup this Saturday on the SEC on CBS

The Tigers are elite ... for now ... but they weren't always that way
The coin will be used at all seven Big Ten games this weekend

The SEC ruled Powell eligible for Vanderbilt after getting ejected for throwing a punch

How are coaches across college football doing in their first year at new schools?