Bob Stoops calls SEC's reputation 'propaganda'
Bob Stoops doesn't think the SEC is as good as its reputation, saying -- essentially -- its bottom half is weak and overrated.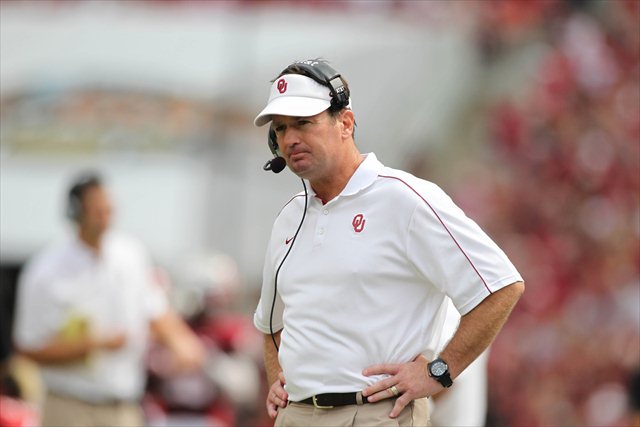 Plenty of fans across the country have said the SEC isn't nearly as strong as its reputation -- or standing in the polls -- might suggest, seven consecutive BCS titles or not. But even if they'd agree in private, few coaches have agreed in public as strongly as Bob Stoops did in a Tuesday story in the Tulsa World. 
"So they've had the best team in college football," Stoops said at a "Sooner Caravan" Sooner fan gathering. "They haven't had the whole conference. Because, again, half of 'em haven't done much at all. I'm just asking you. You tell me ...
"So you're listening to a lot of propaganda that gets fed out to you," Stoops continued. "You can look at the top two, three, four, five, six teams, and you can look at the bottom six, seven, eight, whatever they are. How well are they all doing?

"What'd we [the Big 12] have, eight of 10 teams in bowl games this year? Again, you figure it all out."
Stoops isn't wrong when he argues that the bottom rungs of the SEC haven't offered much in recent years, or even that the Big 12 has been a deeper league of late; the latter actually put nine of its 10 teams in bowl games in 2012. Meanwhile, Kentucky and Auburn both finished a miserable 0-8 in SEC play with Arkansas, Missouri and Tennessee all falling short of the postseason. All told, over the past two seasons, 38 percent of the SEC has failed to make a bowl game, compared to just 15 percent of the Big 12 -- and that's despite the Big 12 playing nine conference games to the SEC's eight.
But why should that make any difference to Stoops, really? No one -- well, no one whose opinion matters, anyway -- would argue that Kentucky is better than Oklahoma, or even that Kentucky's better than, say, Iowa State. The SEC teams against which the Sooners are judged are the ones in its top half, the ones that have played eight BCS championship games against teams from other conferences and have won all eight -- including, in both 2003 and 2008, games against none other than Stoops' own Sooners.
The one way in which one league or the other's bottom half might matter to the top teams in another is gauging which national title contender has played a more difficult schedule -- a factor that didn't seem to make much difference to pollsters choosing between Alabama and Oklahoma State in 2011, but might matter substantially more with the forthcoming playoff selection committee. But again, even if the bottom end of the Big 12 offers more of a challenge than the bottom end of the SEC, does it matter when the SEC boasts four or five legitimate national title contenders to the Big 12's two or three?
Again, Stoops can speak to that difference first-hand, since it was just January when his Sooners met Texas A&M -- the SEC West's third-place team in 2012, one that lost games to two SEC teams that didn't make the SEC title game -- and were destroyed, 41-13.
In short: is the SEC really so strong that teams like last season's train wreck of an Arkansas squad deserve the benefit of the doubt? No. Is it strong enough that Bob Stoops should probably find other targets at which to aim his "propaganda" barbs? Yes.
Show Comments
Hide Comments
Moss, a tight end, announced his decision to transfer from NC State this spring

A police report states that the future UGA offensive lineman choked his girlfriend

Clint Lewis, who has Down Syndrome, has been with the program for 22 years
Hurd left Tennessee during the 2016 season

But it worked, and that's what matters

TV viewing and live stream information for the 2017 Alabama spring game