Boise stadium named Albertson's Stadium after rights deal
Boise-based supermarket chain Albertson's has bought the naming rights to the former Bronco Stadium.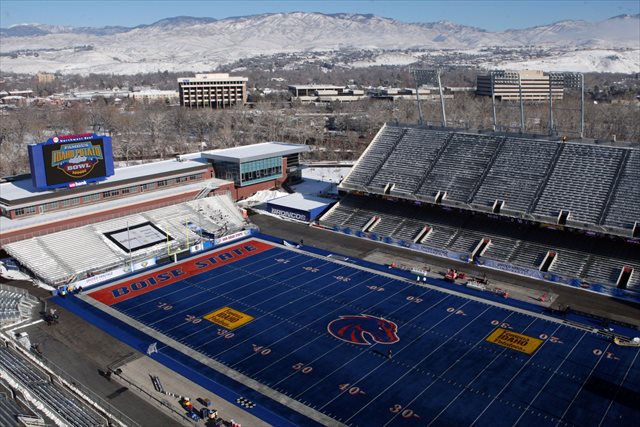 More college football: Jon Solomon | Dennis Dodd | Jeremy Fowler | Latest news
"Boise State has been trying to sell stadium naming rights since at least the 1997 expansion," the Idaho Statesman wrote in a story Wednesday morning. "'That would be the thing that could benefit our program the most right now,' then-Athletic Director Gene Bleymaier said in 2002."
It's now the year 2014, which should give you some idea of how long-in-coming Boise State's announcement Wednesday that supermarket giant Albertson's has bought the naming rights actually was. Per the Statesman, the Boise-based grocery chain will pay the Broncos $12.5 million over 15 years to rename the former Broncos Stadium "Albertson's Stadium," starting with the 2014 season and running through 2028.
"We're anxious to let people know we're here to stay, this is our corporate headquarters and it's going to stay that way," Albertson's CEO Bob miller said. "And this is a good way to reinforce that message."
From the Twitter feed of Statesman reporter Brian Murphy:
Here it is: Albertsons Stadium. pic.twitter.com/NQwv0ahKgA

— Brian Murphy (@murphsturph) May 21, 2014
Bronco AD Mark Coyle said the money from the rights sale may go towards funding full cost of attendance scholarships, long a goal of the FBS's major-conference power brokers and part of a 10-point plan for reform proposed in a recent letter by Pac-12 presidents to their fellow major-conference colleagues.
Albertson's was founded in Boise in 1939.
Will Sunderland allegedly stole and tried to sell video game systems

National powerhouse Alabama joins the throng of schools trying to lure five-star QB Justin...

The shooting took place during an apparent meeting over a cell phone
A decision in either direction would help the NCAA move forward in Sin City

White is the No. 1 running back recruit and No. 6 overall recruit for next year's class

Dennis Dodd goes inside college football to explain why realignment is still an agenda ite...