Bovada releases final preseason odds on Heisman, national champ
Bovada has released its final preseason odds for both the Heisman Trophy and 2014 national champion.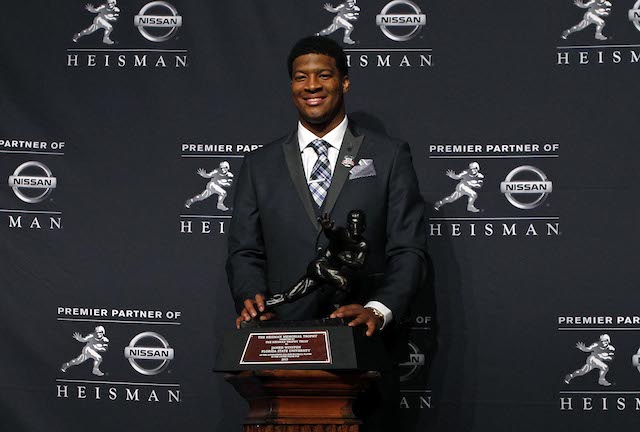 The college football season starts Wednesday night. Sure, it's Georgia State and Abilene Christian, but it's actual college football featuring a team from the FBS level. And it's on television!
That means the preseason is coming to an end, and with that in mind Bovada released its final preseason odds for both the 2014 national champion and the Heisman Trophy favorites. Here are the latest favorites to be crowned the first champion of the playoff era.
Florida State 4/1
Alabama 5/1
Oregon 15/2
Auburn 10/1
Oklahoma 10/1
UCLA 14/1
Georgia 16/1
Ohio State 20/1
LSU 22/1
Michigan State 25/1
While there aren't exactly any real surprises on that list, I'd say the best value for your money would be taking LSU at 22/1. There are some questions in Baton Rouge, sure, but it's still LSU and it's still entirely capable of getting to the title game. 
As for the favorites to win the Heisman, not surprisingly Ohio State's Braxton Miller is off the board, and Jameis Winston is a slight favorite over Marcus Mariota.
Jameis Winston, 9/2
Marcus Mariota, 5/1
Brett Hundley, 10/1
Melvin Gordon, 12/1
Nick Marshall, 12/1
Bryce Petty, 12/1
Todd Gurley, 14/1
Trevor Knight, 18/1
Everett Golson 20/1
Derrick Henry, 20/1
T.J. Yeldon, 20/1
Given the recent history of Heisman winners emerging from nowhere, I'd say there are decent odds none of those guys win, but I'd say the best value there is Nick Marshall at 12/1. The funniest thing to me is that there are two Alabama running backs at 20/1, which tells me that the odds of either winning aren't good.
Still, I'd say the worst value is Jameis Winston at 9/2. It's not that he won't win it or can't win it, it's just that nobody has won the Heisman in consecutive seasons since Archie Griffin in 1974 and 1975, so 9/2 odds doesn't really reflect the actual chance of it happening. 
Show Comments
Hide Comments
Ohio State is favored to win the Big Ten, but is it the best bet?

USC enters as the favorite, but are the Trojans the best bet?

Jim Harbaugh's Michigan staff will be at FAU on June 5
These five coaches will be hot names on the market after the 2017 season

The Big 12 could be wide open in 2017 ... we mean it this time

Rhule's stance on sexual violence is much-needed for a program that's been submerged in co...