Braxton Miller sits, Buckeyes obliterating FAMU anyway
Even after being 'probable' earlier in the week, Braxton Miller did not play Saturday vs. Florida A&M. The Buckeyes didn't begin to need him.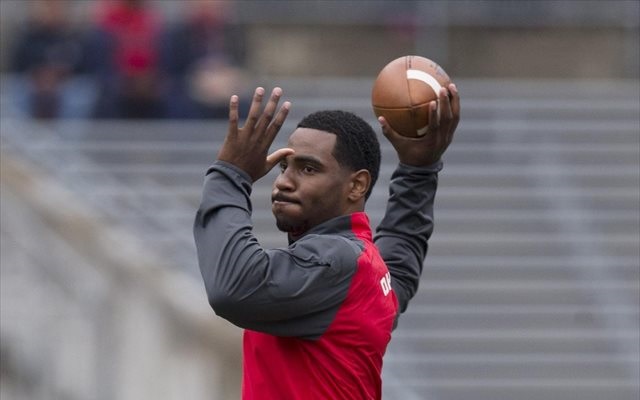 Earlier this week, Urban Meyer said that Braxton Miller was "probable" to return from his sprained MCL against FCS school Florida A&M on Saturday. Maybe that was before he started watching film?
Miller warmed up before the Buckeyes' game against the Rattlers, but remained out of uniform. Ohio State didn't come close to needing him; Kenny Guiton has already proven himself a more-than-capable backup, and FAMU quickly proved itself capable of accomplishing very little against the 50-point favorites. 
The numbers were ghastly:
• The Buckeyes scored five touchdowns and led 34-0 ... with 13 seconds left in the first quarter. The score was 55-0 at the half.
• Guiton set the Buckeyes' single-game school record with six touchdown passes ... with 5 seconds left in the second quarter.
• The Buckeyes led 48-0 before the Rattlers gained their first first down.
• At halftime, FAMU had been penalized for more yards than it had gained. 
The good news for the Rattlers is that they'll take home a $900,000 paycheck for absorbing their beating, a sum that's absolutely nothing to sneeze at in the often cash-strapped MEAC. The good news for Ohio State is that Miller gets another week of rest before being forced back into action (and that Guiton continues to argue for playing time even once he does).
The only question now: Is it possible that rest will translate into rust?
Show Comments
Hide Comments
Twenty-eight of 95 early entry prospects went undrafted

The SEC and Michigan each had great weekends in the 2017 NFL Draft

Rawleigh Williams III left the field on a stretcher after a neck injury
Jim Harbaugh wants more college football programs to embrace the international trip

It seems there's a lot of talent in the SEC

There are all sorts of drafts out there and these are my favorites