Breaking down new College Football Playoff procedures: Panic or praise?
The College Football Playoff will release rankings once a week starting Oct. 28, but will there be transparency in the evaluation process?
• 4 min read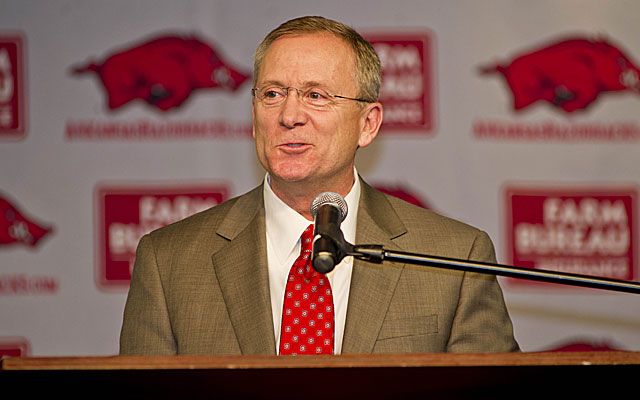 IRVING, Texas -- Based on some of the online hyperventilation over the College Football Playoff details to emerge Wednesday night, let's take a broader look at where panic is warranted or not.
The Playoff folks here in Dallas released several details into the selection process -- some clear-cut, some a bit curious and none able to satiate entire fanbases.
This thing will get killed at every turn, but you knew that.
Just like a purely analytics-based system would get killed, or an eight-team playoff would get killed, or a 30-person committee would get punched with more holes than a pasta strainer.
The groans of the BCS remind that the current setup has at least one positive: Four is better than two. But since the mechanics need to run smoothly for the playoff to thrive, perhaps this is a good time to rate the panic levels from 1-10 on this week's playoff proceedings. 
The announcement of six weekly polls, starting Oct. 28, along with a final, seventh poll likely coming Dec. 7
Panic level: 3.0 out of 10
This was inevitable the day ESPN signed a 12-year deal for playoff rights.
You think the network is paying nearly $6 billion for three games? All about programming.
When asked whether the committee would produce weekly polls if TV weren't involved, committee chair Jeff Long said yes because "that's what college football fans have come to expect."
Maybe, but television was a convenient tie-in. College Football Tuesdays is a thing now.
As long as the committee is willing to share a few trade secrets during the weekly shows, the panic level is relatively low here.
It all depends on the next section.
'Select the best teams'
Panic Level: 5.5 out of 10
The Playoff has stressed selecting the "best" teams, which could be a slight on deserving resumes that get left out, but the guess here is that's not the committee's aim.
The fear of a two- or three-loss "brand" name squeezing out a one-loss team without the same clout is a legitimate concern. Some years, those teams could have the best talent but shouldn't get the nod because they underachieved.
But unless the committee is outwardly obvious about such a stretch or a bias, meeting for two days a week for the last seven weeks of the season should breed enough reason where they don't screw that up.
Or at least you'd think so.
Voting protocol
Panic Level: 4.0 out of 10
This is pretty clear-cut, and similar to the NCAA Tournament process. The tiered system is sort of convoluted, which is why the panic level is a 4, but otherwise this should go smoothly.
Basically, each committee member will create a list of 25 teams and the committee will whittle down to the best six based on which teams made the most lists. The committee will reseed those six, then the three teams with the fewest points during that process will become the top three seeds.To find the fourth seed is where it gets complicated. The group takes the leftover three teams (the ones that didn't make the top three) from that original batch of six, then meld those with three new teams and seed them from 4 to 9.
Lost yet?
They'll repeat those steps every week, as if "the season ended today, those would be the rankings," Playoff executive director Bill Hancock said.
"This process will be much more thoughtful and deliberate," Long said. "Identifying a small group, comparing them against each other, ranking that small group, it allows you to really dig into a small number of teams and evaluate to each other."
The playoff's true transparency in the voting process being relatively unknown
Panic level: 7.0 out of 10
This is a sticking point. The committee claims it's being transparent, and speaking to millions every Tuesday is a good start, but it's all in what Long says.
Because even he admits there will be weeks where a No. 4 seed drops to a 5 despite winning that week.
He can't say, "Because we say so."
The committee on Wednesday tried to provide more in the data category, citing a "wealth of information" including review of video, statistics and the hiring of SportsSource Analytics to "provide the data platform for the committee's use."
Then there are the staples -- win-loss records, strength of schedule, conference championships, head-to-head results and results against common opponents.
The weekly show can't be an insult, but real insights into the process. Without that, Year 1 will be tainted.
Recusal Policy
Panic Level: 5.0 out of 10
Colleague Dennis Dodd thinks the policy isn't broad enough, only covering members with a financial relationship to a school. That takes out the five sitting ADs on the committee and not much else.
The policy mirrors that of the NCAA Tournament, but one problem with that -- all hoops committee members currently work for a school. There's no gray area because they know when they have to leave.
That said, this is only mild reason to panic. The committee members seem reliable enough where, even if internal bias existed, they would call each other out. If integrity was a problem with the committee, this group stood no chance from the beginning.
No promises here, but I doubt Barry Alvarez is going to stump for Nebraska because he went to school there.
This one is all about perception.
Show Comments
Hide Comments
Twenty-eight of 95 early entry prospects went undrafted

The SEC and Michigan each had great weekends in the 2017 NFL Draft

Rawleigh Williams III left the field on a stretcher after a neck injury
Jim Harbaugh wants more college football programs to embrace the international trip

It seems there's a lot of talent in the SEC

There are all sorts of drafts out there and these are my favorites