Breaking Down the Buzz: Clemson
Dabo Swinney has signed an extension and Chad Morris did not leave for a head coaching job, so Tigers fans have their eyes on a potential transfer from Alabama.
• 3 min read
Each Monday, Wednesday and Friday, the Eye on College Football examines what current hot topic the fans of one BCS team are obsessing over -- rationally or not. Today's team: the Clemson Tigers .
What they're talking about is … Alvin Kamara. A week ago, there were reasons for fans to be concerned about losing offensive coordinator Chad Morris to Vanderbilt. With Derek Mason announced as the new head coach of the Commodores, the Tigers have made it through another coaching cycle without losing the million-dollar OC. Dabo Swinney inked an extension and Morris is sticking around, so the topic of conversation of high profile transfer Alvin Kamara. 
247Sports' Kipp Adams reported Monday that former Alabama running back Alvin Kamara was meeting with running backs coach Tony Elliot and had met with Swinney the last week. According to Adams, Clemson "could be the team to beat" over Florida State and Oklahoma State.
Kamara was named Mr. Football 2013 by the Atlanta Journal-Constitution, joining the Crimson Tide as one of the top all-purpose backs in his recruiting class. However, after a season on the sidelines Kamara is seeking a transfer. He reportedly has been released to any non-SEC school, and now the message boards are burning with information (and misinformation) regarding the former Alabama running back.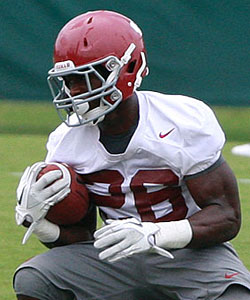 What they're saying is … What are we getting? Much of the debate on the message boards regarding Kamara has been about his departure from Alabama. As one of the top all-purpose backs coming out of high school, Kamara, in theory, should be a perfect fit with the Tigers. The running back position in Tuscaloosa was busting at the seams, and Kamara decided to head elsewhere to look for playing time. It doesn't seem that complicated from here, but fans are always quick to share their version of the "inside story."
A sampling of responses, courtesy of 247Sports (VIP access required): 
• "...don't believe the character BS that the butt-hurt bammers are putting out there. I've spent time with he and his parents multiple times and he has always been very polite- yes sir, no sir kind of kid- and quite humble."
• "He chose Bama with 3 other incoming backs and 5 already on their roster and Bama had told him what he wanted to hear to get him - he would see the field immediately in the slot and of course this never actually happened."
• "I love how they're claiming Alabama fans are butthurt over him transferring when they have three other true freshman RBs that are better than him. He does have some character issues. He was suspended for the LSU game and for the bowl game."
• "I agree with you...just think the "character issues" might be a BIT overblown, ya know? I can think of a lot of top-100 type guys who would act the same way in that situation. You're right though, if our staff wants him, that's all that matters"
And what we're thinking is … Slooooooow down. Kamara has fallen victim to the classic he-said-she-said nature of big program transfers. The Clemson fans are hearing stories from Alabama fans and Georgia fans, trying to decide what to think about the former four-star from Norcross, Ga.. For the record, we will take Kamara at his own word for now.
No it had nothing to do with behavioral issues..

— Alvin Kamara (@A_kamara6) January 18, 2014
No I don't care about a million fans that have never met me talkin bout me..

— Alvin Kamara (@A_kamara6) January 18, 2014
I have nothing but respect for coach saban and Alabama as a whole organization. It just wasn't the right fit for me.

— Alvin Kamara (@A_kamara6) January 18, 2014
If Kamara does sign with the Tigers, he will have to sit out the 2014 season unless he is granted a hardship waiver. Clemson already has a strong group at running back -- we saw Zac Brooks emerge in 2013 while highly-touted freshmen Tyshon Dye and Wayne Gallman redshirted -- and the offense as a whole should be good hands moving forward with Deshaun Watson, the No. 1 dual-threat quarterback in the 2014 recruiting class (247Sports Composite ranking), already enrolled this semester.
Would Kamara boost Clemson's talent level for 2015? Probably. But there is a long wait until he hits the field and equally impressive talent already on campus. 
It's not great, but it isn't necessarily bad, either

From bio pics to comedies and documentaries, here are the college football movies you can't...

Suspended junior Grant Perry pleaded guilty to resisting arrest
Pepsi will limit its usage of blue -- outside of its logo -- on Utah's campus for Holy War...

Will Sunderland allegedly stole and tried to sell video game systems

National powerhouse Alabama joins the throng of schools trying to lure five-star QB Justin...