Breaking Down the Buzz: Georgia
The latest Athens adventure in petty crime has naturally sparked plenty of discussion among Bulldog fans.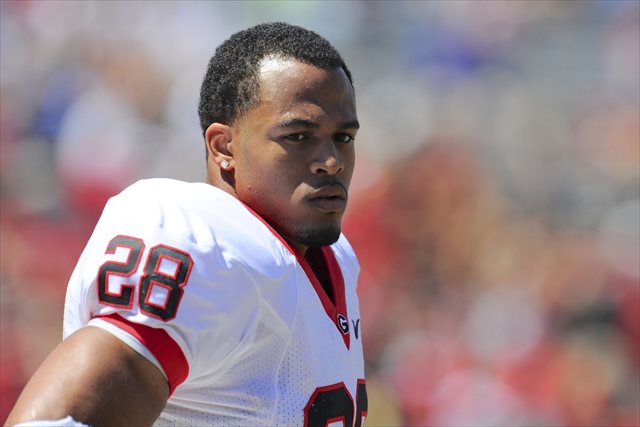 Each Monday, Wednesday and Friday, the Eye on College Football examines what current hot topic the fans of one BCS team are obsessing over -- rationally or not. Today's team: the Georgia Bulldogs .
What they're talking about is ... stipend check scamgate. Yeah, this isn't a surprise -- the Monday night arrest of four players (including star rising sophomore safety Tray Matthews) on charges of "theft by deception" has been a popular topic of discussion since, dominating chatter on the Dawgs247 board, Georgia fan blogs, and elsewhere.  
The arrest of four players for what's allegedly one of the more (ahem) questionably thought-out plans in the recent annals of college football-related misdemeanor crime -- the players stand accused of cashing their Georgia-issued stipend checks twice -- would be a hot topic of conversation anywhere. In Athens, where the locals have grown a bit sensitive over the program's reputation for petty (and occasionally less petty) offseason arrests, it's going to be an even hotter topic.
What they're saying is ... this really wouldn't be such a big deal if it wasn't Georgia, you know. There's plenty of differing reaction at Dawgs247, from "we've all been there" to "this is what happens when players aren't paid" to plenty of "uh, they were robbing the school" to "well, at least Winnie from 'The Wonder Years' is on 'Dancing With the Stars' this season."
But probably the most overriding theme of the reaction is the one that leads off this thread, titled "What really ticks me off about this whole situation":
Is the national media once again coming with "the players don't fear the consequences" BS. Please tell which other school in the country has tougher consequences than UGA? Exactly what harsher consequences can UGA meter out than significant loss of playing time and separation of the player from the school? You want to know why players don't fear that? Mainly because another equally tiered program can happily pick them up after a year off at JuCo with no national media hounding that school about its F'n standards.
This is likely (at least in part) a response to this tweet and this tweet from ESPN's Kirk Herbstreit, ones he later backed away from somewhat. As for the identity of the "equally tiered program," you get one guess. And if you really need a second one, well, you can have a gander at this Seth Emerson tweet highlighted by Get the Picture:
Over here, we have UGA being pilloried after turning in its own players to the police. And over here, we have Auburn talking to Bruce Pearl.

— Seth Emerson (@SethEmerson) March 18, 2014
Between the GTP post, the 178 retweets for Emerson's tweet, and the ample endorsements of the above message board excerpt, here's a guess that maybe, just maybe, Dawg fans aren't quite in a mood to see their program and head coach ripped over a set of misdemeanor charges just a few months after a former Georgia defensive back did this.
What we're thinking is ... we can't blame them. It's true: Richt and Georgia have punished their rule-breakers as consistently as any team in the SEC, suspending them for marijuana use and alcohol offenses and dismissing them for more serious violations and repeat offenses. Even if something Richt was or was not doing was somehow incentivizing his players to commit minor crimes, how exactly is a coach supposed to prevent them from (allegedly) cashing a check twice? Even if you believe Richt has deserved some responsibility for the Bulldogs' previous string of offseason legal issues, wagging a finger at him over these particular issues is tut-tutting solely for the sake of tut-tutting.
There's no question that the arrests this week are embarrassing for the program and a headache for Richt. But if you think they're emblematic of anything other than "kids do some dumb things sometimes (allegedly)," you'd better have a concrete suggestion for how they could be prevented beyond Richt waving a magic wand.
Show Comments
Hide Comments
Twenty-eight of 95 early entry prospects went undrafted

The SEC and Michigan each had great weekends in the 2017 NFL Draft

Rawleigh Williams III left the field on a stretcher after a neck injury
Jim Harbaugh wants more college football programs to embrace the international trip

It seems there's a lot of talent in the SEC

There are all sorts of drafts out there and these are my favorites