Breaking Down the Buzz: Iowa Hawkeyes
Each Monday, Wednesday and Friday, the Eye on College Football examines what current hot topic the fans of one BCS team are obsessing over -- rationally or not.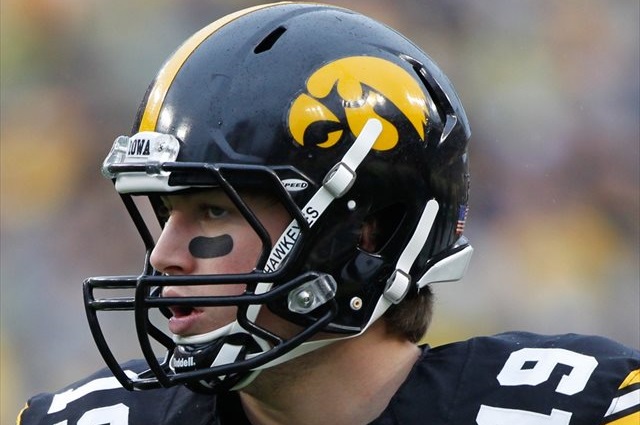 Each Monday, Wednesday and Friday, the Eye on College Football examines what current hot topic the fans of one BCS team are obsessing over -- rationally or not. Today's team: the Iowa Hawkeyes.
What they're talking about is ... the expected transfer of Cody Sokol. While it hasn't been officially announced yet, Iowa quarterback Cody Sokol is reportedly looking to transfer out of Iowa City. The two schools Sokol is said to be interested in transferring to are Ball State or Louisiana Tech. 
Sokol was Iowa's third-string quarterback last season, and he's never thrown a pass during his Iowa career. So it's not exactly a surprise that he'd be looking to move on, because it's pretty clear if he's going to play football on the college level, he's not going to be doing in in the black and gold of the Hawkeyes.
What they're saying is ... They're wishing Sokol luck. I know, not exactly as dramatic as you were hoping for, was it? But that's basically been the reaction from Iowa fans posting on message boards and blogs.
Hawkeye fans understand the reasoning behind why Sokol wants to leave, and since he wasn't going to have much of an impact on the team this year, there isn't a whole lot to be upset about. Nobody is questioning his "HEART" or "DEDICATION" or anything. To prove it, here's a small sample of the things fans are saying on the message boards at Voice of the Hawkeyes and Black Heart Gold Pants.
-- "[Expletive] La Tech. Bunch of know-nothing dog [expletive]. I would know, I live in Arkansas. For real though, best of luck to him. It seems like he was a good teammate."
--"RIP Cody Football."
-- "We should release him to go anywhere except Wisconsin. Out of general principle."
-- "Best of luck to you sir!"
-- "Best of luck to him. I'm surprised he didn't transfer sooner."
-- "Should you land at Ball State, I hope you are thoroughly dominated by the Iowa defense, but become a lethal weapon against all other opponents. Should you land at La Tech, I hope you get to meet Terry Bradshaw."
-- "Thank you for the two years you put in. I hope it works out for you wherever you land."
What we're saying is ... it's funny how college football fans react to these things at different points in a player's career. The reaction from Iowa fans about Sokol's impending departure is nothing new. By and large fans are incredibly mature about transfers, with no hard feelings about it. 
Which is entirely different than how they act when a commit flips to another school before signing day. If a high school kid does this, almost without fail, some fans will jump on a message board and start ripping the kid. They'll say he never deserved to be a part of the team to begin with, or they'll infer he has academic problems, because every school suddenly has the academic requirements of an Ivy League school on a message board.
Yet, essentially, both a transfer and a recruit flipping on his commitment are the same thing at their core. A player chooses a school, then realizes there's a better opportunity for them somewhere else. The difference is that, when a player is transferring there's usually a tangible reason for it that fans can see. 
Cody Sokol isn't playing, nor is he going to be. Fans know that, so they understand his decision and support it. Johnny Recruit doesn't get that understanding because, in the mind of a fan on a  message board, every recruit is going to be somebody important to the future of the program. By changing his mind he's threatening that future, and that leads to backlash from fans. Yet, not too long ago, a player like Cody Sokol was going to be the future of the program too. 
Had Sokol made this same decision before signing day in 2012, he'd have faced a much different reaction.
Show Comments
Hide Comments
Twenty-eight of 95 early entry prospects went undrafted

The SEC and Michigan each had great weekends in the 2017 NFL Draft

Rawleigh Williams III left the field on a stretcher after a neck injury
Jim Harbaugh wants more college football programs to embrace the international trip

It seems there's a lot of talent in the SEC

There are all sorts of drafts out there and these are my favorites