Breaking Down the Buzz: LSU
How big is the NFL Draft? Even college football fans -- like those of LSU -- can't stop talking about it.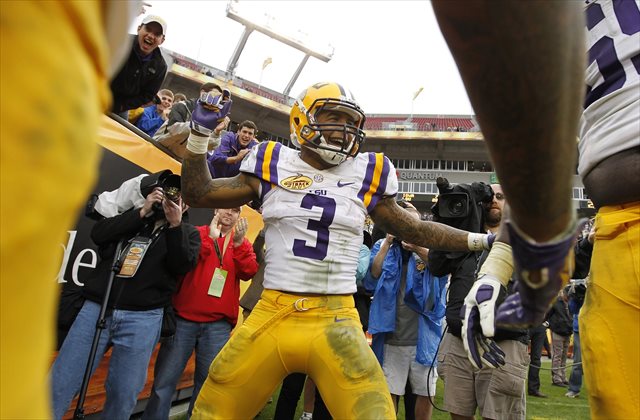 Each Monday, Wednesday and Friday, the Eye on College Football examines what current hot topic the fans of one BCS team are obsessing over -- rationally or not -- in Breaking Down the Buzz. Today's team: the LSU Tigers.
What they're talking about is ... the NFL Draft. If you're a college football diehard with only a casual eye towards the professional version of the sport, well, it hasn't really mattered over the past few weeks, has it? You're still likely overwhelmed by the level of NFL Draft coverage to have taken over the Internet-slash-airwaves-slash-news media since mid-March or so, and more than a little grateful that the event will finally, finally kick off Thursday. 
Of course, let's not pretend that the there's not a perfectly good reason for the annual tsunami of draft chatter -- namely that overwhelmed or not, football fans of neither the pro nor college stripe have yet shown any inclination to having had their fill of that chatter. (Here's the latest CBSSports.com mock drafts! Eat up!) For a good example, have a look at an LSU message board this week; the lead article at long-time popular LSU fan site Tigerdroppings.net Tuesday night is on the Tigers' draft prospects, the forum at Geaux247 is liberally sprinkled with both exclusive LSU-centric draft coverage and draft discussion, and it's a similar story at other boards. 
If an event that only directly involves ex-LSU players is this popular a topic with Tiger fans, is it any wonder that fans of the actual teams involved have made draft speculation not so much a "cottage industry" as a "Hollywood star's $50 million 'cottage' in the Hamptons industry"?
What they're saying is ... we're all rooting for Kadron Boone. If you're someone other than an LSU fan wondering "wait, who is Kadron Boone, and why is he being involved in a draft discussion again?", no one will blame you; Boone was the Tigers' fifth-leading receiver in 2013, grabbing only 7 receptions after his 26 catches and 348 yards receiving as a junior in 2012.
But it speaks to the depth on LSU's roster that a player who was just-this-side of an afterthought behind the likes of Odell Beckham Jr., Jarvis Landry, and (early in his career) Rueben Randle could show out at his pro day and might be looking at a late-round selection ... again, after making seven catches in his senior season and finishing his career with all of 611 yards. (For comparison's sake, Landry had 1,193 in 2013 alone.) From this Geaux247 thread, LSU fans' responses are as expected:
• Cant help but to wish nothing but the best for Boone.

• Boone made a number of clutch grabs including a couple of spectacular ones. Unfortunately for him, it is difficult to shine playing behind OBJ and Landry.

• Hope he gets drafted and has a long and productive NFL career, even if it is as a back-up. His ST play will help land him somewhere, I believe. It would be nice to see [receiver] James Wright get a look as well. Both Boone and Wright got overshadowed by OBJ and JL, but there's no shame in that.

• I thought he was snake-bit for 90% of his time at LSU. Besides being on the same team that distributed the ball to OBJ, Jarvis and Hill, seems when his number was called balls came at him less than perfect--thrown under pressure hence off target or plain bad throws. One time Mett got creamed as he threw and the ball fell at KB's feet. Didn't think the opportunities presented themselves for him to show his stuff but think he's a diamond in the rough.
The point isn't necessarily what's being said here; it's that 1. LSU's fourth- or fifth-best receivers are still worth discussing in the context of the draft 2. that discussion is, in fact, happening. There was also this:
Playing with Jarvis & Odell is a good reason for not having any more production than he did. Not enough balls to go around.Could definitely see him being a WR in the league for a while.

I wish the best for him, will keep up with his NFL career & pull for him, but I do so knowing him signing and playing in the NFL will encourage other non-superstar LSU juniors to leave early..
If any other school was involved, this would be a laughable complaint. At LSU -- where wave after wave of juniors has left for the draft in recent seasons, some wisely, some not -- it's a valid concern. (Almost.)
What we think is ... this does make sense. As the example of Boone shows, if any fanbase was going to pay extra attention to the draft, you'd expect it to be LSU; the Tigers' total of nine players taken in the 2013 even was second only to Florida State's 11, and Les Miles' program should be well represented again in 2014. (Beckham is expected to be the first Tiger off the board, as soon as the No. 13 pick or higher.) If Tiger supporters are more invested in the draft than most, they're also more likely to see that investment rewarded with hearing a Tiger's name called on draft day.
Of course, again, this is the NFL Draft we're talking about; by this point, it seems like everyone is invested on some level.
Show Comments
Hide Comments
It seems there's a lot of talent in the SEC

There are all sorts of drafts out there and these are my favorites

It's time to say goodbye to so many great players
What colleges and conferences had the most first-round picks in the 2017 NFL Draft?

Myles Garrett and Leonard Fournette were top-rated prospects coming out of high school

Ohio State and Washington will play in Seattle in 2024 and Columbus in 2025